Join Francesco's Fight Against Biliary Atresia!

My name is Mimma and this is my nephew's story. In 2016 my nephew, Francesco and his twin sister Chiara arrived 2 months early. Francesco was immediately rushed to the Children's Hospital of Philadelphia (CHOP) where at just 1 day old he underwent a surgery for Jejunal Atresia (blockage of the intestines). Part of his intestines and colon were removed due to the blockage. An ostomy bag was attached because his intestines were so badly damaged; his colon needed to rest.

Meanwhile, his twin was admitted in the NICU at our local hospital. After being together in utero they were now separated and would not see each other again for more than a month. His Jejunal Atresia was the reason that my sister in-law had pre-term labor.

Francesco would have 1 more surgery; the removal of the ostomy bag and reattachment of his small intestines. Jejunal Atresia is a rare disorder, but my family could never imagine what was in Francesco's future. During the 89 days in the NICU Francesco had blood work done every day, was intubated after the surgeries, and didn't drink from a bottle until he was 3 weeks old. He had an NG tube for feedings for 6 weeks and oxygen to help him breathe for the first week of his life.



After the ostomy bag removal surgery we noticed his stool was not a normal color. It was white and clay-like. Immediately the doctors did an ultrasound to find his gall bladder and had no luck. The next step was a HIDA scan (twice) but the doctors were not satisfied with the images so they ordered a Liver Biopsy. We were thrilled when it came back normal, but that would not last.  After the 3 months in the NICU Francesco was finally discharged, but had continuous outpatient care.

My family and I were beyond thrilled to finally have both babies home! We noticed that his skin and eyes still looked jaundice.  At first the doctors thought the parenteral nutritional bag (TPN) was the cause. Sometimes receiving nutrition intravenously for a prolonged period of time causes jaundice. After routine bloodwork, the doctors discovered that Francesco's bilirubin levels increased. A second Liver Biopsy was ordered. That biopsy showed an obstruction and he was immediately re-admitted. Two days later Francesco underwent an exploratory surgery to see if he had Biliary Atresia. Once the doctors saw that he indeed suffers from this extremely rare disorder, they performed a procedure called a Kasai.

Francesco was in surgery for 7 hours.

Biliary Atresia  is a rare and serious liver disorder occurring in 1 out of 20,000 births in America. With this disorder a baby's bile ducts become blocked. This blockage causes the bile to be trapped inside the liver which causes cirrhosis and eventual liver failure. Doctors do not know what causes this disease.

The Kasai procedure is an operation that replaces the blocked bile ducts outside of the liver with the length of the child's own intestine, which acts as a new duct. Sadly, the Kasai  doesn't last forever and the new remedy is a Liver Transplant.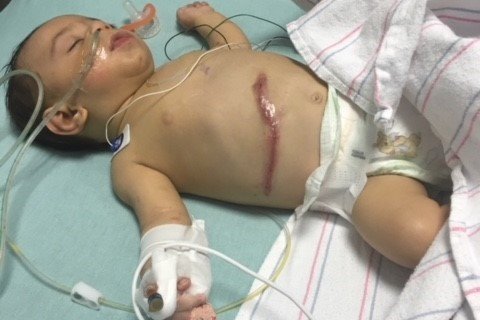 Today, Francesco is a talkative and  energetic 2 year old who loves chocolate, watching Hey Duggee, and playing with his 2 sisters. Despite all of his surgeries, frequent hospital stays, and routine bloodwork he always has a smile on his face. He has the sweetest disposition and everyone falls in love with him as soon as they meet him.



Over the past 2 years Francesco has developed Portal Hypertension
due to this disease. He takes 7 prescription medicines daily, which cost by brother and sister-in-law $600 a month with insurance. Francesco's
round the clock care prevents my sister-in-law from working. We are concerned that this pre-existing condition could cause the insurance company to drop him. A Liver Transplant is in his future which will cost $800,000. Insurance will not cover 100%. Any and all donations
are kindly appreciated

Join the fight! 

Become a Francesco's Fierce Fighter! 

Biliary Atresia Awareness