A NATIONAL TEAM, A NATIONAL SPORT


France Lacrosse is proud to have the opportunity to join 55 other nations in the global celebration of our game,  the Federation of International Lacrosse (FIL) 2018 World Championships in Netanya, Israel, July 12th to the 21st..
Team France's trip to Netanya for the World Championship is so much more than another opportunity to play the sport we love. It is a chance to stand alongside the greatest in the world and represent our country in a way so few are ever able to do. Not only that, it will enable us see the game played at the highest level, and let us bring the lessons we learn back to France to grow the game in our home country.
Our biggest dream is not only to travel to Netanya for the World Lacrosse Championships, but to grow the sport of Lacrosse in France.
By donating today, you
invest in France in the fastest growing sport in the world, and you ensure a bright future for for current players and the youth of France who join us in this journey.

We invite you to walk you with us through our story & journey.
NATIONAL TEAM JOURNEY

Since June 2017, France Lacrosse has held national trials for  homegrown and French heritage eligible players from all over the world.
These trials have seen
the largest turnout in France lacrosse history
, and is the direct result of our ability to finance, thanks to our donors, the travel expenses and costs necessary to bring these athletes together.
50 players attended the first trials in Paris; 32 were selected to travel to Scotland in August 2017 to compete against the Scotland National trials team.
[France Lacrosse national team after the first try-out session in June, in Paris.]
Playing against the 6th ranked lacrosse nation in the world, the team showed great promise.    
[Scotland and France national teams after their game in August]
Federation rules only permit 23 players per team in the World Champoinships next July. We will complete selection after our last trials session in October 
WHAT WE NEED & WHAT YOU GET
Despite its growth worldwide, Lacrosse is not likely to develop on the international scene so that players can make a living from the sport: at the same time, the Association of France Lacrosse (AFL) cannot bear itself the costs of bringing a full team to the World Championships.
During the last European and World Championships, the players bore the brunt of this cost themselves, some paying upwards of $8,000 for travel, gear, and players fees.
For the 2018 World Championships, bringing a full team to
Israel entails approximate costs of more than $85,000
(travel, lodging, food, gear).
These costs include ground travels to airports and practice fields, passeport and visa fees, for which players have pledged to finance 15 000$ on their own.
Here's a cost breakdown of our trip to Netanya:
These costs do not include ground travels to airports and practice fields, passeport and visa fees, which players
have pledged to finance on their own.
In order to reach
the next level of excellence
, we can no longer rely on our players economic good standing in order to play in major tournaments.
We can no longer make a choice among aspiring players based on financial considerations only .
Thanks to our team of volunteers, a tremendous work has been done to raise funds, which enabled us to finance our trials sessions in Paris and Scotland, and give an equal and fair chance to every aspiring player, regardless of their financial background.
We need your help to bring a full team to Netanya
.
We can raise a portion of the funds through corporate sponsorship and selling France Lacrosse apparel.   We need your help to go all the way to raise at least $45,000 necessary to make our goal a reality, and ensure a fair selection process.
Your donation will help us, but it will also guarantee you rewards, which are laid out on the right side !

They include a subscription to Laxlibrary.com, the best website for Drills and Plays for coaching Youth, High School and College Lacrosse


Your contribution may provide tax advantages in the United States, Canada, the United Kingdom and in France.   Please consult your tax advisor.NATIONAL DEVELOPMENT & IMPACT
French lacrosse was born in 2008 and has been a mainstay on the international lacrosse scene ever since. However, there have been difficulties growing and reaching the potential that a nation such as France should be able to achieve.
Despite a strong effort over the last 9 years, there are still only about 150 players in a handful of cities, spread out of all over the country, which makes it cumbersome to develop the sport efficiently.
On top of that, because Lacrosse is a niche sport in France, the France Lacrosse Association is currently not eligible for subventions from the national or local government(s) in order to grow the game and support the existing infrastructure.
For the sport to grow,
it needs awareness from the locals. The most effective way to foster this awareness is through international exposure
.
If Team France's (or scotland head coach if quote obtained) performance against Scotland are words to live by, the national team's trip to Israel will secure this international exposure, and generate exciting prospects for the development of Lacrosse in France, as it will :
-
Spark the interest of athletes all over the country.
This will allow us to not only provide the positive benefits of sport to more people, but also to increase the amount of competition and talent within the France Lacrosse Association. 
-
Generate ripple effects which will enable us to establish youth, high school, university, and men's league programs,
the experience gained by homegrowns players in Israel will greatly contribute to raising the level of play in France.
Overall,
the power of sport to uplift individuals and communities will be on full display
.
We need your support to make this happen.
Your donation to this crowdfunding is not a mere contribution, but rather an investment into the sustainable and future growth of the sport of Lacrosse in France.
OTHER WAYS TO HELP
The development of lacrosse in France can be secured through financial help, and other means as well.
The France Lacrosse Association and the France Lacrosse National team are actively looking for any form of support, and are open to any ideas and/or manpower.
If you are interested or willing to get involved in the development of the great sport of lacrosse in France, please feel free to contact us at :
http://www.france-lacrosse.fr/contact/
or onto 
https://www.facebook.com/associationfrancaisedelacrosse/
Disclaimer : you do not need to be a french citizen or to reside in France to provide us with your help. Our team of volunteers is scattered all over the world, but shares one and only goal : to grow the game we all love, in a country we love.
All we ask of you is your determination and love for the game and program.
See you soon on-board this amazing adventure
All we ask of you is your determination and love for the game and program
.
See you soon on-board this amazing adventure.
------------- FRENCH BELOW ----------------
DE LA SELECTION NATIONALE VERS UN SPORT NATIONAL


L'Association Française de Lacrosse est fière de participer aux Championnats du monde de Lacrosse organisé par la FIL du 12 au 21 juillet 2018 à Netanya, Israël, aux cotés de 55 autres nations.
Cet événement est pour nous bien plus qu'une autre occasion de pratiquer le sport que nous aimons, c'est une chance exceptionnelle de représenter la France et de nous confronter aux meilleurs éléments de chaque pays.
En participant à cet évènement de niveau international, l'expérience acquise lors différents matchs et entrainements donnera aux joueurs et encadrants de solides bases afin d'augmenter le nombre de licenciés et la visibilité de ce sport dans notre pays.
En effet, notre souhait n'est pas seulement de participer à cette Coupe du monde, mais s'inscrit dans une démarche plus globale de développement du sport en France.
LA ROUTE VERS NETANYA
Depuis juin 2017, différents stages de sélections ont été organisés par l'AFL, ouverts aux joueurs français ou ayant des ascendants français. Ces stages ont permis de rassembler un grand nombre de joueurs venus des quatre coins de la France et du Monde, et n'ont pu être possible que grâce aux différents dons reçus par l'association.
32 joueurs ont été sélectionnés pour un test-match en août 2017 à Edimbourg face à l'équipe d'Ecosse.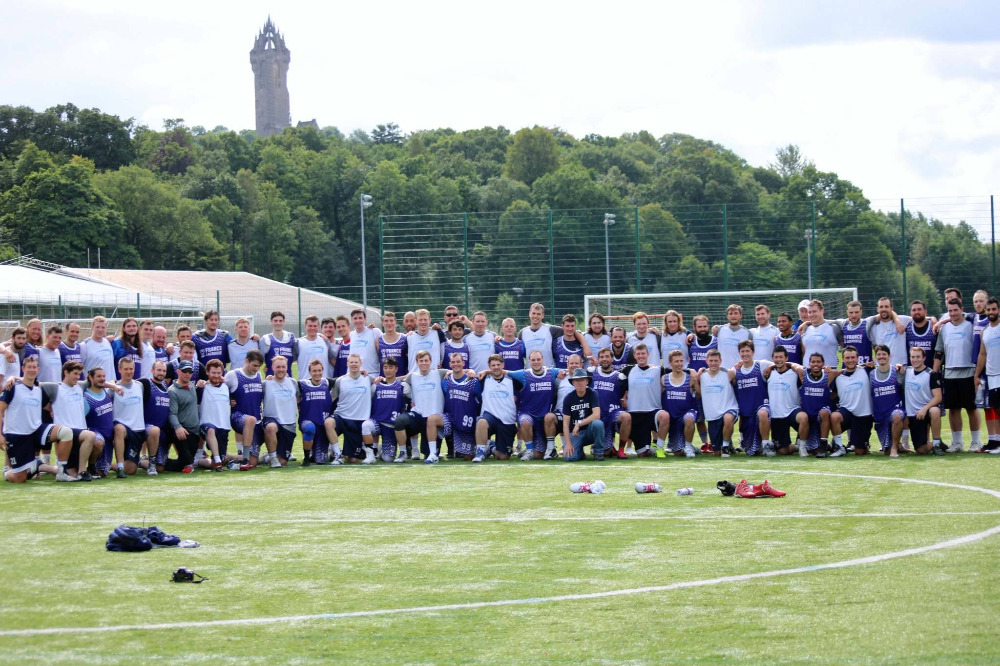 La France n'a pas démérité avec une défaite 12-4 face à la 6eme nation mondiale.
Après une dernière sélection 23 joueurs seront retenus pour Netanya.
CE DONT NOUS AVONS BESOIN
Rares sont les joueurs professionnels dans le monde, et l'équipe de France n'est composée que d'amateurs pour lesquels l'AFL ne peut assumer l'intégralité de la prise en charge financière lors des différentes compétitions internationales.
En effet, pour le Mondial 2014 et l'Euro 2016, les joueurs ont du mettre la main au porte monnaie, certains dépensant jusqu'à 8000 e pour le voyage, l'équipement et les différents frais.
Pour le voyage en Israël en Juillet  2018, les coûts sont estimés pour l'équipe à environ 85000 € (sélections, voyages, logements, nourriture, équipement).
Afin d'amener la meilleure équipe possible, il est nécessaire de ne plus avoir à faire de choix de joueurs sur des considérations purement financières.
Grâce aux efforts de nos volontaires au sein de l'association, nous avons pu réunir des fonds (dons, vente de texile…) afin de financer les différents stages de sélection, et donner une chance à chaque joueur d'intégrer l'équipe.
Nous avons donc besoin de vous pour réunir les 45000e nécessaires à la finalisation de notre projet, afin que les joueurs méritants puisse représenter notre pays peu importe leurs finances.
LE LACROSSE EN FRANCE
Le Lacrosse est né en France en 2008, et l'AFL a dès lors toujours été représentée aux différentes compétitions et réunions internationales.
Cependant, malgré des efforts répétés depuis 9 ans, l'AFL ne compte que 150 membres repartis dans différentes villes, parfois éloignées les unes des autres, ce qui ne facilite pas la visibilté et le développement du sport
Du fait de ce nombre pour l'instant limité de licenciés, le lacrosse ne peut prétendre au statut de sport fédéral, limitant l'accès à de nombreuses subventions nationales ou locales.
Le développement en France passe donc par la connaissance du sport par le public, et rien de tel qu'un évènement international pour attirer les médias !
Cette couverture par la presse nationale et internationale éveillera l'intérêt des sportifs français ne connaissant peu ou pas ce sport, et montrera aux joueurs étrangers résidants de manière transitoire ou permanente que le Lacrosse existe en France .
Cela augmentera le nombre de joueurs, le niveau de compétition, et permettra par effet de ruissellement de mettre en place une ligue nationale, et des programmes jeunes et universitaires.
Nous avons besoin de vous pour permettre cela. Votre don n'est pas une contribution ponctuelle, mais un investissement durable pour l'avenir du Lacrosse en France.
AUTRES MOYENS D'AIDER
 :
Nous recherchons des financements, mais pas seulement.
L'AFL cherche des volontaires et est ouvertes à toute idée ou action favorable au Lacrosse en France.
Si vous souhaiter prendre part au développement de ce sport en France, et ce quelle que soit votre pays de résidence ou votre nationalité, contactez nous sur
http://www.france-lacrosse.fr/contact/
ou
https://www.facebook.com/associationfrancaisedelacrosse/
A bientôt dans cette magnifique aventure
Become the first supporter
Your donation matters
Organizer and beneficiary
FRANCE LACROSSE
Organizer
Lille
Claire Mauboussin Snyder
Beneficiary