FRACTAL - an Anslem Richardson film
DAY 20 of our 30-Day Campaign

!
Hi, my name is Anslem "Slem" Richardson.  I'm a Los Angeles artist, actor, illustrator, filmmaker and currently a writer/co-producer on THE BOYS TV series streaming on Amazon Prime.  I'm raising money for my fantasy sci-fi film project:
FRACTAL
. 
(**Tap

Read more

 below for more on the project and our CONTRIBUTION PERKS!)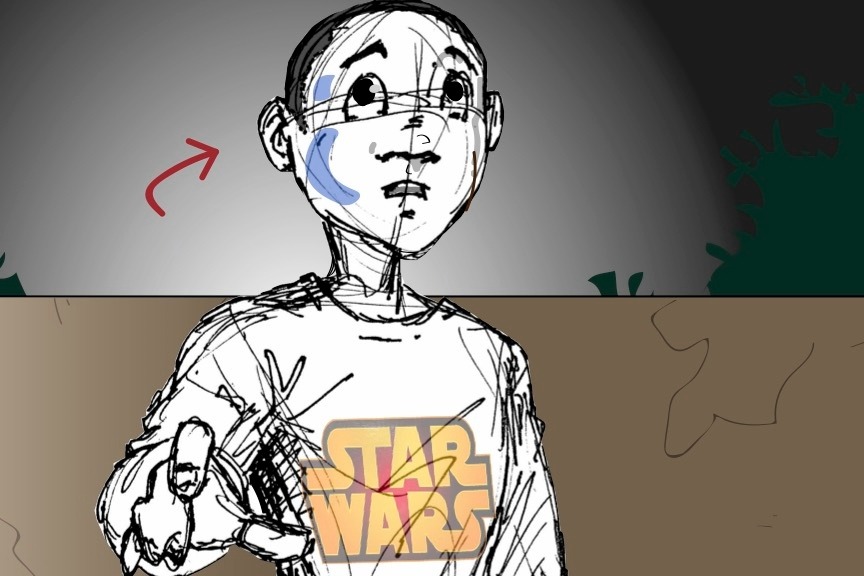 **Note: These are my conceptual storyboard frames.  This is NOT AN ANIMATED FILM.
Growing up, I had several run-ins with police.  Not that I was a bad kid.  Quite the contrary.  I was kind of a nerd.  I went to art schools and made straight A's.  My dream was to work for Industrial Light & Magic as a VFX artist or even a puppeteer at the Jim Henson Creature Shop.  But those dreams never factored into the police's harassment of me or their potential to do far worse.  What I realize today, is that those repeated incidents robbed me of something precious as a child: my innocence and trust.
The idea for FRACTAL began germinating several years ago, on the day I saw Cameron Sterling cry.  He was 15-years-old.  His father, Alton Sterling, was killed by Baton Rouge police outside of a convenience store for selling CDs.  Cameron stood beside his mom as she read a statement to the press.  Shortly after she began, he crumbled in tears and was carried off.  My heart tore in two.  Not just for Cameron – who would certainly never be the same again – but for every child who's been the direct or indirect victim of police violence.

This project draws inspiration from classic Steven Spielberg films like E.T. THE EXTRA-TERRESTRIAL and CLOSE ENCOUNTERS OF THE THIRD KIND – films I adore and that expanded my imagination, but as an African-American child, I never truly saw myself reflected in.  This story places these films' themes of disconnection, hope, fear, heartbreak and alienation into a modern context.   
FRACTAL centers on the tight-knit relationship of a deaf 8-year-old African-American boy named Tamir and his 14-year-old brother, Cameron.  Orphaned, they live with their grandmother, who struggles to understand and communicate in the boys' unique Black American Sign Language (BASL).  When Cameron (his best friend and interpreter) is suddenly taken from him by police violence, Tamir finds solace through an unlikely friendship with a mysterious alien creature named Fractal, who helps him cope with his trauma and forge a way forward.  Fractal is a story of friendship, communication, loss, wonder and ultimately hope.
Our initial goal to raise is $75K.  This will allow us to begin the creature build process with the Jim Henson Creature Shop.  Yes, THAT
Jim Henson Creature Shop
!  And we need YOU.
BLACK AMERICAN SIGN LANGUAGE (BASL):
Black American Sign Language features prominently in this story.   Barred from being taught American Sign Language, BASL was developed by deaf African-Americans in the 1800s and 1900s during segregation.  This film will deeply immerse the audience into the unique emotional and sensory perspective of Tamir, as he tries to make sense of a world fraught with dangers and miscommunication.  We will cast the roles of Tamir and Cameron exclusively from the deaf community.  It's extremely vital for the authenticity of the film that this community is represented and showcased in this project.
**My original 2018 illustration of Tamir and Fractal. 
CONTRIBUTION REWARDS:
We  are eternally grateful for your contribution and your belief in us and this project.  Any amount helps, but for the higher contributors, here are our rewards...
TIER 1 - THANKS!
-
$100
-- Video Shoutout and Thank You! from Anslem Richardson on his @anslemasylum Twitter account.
-
$300
-- The above Video Shoutout and Thank You! + a digital copy of the Fractal Visual Book that includes the storyboards and my Director's Statement. (Delivered after completion of the film.)
TIER 2 - SEMINAR
-
$1000
-- Awesome.  You'll be invited to take part in a special Virtual Film + TV Writing Workshop moderated by yours truly.  Ask me anything!   I'll walk you through how I broke into the business as an actor, then expanded my career into writing; my experience writing for NBC's Timeless and now The Boys for Amazon Prime; what to expect in a writers room; the writing (and rewriting...and rewriting) process for TV and film;  not getting discouraged by notes; and how to stay true to yourself as an artist.  (Plus all of the above)
TIER 3 - PRODUCER CREDITS  
-
$5K -- ASSOCIATE PRODUCER
- Virtual Watch Party Premiere Invite for the completed film with cast and crew.  (Plus all of the above)
-
$10K
-- CO-PRODUCER
- Film festival World Premiere tickets -- travel not included.  (Plus all of the above)  
-
$20K
-- CO-EXECUTIVE PRODUCER
ON SINGLE CARD + 1 Point any profits the short film makes.  (Plus all of the above)
OUR CREW:ANSLEM RICHARDSON
(WRITER/DIRECTOR/PRODUCER)
@anslemasylum
I am an artist, actor, writer, illustrator and filmmaker.  Currently I'm a writer-co-producer on the series The Boys (Amazon Prime).  I also wrote for the sci-fi series Timeless (NBC).  I'm a Writers Fellow at HBO Access and a Screenwriting Fellow at Film Independent; a 2021 WGA Award nominee; and I've been awarded the Tribeca All Access Creative Promise Award in Screenwriting and the Independent Feature Project's Gordon Parks Award for Screenwriting.  This will be my fifth project as a director, and far more ambitious than any I've tackled.  Here's an episode I wrote and directed from my web series Like So Many Things... :
NAKIA SMITH
(CONSULTING PRODUCER)
@itscharmay | @realcaunsia
It's my extreme honor to bring BASL to the screen with the help of the extraordinary Nakia Smith – as she likes to say: think of BASL as sign language,
but with a little seasoning
.  Here she is in action:
ERIC KRIPKE
(EXECUTIVE PRODUCER)
@therealKripke
I've worked with the legendary Eric Kripke as a writer for two shows he's created: Timeless (NBC) and The Boys (Amazon Prime).  Known also for his long-running series SUPERNATURAL (WB Network), Eric's not only my boss, but a mentor and friend.  His creative insights and instincts are second to none.


JUSTIN FRANCIS
(CINEMATOGRAPHER)
@justonefilm
I first met the crazily talented Justin Francis working as an actor in his NYU thesis film.  His eye is unparalleled.  He's directed several popular music videos and commercials.  And he's just an all around good dude.
RONIT KIRCHMAN
(COMPOSER)
@ronitkirchmanmusic | @RonitTweets
Ronit Kirchman has also been a longtime friend.  A BMI Award winner and Sundance Composers Lab and Documentary Composers Lab Fellow, her mastery of so many instruments and her dedication to her craft is unparalleled.  Currently, she composes the layered and atmospheric music for The Sinner on the USA Network.  We're really looking forward to unlocking what it means to score a film experienced through the perspective of a deaf child.
LOREN LILLIAN
(EDITOR)
@lorenlillian
My wife Loren Lillian is my absolute rock and the love of my life.  She's the editor of the Venice Film Festival award winning film TEZA and currently edits for The Discovery Channel.  Her fingers have been burning to get started on this project.
THOMAS CARTER
(PRODUCER)
@_thomascarter
Thomas Carter is my literary manager, friend and has been with me on this journey from inception.  His partnership, hustle, advice and knowledge has been a huge asset on this project.

THE JIM HENSON CREATURE SHOP

@hensoncompany
Walking into the Jim Henson Creature Shop, I felt like a kid in a candy store.  On display were so many creatures that sparked my imagination as a child, from THE DARK CRYSTAL, to FRAGGLE ROCK, to DINOSAURS, etc.   JHCS will bring the Fractal creature to life -- from the extensive character build to the puppeteers who will manipulate its movements into a vibrant, living, breathing, emoting organism. 
INDUSTRIAL LIGHT & MAGIC

@lucasfilm
When JHCS recommended Industrial Light & Magic to complete the look and VFX of the Fractal creature, I was like yeah right.  When ILM then said yes, I nearly died.  ILM will not only work on completing the unique physics of the Fractal creature, but also do additional VFX shots to fully immerse the audience into this story.
For a fantasy-sci-fi fanboy like me, getting the opportunity to work with the  artists at the Jim Henson Creature Shop and Industrial Light & Magic is a childhood dream come true!

BUDGET BREAKDOWN:
Our starter goal is $75K
  - This initial raise will allow us to engage JHCS to start the puppet build, which is an estimated 4-month process.
- Storyboard – $5K
- 3D Character Design – $5K
- Character Modeling, Texturing & Build - $75K
- Production - $40K
- Cinematography - $5K
- Production  Design - $5K
- Editor - $5K
- VFX - $35K
- Music Composition - $5K
- Sound Design - $5K
TOTAL BUDGET: $185K
There are always unforeseen costs down the line in filmmaking.  The more we raise, the better tools we'll have at our disposal and more experts we can hire to create an even better film.  Every little bit helps, especially for the post-production process.  A little extra money will enhance and strengthen the film watching experience for you, the audience.  
Your support on this project means more than anything to us.  We can't make this happen without YOU.  Thanks for checking this project out and if you think this film can be as awesome and groundbreaking as we do, please join us!   Fund us!  And spread the word! 
Use: #FractalFilm
RISKS & CHALLENGES:
One of our biggest challenges will be pulling off this project in the age of COVID.  We want to ensure our actors and crew are safe at all times, and that we are taking all available and recommended precautions.  This film is ambitious, but we're still an independent production and do not have the resources of a studio or company. 
If you fund this project, we can start pre-production, begin building the puppet – which will be a four-month process – search for our talented actors, rehearse with the puppeteer and kids, and begin production this fall/early winter in Los Angeles.  Of course, there are bound to be unknowns (from weather, to schedules, to a global pandemic), it's impossible to guarantee everything will go exactly as planned, but I'm really proud of the level of talent we're assembling. 
Our goal is to create a film both awe-inspiring and impactful – tackling issues of representation on multiple fronts, addressing the national plague of police violence on black and brown Americans, and to acknowledge those young and old dealing with the longstanding, often generational trauma these violent acts inflict on their victims, families and friends. 
We'll be sure to send out regular updates to our backers.  You'll be the first to know our progress and what's going on. 
Our sincerest thanks in advance and throughout this incredible journey!  This is gonna be awesome.
Organizer
#1 fundraising platform

More people start fundraisers on GoFundMe than on any other platform. Learn more

GoFundMe Guarantee

In the rare case something isn't right, we will work with you to determine if misuse occurred. Learn more

Expert advice, 24/7

Contact us with your questions and we'll answer, day or night. Learn more