FATHERS OF THE DARK KNIGHT: A Stage Play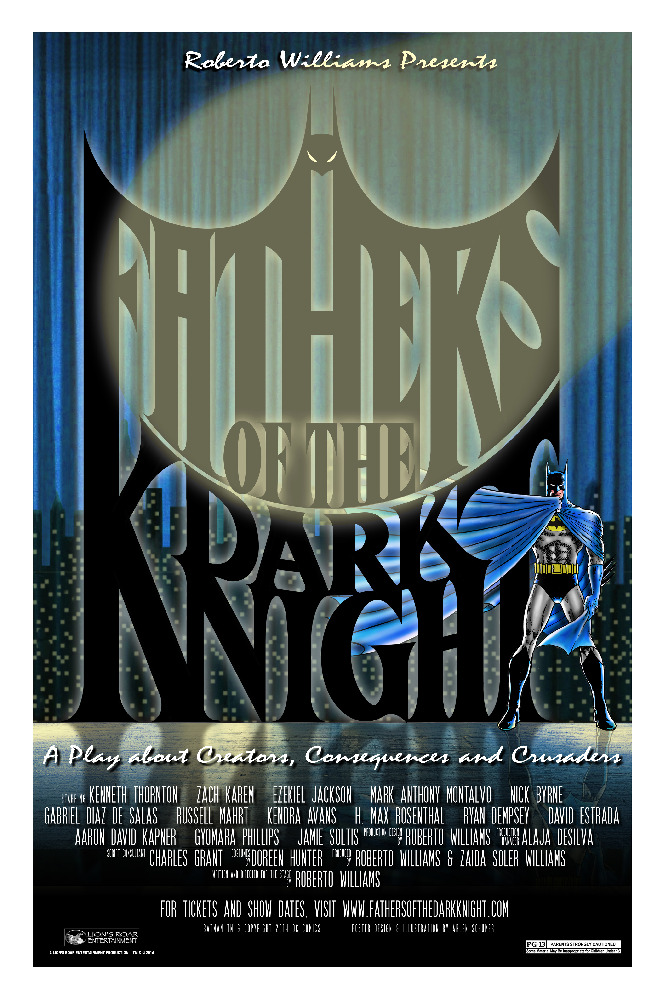 If you're like me, you're tired of our young people having THE ARTS being cut... more and more each year... from their school curriculum! Each year, Performing Arts students and their teachers have less and less resources to put on really good quality shows!
That bothered me SO MUCH that I decided to do something about it!! I've written my OWN stage play (entitled "Fathers Of The Dark Knight"), and it will feature a cast made up primarily of middle school, high school, and college-age drama students!!
I'm giving these kids an ambitious, excellent show to call their OWN!! I want them to have the BEST sets, the BEST costumes, the BEST props!! I do this because they deserve the best. I do this because they deserve to have a top quality way to showcase their talent!
I do this because I love them.
But I really need help.
Please visit our official website at
http://www.fathersofthedarkknight.com
. Take your time visiting the site and get a good up-close look at all the props, costumes stage designs and top-notch production value that has been fabricated FROM SCRATCH for this student production.
Then, if you are so inclined, please come back here to our Go Fund Me campaign and make a donation to our enterprise.Your dollars will help me make these students shine on stage like never before. You can help me give them an experience that they will carry with them for a lifetime! What could have more artistic value than that?
Your donations will cover the expenses for:
Theater Space Fees
Stage Set Construction Materials
Set Furniture Pieces,
Construction / Carpentry
Practical Stage Effects (smoke / fog/mist machines, pyrotechnic squibs)
Video Projectors and Projection Screens Rentals
Lighting Purchases and Rentals
Sound Purchases and Rentals
Additional Costumes
Props Purchase and Fabrication
Transportation
Rehearsals
Publicity / Promotion,
Documentary Videography
Permits
Meals
OTHER WAYS YOU CAN HELP
If you cannot help by contributing money to our production, you are still in a position to get the word out about this page! We humbly ask that you PLEASE share this link on Facebook, Twitter, or any other social networking website. In addition, PLEASE share our official website:
www.fathersofthedarkknight.com
We still need production stagehands, and key production positions still need to be filled. If you would like to JOIN the "FATHERS OF THE DARK KNIGHT" production team by donating your services, please contact us through the official website and tell us all about yourself! Thank you SO much! We are SO excited to bring this production to life, and we hope to see you all on opening night!
NOTE: REGARDING THE LEGALITY OF THE PROJECT:
This is a 100% NON-PROFIT student-made, cospay stage production. We are making no revenue from the project. Any donations we receive will directly fund the play. They will never go into anyone's pocket.
Regarding our rights to produce this stage play, Warner Bros. (owner of DC Comics/Entertainment) issued this statement regarding fan films/creations in 2004 that has been their policy ever since. It is a statement we strictly adhere to:
"Warner Bros. definitely appreciates the enthusiasm and respect of its fans. We will continue to monitor the use of Warner Bros. properties as used in fan films / creations. However, we will only consider taking action against such films/creations that are either commercial in nature, are commercially exploited or otherwise engage in or depict inappropriate activity."
Organizer
Roberto Williams
Organizer
Brooklyn, NY