FossaSat-1, La Democratización del Espacio
¿Sabías que un satélite tan pequeño que te cabe en un bolsillo podría orbitar en el espacio? ¡¡Ya es posible!!
Soy Julián Fernández, un estudiante español de 16 años que lanzará el primer picosatélite español con una visión: la democratización del espacio.
Fossa Systems
, la asociación juvenil sin ánimo de lucro con sede en Madrid de la que soy cofundador, está desarrollando uno de los satélites más pequeños del mundo. Su objetivo es democratizar el acceso a telecomunicaciones y hardware espacial mediante el lanzamiento de picosatélites tan pequeños que puedes meter en un bolsillo. Nuestro primer satélite, FossaSat-1, se lanzará en órbita este año y creará la primera red global gratis de telecomunicaciones para el 'Internet de las cosas', permitiendo el acceso espacial a millones de personas. Para poder hacerlo realidad hemos creado esta petición de crowdfunding. Tu ayuda será esencial.
(Satélite FossaSat-1 delante el ESAC de la Agencia Espacial Europea)
La Misión

Gracias a este nuevo sistema, permitiremos que miles de estudiantes o personas interesadas tengan acceso a comunicaciones globales. Y lo haremos creando la primera red global de telecomunicaciones sin necesidad de infraestructura terrestre. ¿Cómo? Mediante el uso de receptores caseros de menos de 4 EUR a los que se puede conectar cualquier persona o sensor de monitorización.
Llevamos a cabo talleres educativos con colegios, tanto españoles como extranjeros, inspirando a una nueva generación de jóvenes ingenieros y científicos. Les damos la posibilidad de experimentar con el espacio, de manera gratuita y libre, sin comercializar la idea.
Como asociación sin ánimo de lucro, queremos compartir nuestro conocimiento con el resto del mundo de manera completamente abierta y gratuita, por lo que todos nuestros
diseños, investigaciones y contenidos educativos
  están abiertos al publico.
El Equipo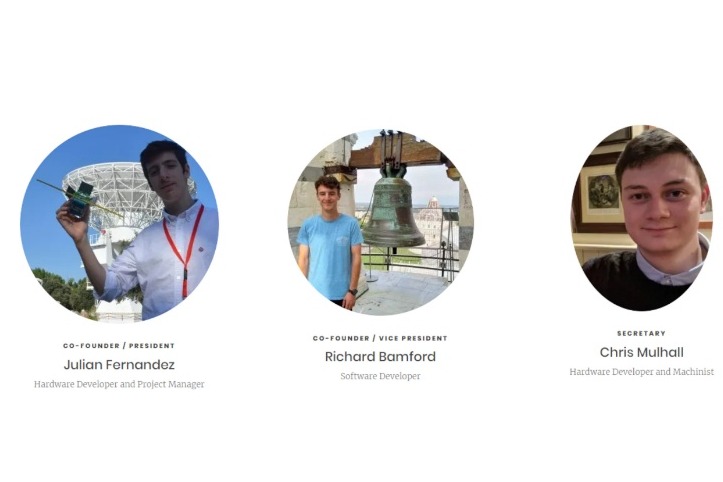 Somos un equipo internacional de varios estudiantes que nos conectamos gracias a la "magia" del internet. Tenemos una a mentalidad abierta y transparente, por lo que cualquier persona puede involucrarse en nuestro desarrollo. Estamos encantados de recibir todo tipo de contribuciones con respecto a diseño, administración, financiación, etc. a título personal o de colectivos.
Como se usará tu donación?

Todo el dinero recibido irá directamente a la asociación sin ánimo de lucro Fossa Systems para financiar sus actividades de desarrollo y lanzamiento de picosatélites, específicamente se usará para financiar el coste de lanzamiento y desarrollo del satélite sin ánimo de lucro FossaSat-1.
Recompensa!
Todos los nombres de donantes serán grabadas en una tarjeta SD.
Para donaciones mayores a 10€ tu nombre será grabado en una placa que volará al espacio!
Contacto / Redes
Si quieres estar al tanto de nuestro progreso, nos puedes seguir en
@FossaSys
o leer
nuestro blog
 .
Pueden contactarnos en:
https://fossa.systems/contact/
English



Did you know a satellite so small it could fit in your pocket could orbit around earth? This is now a reality.
I am Julian Fernandez, a 16-year-old student and co-founder of
Fossa Systems
 .
Fossa Systems is a non-profit juvenile association based in Madrid which is developing one of the smallest satellites ever made. Our objective is to democratize access to space, both regarding telecommunications and access to in-orbit hardware by using picosatellites that can fit in your pocket and can be launched for less than the cost of a car.
Our first satellite, FossaSat-1, will be launched into orbit later this year and will create the world's first fully free & open source global telecommunications network.  This will expand access to IoT telecommunications to millions of students and individuals worldwide.
(FossaSat-1 satellite in front of the European Space Agency's Astronomy Centre)


Our Mission


Thanks to this new system, no ground-based infrastructure is needed to communicate without satellite. Using homemade <4 EUR receivers, any monitorization sensors or individuals can access the network. 
We carry out educational workshops with schools on an international level, inspiring a new generation of young engineers and scientists. We give students the possibility of experimenting with space, in an open and free manner.
As a non-profit association, we want to share our knowledge with the rest of the world in a totally free and open source way, all our
designs, investigations and educational
content are available online.
The Team
We are an international team of students connected thanks to the magic of the internet. Due to our open source mentality, anyone can get involved in our development. We receive contributions proceeding from members from all over the world as a community.
How will your donations be used?


All donations received will go towards the Fossa Systems registered non-profit association to support their satellite development and launch activities, more specifically this money will go towards paying for development and launch costs of FossaSat-1 into orbit.
Rewards!
All donations will have their name stored on an SD card.
All donations above 10€ will have their name engraved on a plate on the satellite!
Contact / Social Media
To stay up to date with our progress, you can follow us
@FossaSys
or on
our blog
 .
A contact form is available @:
https://fossa.systems/contact/