Help Us Bring The Forest Back
Para quienes no hablan inglés pueden encontrar abajo la traducción de este texto ;)
Dear Friends,
Thank you for taking time to watch our video and read about our project. It is our greatest honor to be able to share our story with all of you!
Here is a more detailed explanation of what we aim to accomplish. But if you need further information, please feel free to contact us at anytime. 
So, this is how it all began:
As you already know from the video, our beloved father died in 2008. Besides leaving a big whole in our hearts, we were left with a cattle ranch and no experience on how to run it.
Still, we decided to reap the benefits of adversity and use what life has given us, to show that conservation is more profitable than the indiscriminate exploitation of natural resources. For decades, traditional cattle ranching has resulted in the massive elimination of forests in Colombia. 
The ultimate goal of this project is to recover the dry tropical forest, which is one of the most threatened ecosystems in Colombia. In the Caribbean, where our farm is located, 90% of  the forest cover has already been destroyed and all that remains are small forest fragments that make them more vulnerable to disappearance.
Since this is a task that we will not be able to do by ourselves, we need to create a model of sustainable land use that can be adopted by other cattle ranchers in the region. The immediate solution is to  create  connectivity corridors that allow the recovery of the ecosystem and biodiversity. 
That's why we are inviting our friends to support us with this idea. Your support will allow us  to create a strong project that engages different organizations, public entities and funders.
We are confident that raising
US 20,000
will allow us to start our project and build a compelling case to continue to raise the rest of money that we need. It is estimated that the implementation of the entire project will require a total investment of
U$ 350,000,
 over 5 to 10 years.
Why is it important to support this idea?
We will devote our time, resources and heart to this project because we are convinced that this is a unique  opportunity to contribute to the recovery of the tropical dry forest in Colombia while also changing  the destructive practices of cattle raising in the country. In addition, we are advised by Fundacion CIPAV, a leading research center for sustainable agro-forestry systems in Latin America. CIPAV will  provide us with the knowledge  and expertise, based on more than 20 years of experience in implementing sustainable agro-forestry projects.
Our farm is located at a strategic place in the biological corridor connecting the Serrania de San Jerónimo and the remaining forest fragments in the Cordoba Department (marked by the start in the next image). 
We are convinced that the strategic location of our farm will allow us to contribute to the connectivity of the remaining small forest fragments, in order to allow for a holistic  ecosystem recovery.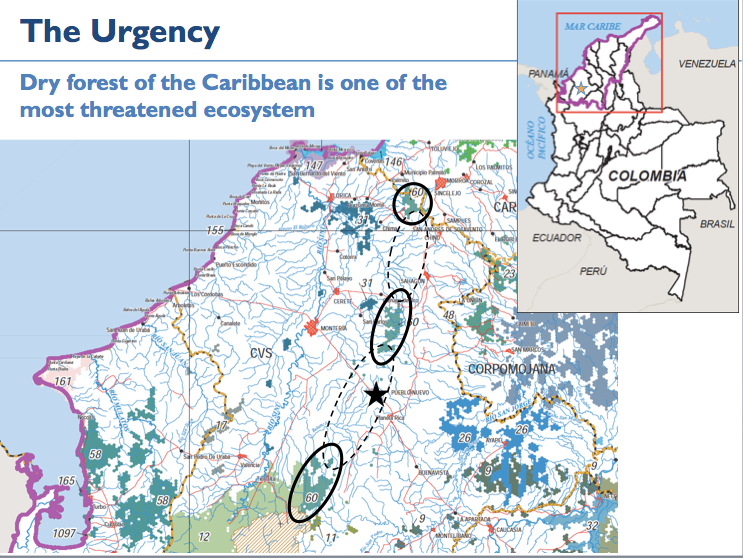 *Recovery of biological corridors of dry forests of the Serrania de San Jeronimo is one of the priority conservation areas identified in a study for environmental planning for biodiversity conservation, developed by the Humbolt Institute, IDEAM, TNC and the National Hydrocarbons Agency.
The opportunity to create a sustainable production model will allow us to show other farmers that using environmentally friendly practices, not only helps to protect the environment, but also creates a more productive farm.  Having a healthier soil can increase production and helps reduce costs because fewer herbicides and fertilizers are needed.
The transition towards sustainable landuse practices  will require the elimination  of herbicides that suppress forest and soil regeneration, integrating cattle with agriculture and forestry, establishing natural reserves and biological corridors and protecting water sources. 
This is a long-term process, so we need your help to take a first step and create a pilot to convince  people  that  the  long  run  investment  is more  profitable economically, socially and environmentally, than to continue with business as usual. Through this model  we  will  identify  the knowledge,  technical  assistance  and  financing needed  to accelerate and facilitate the  adoption  of sustainable practices  by  farmers.
The money collected through this campaign will be 100% invested in efforts to create a successful pilot project and validate the proposal. This creates the potential to attract private investment or an impact investor to further scale the  project and achieve our end goal.
Thank you so much for taking the time to read and learn more about our project. We hope you can join us, so that together we can transform  this beautiful land.
If you need further details, please feel free to reach out to us anytime!
Thank you so much for helping us bring the forest back!
The Mejia Family ;)
TRADUCCION
Queridos Amigos,
Muchas gracias por sacar tiempo para ver nuestro video y leer más sobre nuestro proyecto. Es un honor para nosotros compartir nuestra historia con ustedes.
Aquí encontrarán información más detallada sobre el proyecto, y los resultados que buscamos lograr. Si necesitan información adicional nos puedes contactar directamente.
Así es como empieza esta historia…
Como les contamos en el video, nuestro padre murió en el 2008. Además de dejarnos un gran vacío en el corazón, su partida nos dejó una nueva responsabilidad: quedamos encargadas de una finca ganadera sin tener experiencia alguna en cómo manejarla.
Aunque fue un reto difícil, decidimos convertir esta dura situación en una oportunidad para hacer una diferencia en nuestro país, una oportunidad para demostrar que la conservación es más rentable que la explotación indiscriminada de los recursos naturales. Por décadas, la ganadería extensiva ha sido responsable por la eliminación masiva de los bosques en Colombia.
Es esta realidad la que nos inspiró a ponernos como meta recuperar el bosque seco tropical, uno de los ecosistemas más amenazados en Colombia. En la región Caribe, donde está localizada nuestra finca, el 90% del bosque ha sido talado y todo lo que queda son pequeños fragmentos de bosque, desconectados unos de otros, lo que los vuelve más vulnerables a su extinción.
Esta es una meta muy ambiciosa, que no podremos lograr si trabajamos solas. Debemos crear un modelo para el uso sostenible de la tierra que pueda ser adoptado por los demás ganaderos de la región. Con la participación de todos podremos crear  corredores biológicos que faciliten la recuperación del ecosistema y la biodiversidad.
Por eso decidimos invitar a nuestros amigos y familiares a apoyarnos en esta idea.
Estamos seguras que conseguir los primeros
USD 20,000
nos permitirá empezar el proyecto y validar su viabilidad para así poder involucrar diferentes organizaciones, entidades públicas e inversionistas y escalar el proyecto al nivel que pueda hacer una diferencia real y sostenible en la región. Está estimado que la implementación de este proyecto requerirá la inversión de
USD 350,000
 por un período de 5 a 10 años. 
Por qué es importante apoyar nuestra idea?
Primero, porque le estamos entregando a este proyecto nuestro tiempo, recursos y especialmente nuestro corazón . Estamos convencidas de la gran oportunidad que tenemos en nuestras manos para contribuir a la regeneración y recuperación del bosque seco tropical en Colombia y  así cambiar las practicas destructivas de ganadería en nuestro país. Para esto contaremos con el apoyo y asesoría de la Fundación CIPAV, uno de los centros líderes en investigación de sistemas agroforestales sostenibles en Latinoamérica. Ellos nos proveerán con el conocimiento y la experiencia de más de 20 años implementando proyectos agroforestales sostenibles.
Segundo, porque estamos convencidas que la ubicación estratégica de nuestra finca nos permitirá contribuir a la conectividad de los pequeños bosques y por ende a la recuperación del ecosistema.
Nuestra finca está localizada en un lugar estratégico en la región Caribe (marcado por la estrella en la próxima foto). Estamos ubicados en el territorio del corredor biológico que conecta la Serranía de San Jerónimo, por lo tanto, implementar este proyecto sería clave en la regeneración del bosque en la región*.
*La recuperación de corredores biológicos en la Serranía de San Jerónimo es una de las áreas con mayor prioridad de  conservación identificadas por un estudio de planeación ambiental para la conservación de la biodiversidad, desarrollado por el Instituto Humbolt, IDEAM, TNC y al Agencia Nacional de Hidrocarbonos.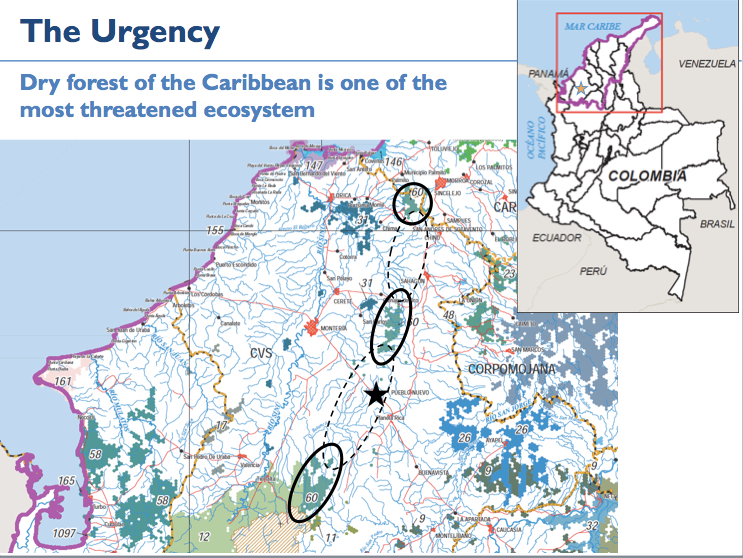 Tercero, porque la oportunidad de crear un modelo de producción sostenible nos permitirá mostrar a los demás ganaderos y agricultores que implementar prácticas amigables con el medio ambiente, no solo beneficia a nuestro planeta, sino que permite crear una finca más productiva, y por ende más rentable. Tener un suelo más sano, puede incrementar la productividad y reducir costos al reducir el uso de herbicidas y fertilizantes. 
La transición hacia la sostenibilidad requiere la eliminación del uso de herbicidas, que suprimen el bosque y la regeneración de los suelos. Requiere además la integración de las vacas con árboles y agricultura; el establecimiento de reservas y corredores biológicos y la protección de las fuentes de agua.
Este es un proceso a largo plazo, por esto necesitamos tu ayuda para dar los primeros pasos y crear un piloto que nos ayude a convencer a las personar que el retorno a largo plazo es mucho más rentable económica, social y ambientalmente que las viejas prácticas destructivas que se han utilizado por tantas décadas. A través de este modelo tendremos el conocimiento necesario, la asistencia técnica y la financiación para acelerar y facilitar la adopción de prácticas sostenibles por parte de los ganaderos y agricultores.
El 100% del dinero recolectado a través de esta campaña serán invertidos en crear un piloto exitoso y validar esta propuesta. Esto nos permitirá acceder a inversión privada y/o inversionistas de impacto y así poder escalar el proyecto para obtener nuestra meta.
Muchas gracias por tomarte el tiempo para aprender más sobre nuestro proyecto. Esperamos que te unas a nuestra causa, y así juntos podamos transformar esta hermosa tierra.
Si necesitas más información, no dudes en contactarnos.
Gracias por tu aporte y tu apoyo en traer de nuevo el bosque y la vida!
La Familia Mejía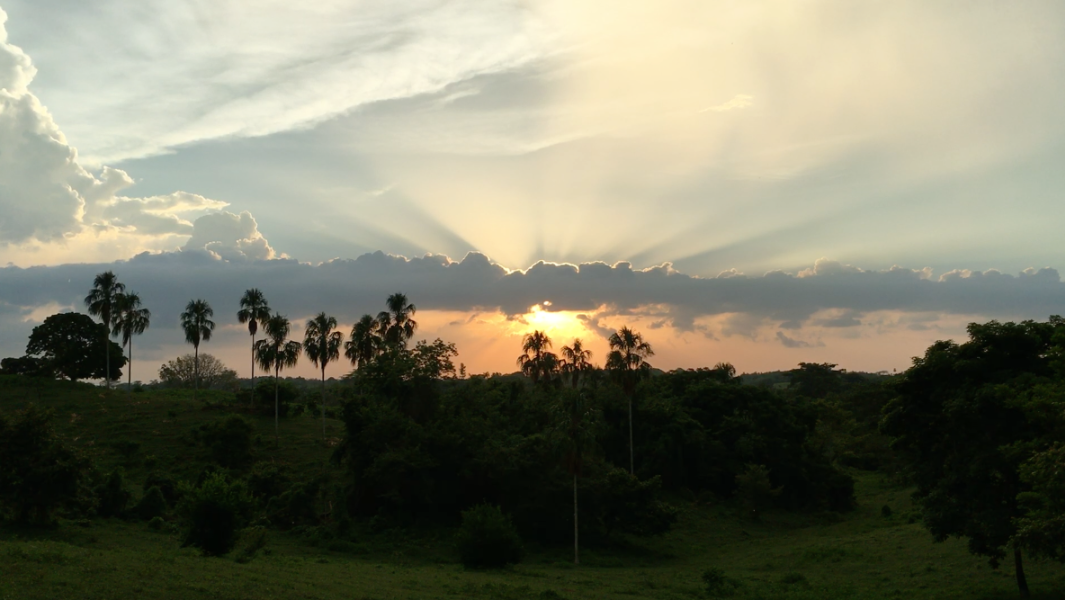 Donations

Organizer
#1 fundraising platform

People have raised more money on GoFundMe than anywhere else. Learn more

GoFundMe Guarantee

In the rare case that something isn't right, we will refund your donation. Learn more

Expert advice, 24/7

Contact us with your questions and we'll answer, day or night. Learn more