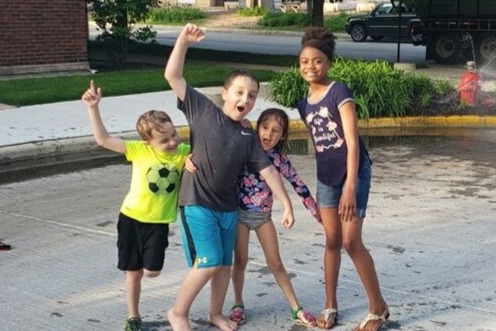 Two weeks ago everything was normal. The kids were all playing together, running around and enjoying the last moments of summer and the start of fall. One week ago, Saniyah woke up feeling short of breath. Her mom, Ciel, took her to the hospital and they found out that what they thought was a case of walking pneumonia was actually life threatening. Saniyah has since had two intensive cardiac surgeries and is on the waitlist for a heart transplant.  
Eleven-year-old Saniyah is a force of nature, dear friend, smart cookie, loving daughter and granddaughter and all around awesome kid. She is currently at Lurie Children's in ICU as she recovers from the emergency heart surgeries she has undergone and awaits a transplant.
As her mother stays by her side throughout this ordeal, there are many expenses that will quickly begin piling up. From medical bills and lost wages to a host of associated unforeseen costs, the expense will be extensive. It is our goal to lessen that burden for Ciel as much as we can so that she and her family can focus on helping Saniyah heal.  Your donation will enable a mother to focus on helping her child at the moment of greatest need.
We will post updates to this campaign. One of the updates we look forward to posting is when the family can come home from the hospital. At that point, if you would like to help us with a neighborhood meal train, please let us know.


Fundraising team: Team Saniyah (5)