For my mother, a daughter's love
Hi. I'm going to ask that you please take the time to read this story. If you aren't able to give, reading this story will bring awareness to Thyroid Cancer and hopefully help you in identifying the symptoms and saving a loved one.
My name is Pilar Patrick and I am the daughter of a beautiful soul and a very strong woman named Amy Patrick. My mom has worked in the health care field for over 30 years serving others. She is a federal employee at Michael E. Debakey Veteran Affairs Medical Center in Houston Texas. She is a veteran herself, serving 7 years in the army. She has raised 4 children which includes myself , her only daughter, and 3 sons. Her first born son passed away suddenly in 2013 at the age of 39, as well as her mother the same exact year. Talk about hardship. Through all that pain she showed me what resilence and strength truly looked like. She is a praying woman, an ambitious woman, the opposite of a quiter. She is such a loving, caring, and self-sacrificing mother and wife. She has been married for 45 years to my father who is a full time pastor.
Fast forward to September of this year. My brother called me to inform me that he was shocked at the appearance of our mother when he stopped by to visit her that day. She was losing weight rapidly. Our mother was looking rather frail and weak. Out of concern, I flew from California to Texas to see for myself.
Sure enough, she looked very frail and weak indeed. So while I was in Houston I decided to take my mother to her primary care doctor to get an explanation for all this weight loss, fatigue and weakness. Displeased with what the doctor had to say, I requested that he give a sick notice that I could submit to her job because she was too weak to work any more. The doctor completely agreed and thankfully fulfilled the request and gave her a 90 day sick note.
My mother and I went up to her job and not only did we submit the sick note and a FMLA request to her nurse manager but we submitted retirement paperwork as well. I was so excited about this because my mom has been talking about retiring for several years now but different things always got in the way. What I wasn't excited about was the HR Personnel explaining that it would take several months before her retirement package would even be available to review before the final submission. I was concerned to learn that although the doctor wrote a 90 day sick note, my mom only had about 60 days of sick leave within her "sick bank" at her place of enployment. I knew these things would be a concern that I would have to follow up with soon because there would be a lapse in income. AS a christian family, I knew that I need not to worry because it does not bring forth fruit. I know that God ALWAYS provides.
The next step was getting another doctor to look into my mother's health. I flew back to California and in a week's time my mom was visiting my husband and I in California . While she was here I got an idea (from God) that maybe I would find a doctor out here that could examine and treat my mother and let us know what was going on with her health. As a registered nurse I had already expected the obvious, the Dreadful big C word , Cancer. She had all the symptoms of cancer and hyperthyroidism : Weight loss, loss of appetite, hot flashes and then cold chills, tachycardia, pain to her thyroid, difficulty swallowing (we would later learn that a tumor was pressing on her trachea), vision blurriness, pain in ear canals, etc.
I found the best doctor in the world. When we met him I felt peace in my spirit. He was up to the task of taking on my mom's case and doing everything that he possibly could to save her. ( Dr. Hinika Gudata)
He admitted her into the hospital on October 30th and as I'm writing this right now it's November 4th. Within this one week's time , she got an entire body work up. - MRI of her head, ultrasound of her thyroid, unltrasound of her heart, a biopsy of her thyroid, CT scan of her chest, abdomen and pelvis, chest x-ray, stress test called Lexiscan. I wrote down the name of every single doctor that was consulted.....from gastroenterologist, oncologist, cardiologist, and more. She finally got placed on thyroid medication that she should have been taking a year ago but her Houston doctor failed to prescribe appropriately ( unfortunately I'm just now learning this information). Her blood pressure was 175/90 and thankfully the doctor adjusted her blood pressure medications and in one week it has dropped to normal.
Now the biopsy. The reason she got a biopsy of her thyroid is because all of her symptoms were pointing directly to her thyroid as being the culprit to all of her suffering. It was obvious just from looking at her neck that there was growth (tumor) on her thyroid.
We waited Days for the biopsy report to come back. When the report did come back the pathologist stated that she was unable to draw a conclusion. This is what you call an inconclusive test. The pathologist could not confirm or deny that the cells removed from her thyroid werr cancerous. Hinika kept saying he was sure it was cancer And if it wasn't cancer,  it was still toxic.  Very nerve wrecking.
The surgeon explained that the biopsy specialist may not have went deep enough into the tissue to get the best atypical cells.
So the plan: The surgeon is going to remove the right side of her thyroid and immediately (while mom is still under anesthesia) have a pathologist look at the tissue under a microscope and verbally confirm or deny cancer. If it is cancer the surgeon will then proceed to remove the left side of her thyroid. If it is not cancer the doctor will leave the left side of her thyroid.
But because the right side of her thyroid is so toxic and enlarged the doctor is going to remove that side regardless if the pathologist reports cancer or not.
I'm so happy to say that my mother is scheduled for surgery on November 6th to have that Toxic thyroid removed.
The road to recovery will take time and the last thing I want her to worry about is finances. My mothers last paycheck from her FMLA sick leave will be in a few weeks. After that, the even harder struggle with paying bills will start. Thankfully her husband does get social security benefits and that helps a ton! As I stated earlier, he is a full time pastor and he also gets some financial assistance but his church is small and it would be a huge strain to SOLELY place on a small congregation. Her children of course help where we can as well. But there is still a need. My mothers retirement benefits aren't expected to kick in until the estimated time of February 2018.
Everyone knows medical bills aren't fun and are always expensive. On top of that there are the expenses of rent and utilities, groceries gas and such.
I'm asking that if you feel this story has touched your heart and you feel you can give to bless my mother, it would be greatly appreciated. Thank you for reading my story. Prayers are always just as important and I ask that everyone that is reading this say a prayer for my mothers recovery. Thank you and God Bless.
Update:
Her surgery was a success.  The cancerous follicular cells were removed from the right side of her thyroid.  The left side has been left intact. She is recovering with me and  her son in law. Thank you everyone!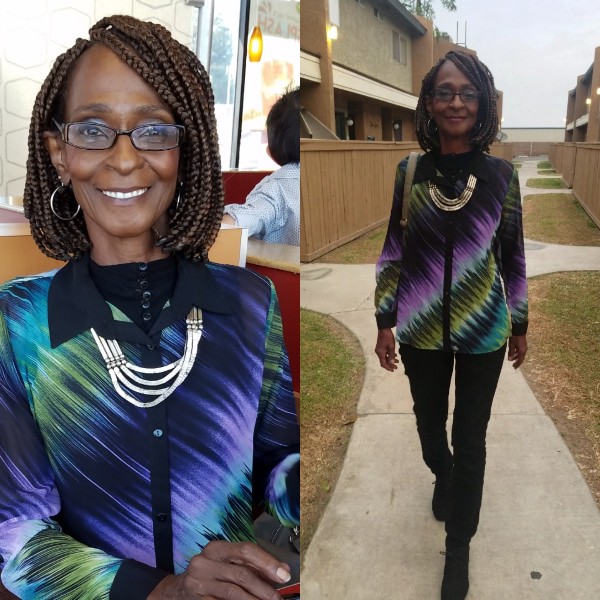 Organizer
#1 fundraising platform

More people start fundraisers on GoFundMe than on any other platform. Learn more

GoFundMe Guarantee

In the rare case something isn't right, we will work with you to determine if misuse occurred. Learn more

Expert advice, 24/7

Contact us with your questions and we'll answer, day or night. Learn more