THANK YOU FOR ALL YOUR KIND DONATIONS. HAVING ACHIEVED OUR GOAL, WE HAVE TURNED OFF DONATIONS MOVING FORWARD.
While sailing near one of the most remote islands in the South Pacific,
Danny Round suffered a life threatening and debilitating injury
. Only through the aid of his fellow sailors (some that had only just met him) was his life saved.
But his fight is far from over, and since he is self-insured, he needs our help.
Last week, Danny was returning to his 1984 C&C sailboat in a dingy with a 20hp outboard when conditions worsened and an unseen wave knocked him overboard, his hand slipping off the kill cord around his wrist. In the water, he was struck by the hull of the boat and the outboard propeller.
He sustained lacerations to his feet, legs, waist, chest, hands, chin and forehead.
Later diagnosis would reveal that he had
three fractures to his skull
. Danny was now
bleeding uncontrollably
in the water off an island with
no cellular signal, no wifi, no clinic, no hospital, and no witnesses
.
Miraculously, a fellow sailor saw his boat making circles away from the anchorage. They came to investigate and pulled Danny into their boat, bleeding terribly and
unrecognizable with his facial injuries
. They knew they did not have the medical equipment or the skills to save him, but thankfully one of the other sailors nearby happened to be a doctor. Danny was taken to their boat where they began a 24 hour rush to stop his blood loss and to close his wounds where they could. But really he needed a hospital or he would die.
With no other options available and with Danny in shock, another sailor called for a medical evacuation by helicopter, and paid for it on their personal credit card. The Navy was also called, and they diverted a ship to intercept Danny the following morning. But due to the nature of his injuries, the medi-vac was required and he was flown to Suva hospital where he learned he had sustained 3 skull fractures (one slightly collapsed his forehead, a second smashed his nasal cavity and the third to the right side of his nasal cavity). He received over 60 stitches in and around his mouth and face. Over the course of two operations, he received metal plates and a skin graft from his ear to attempt to fix his nose. Ten more stitches over his chest and a slightly missing nipple. 20 more stitches to his right hand, which also sustained tendon damage. And finally, eight more stitches to his right heel. Danny still has a hairline fracture on his top front tooth and needs to re-brake his jaw in order to realign his bottom three teeth so his jaw will close. The pictures shown here show his face at its best - and you wouldn't want to see it earlier.
Danny owes his life to the kindness of friends and strangers
, who have also paid for his injuries. We would like to repay them for their kindness in helping out a fellow sailor in need, but also to help Danny on the road to recovery. He will have countless medical costs and visits in the years to come, and this injury will also affect his earning potential as a chef, especially in the near term (hopefully the damage to his hands will heal with time).
This is a story of pain, kindness and compassion
. Danny's saviors that day came from many different backgrounds and countries, yet banded together to save this young sailor's life. It proves that when truly in need, we can still put aside our differences and come together to save a life. Danny is incredibly grateful, he has a positive attitude and maintains his enthusiasm for life. We know he will be grateful for any donation, no matter how big or how small, that you can make.
If you have ever enjoyed a day at sea, or are a fellow sailor yourself, we ask you to help support Danny on his road to recovery.
As the moderator of this fund,
we will update you weekly on Danny's progress
, his medical bills and how the funds raised from this page will been spent. You can also follow Danny's
instagram
account where he posts daily about his accident and recovery efforts.
COSTS TO DATE:
$18,700 FJD for Pacific Island Air Medi Vac Helicopter Service
$4,200 FJD for Suva Hospital Stay
$1,100 FJD for revisits to remove stitches and other work
$4,300 FJD for future dental work
Unknown future costs, including plastic surgery to the face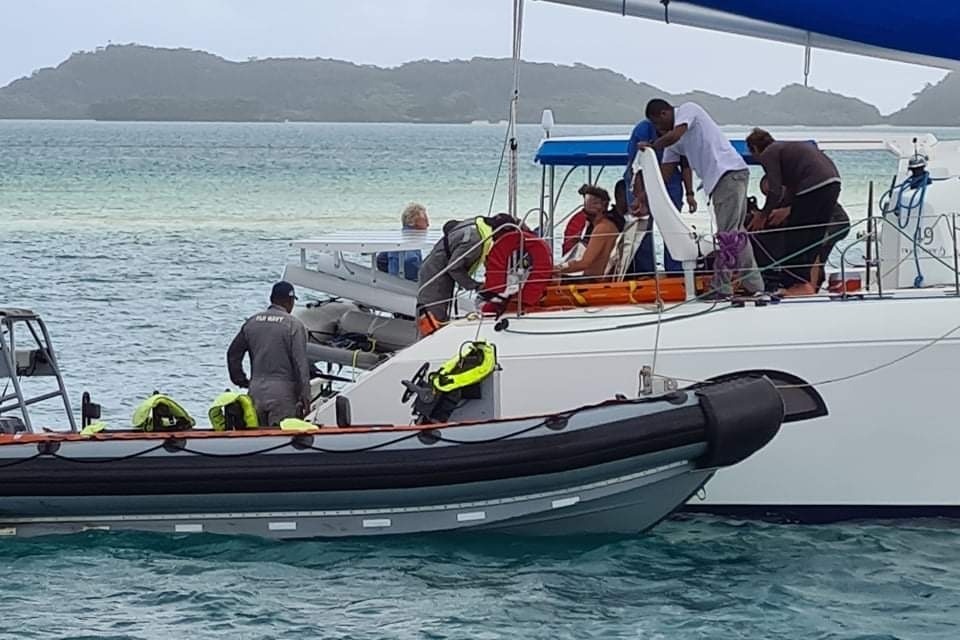 Organizer
Seth Hynes
Organizer
Green Cove Springs, FL