Football Training Centre for Village Kids
We wanted to play football but we had very limited sources. The barren fields were the only option and spending on accessories were beyond our family financial backgrounds. We tried hard for years and now we've got the field that municipality has permitted us to build an artificial turf and turn it to a football ground in our village. We are seeking help from all the sport lovers who can help us to build a training center where the kids from poor family can train here and polish them to build a better sportsman in the future. There are plenty of kids who can't just play because they can't afford a good boots and a ball. Our project is fully dedicated to inspire them for better health with sports. We need your help, we need your support so that we can start our project within the year of 2019.
https://www.facebook.com/theoceanclub123/videos/378588199612645/
The Ocean Club.(
http://www.theoceanclub.org.np/
)This club was established in 2061 B.S (2005 A.D) in Gorkha municipality-9, Dalbhanjyang Gorkha. In the beginning day, the ocean child Club started their business through social work by conducting a road drama campaign in 45 different place of Gorkha district.
Since 2071B.S (2015A.D), the club has conducted its activities in the name of The Ocean club (D.A.O Gorkha R.No:1348 ,SWC kathmandu A.No: 44546, PAN NO: 605027820).  The club has been running youth football development activities with motto "FOOTBALL FOR ALL" since 2068 B.S (2012 A.D).
The Ocean Club involved in sports with main goal of football development from the year 2068 and conducted u-14 inter school gorkha district wide football tournament for the 3 years and under 13 football competitions has been continuing continuously by modifying the same competition.The Ocean club organized a football training camp in 2070 &2071 B.S in gorkha and runs youth football training regularly with certified coaches  has been conducting a veterans tournament in the participant of non-professional football players from 30 years above on the occasion of Mahashivaratri each year from the  year 2071(2015 A.D).
The ocean club conducted the earthquake relief rehabilitation football training camp in Pokhara after the devastating earth quake hit Nepal in back 2072 B.s (2016 A.D).The Ocean club  also actively participated in  relief and  rehabilitation work after  the earthquake with a support and collaboration of  Lions Club of Annapurna, Lions Club of Pokhara City, Birata Club, Gorkha service society Australia, Pokhara Training  Center, Naples People in LA, America, Maya Foundation .The Ocean also worked as an local partner  in the construction of a school building in Shidhakali ma vi tandrang,mahendra lila ma vi harmi , and salyankot ma vi dhaging.
The ocean club team aims to establish a modern and facilitate soccer training center in Dalbhyang ,Gorkha , for the club to carry out football activities smoothly and in a effective way with the slogan of football for all . We planned to make this training center as a mark of love of the Gorkhali brothers and sisters living and working abroad in various countries of the world.We hope and request every people to participate and support for us in this project.
"The harmony, identity and unity among all the Gorkhali Fund raising campaign for football training center"

The ocean club training ground present condition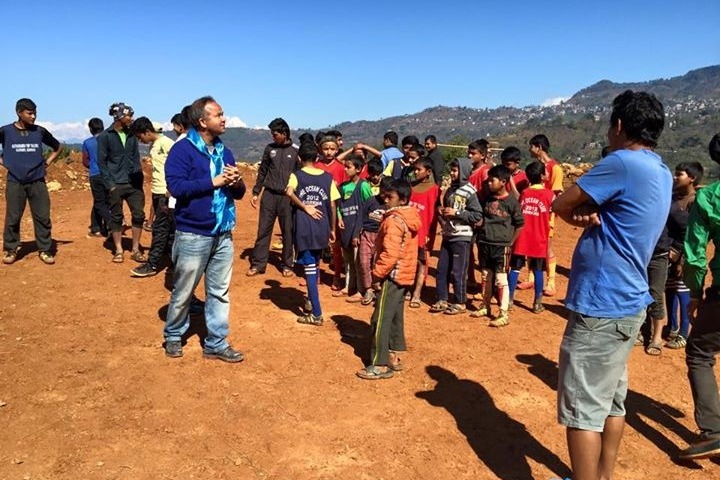 The ocean club training ground design.
Proceeding:
All the amount collected through this camping directly goes to the ocean club Gorkha .The ocean club will use this money for the artificial turf installation in its training ground in  Gorkha municipality-9 Gorkha.
Fundraising team: The Ocean Football Club, Gorkha (2)
Sanjit Shrestha
Organizer
Campsie NSW
amit khatri
Team member
Raised $322 from 10 donations