Fire Ravaged Family Needs Our Help
Tony and Robin need your help.  This young family which truly represents the American dream has suffered an unthinkable blow as they fell victim to the raging fires in Southern Oregon.  Propelled by massive winds, the burning fires rapidly jumped the roads of their rural community and began ravaging their neighborhood with almost no notice.  With little time to spare, Tony and Robin began fighting the fires while their four young children and Tony's elderly mother and sister, who had both immigrated from Nigeria to America to live with their son and his family, hoped that God would spare their lives.
As helicopter buckets of water repeatedly missed their home, the fire picked up steam and headed straight for their family – and their family business – a popular local organic wheat grass company that had just struggled through the COVID closures to finally once again begin to emerge as a local success.   Unable to get help, Tony and Robin began live-streaming their plight to save their home and their family business.  In the videos from that day you can see Tony valiantly fighting the fires, refusing to let all of his dreams be lost to the flames. 
Tony and Robin truly represent the American dream, and it was a dream they wanted to fight to save.  Today they lost that fight.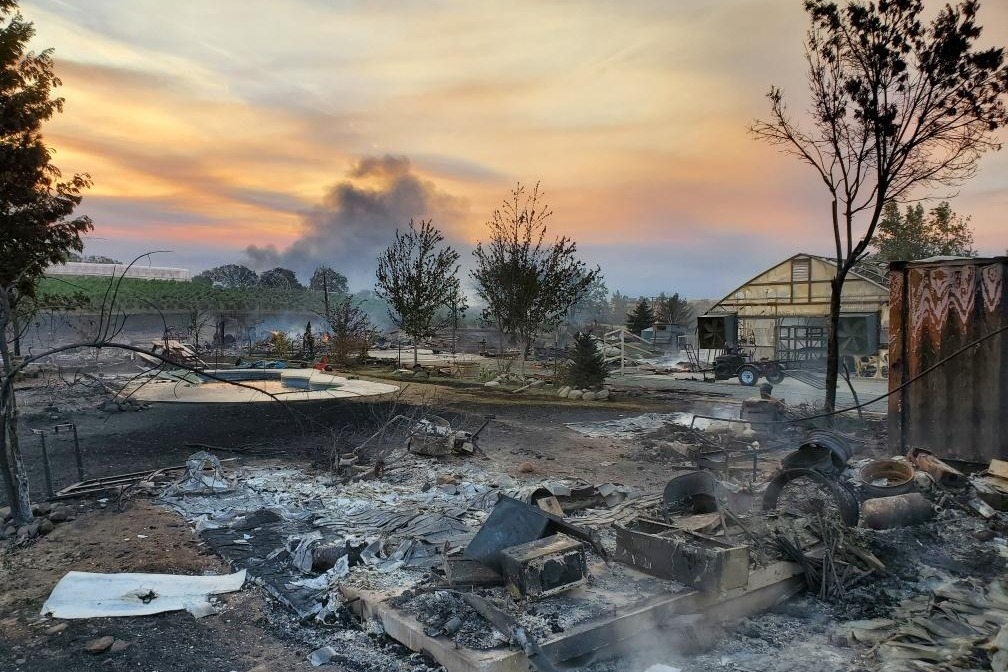 Tony immigrated to the United States as a teen to escape the violence in his home country of Nigeria.  As a teenager in America he worked hard and ultimately earned a scholarship to college becoming the first in his family to ever attend a University.  While in College he met Robin and together they would eventually return to Robin's home of Ashland, OR to build a small business and a family together.  Tony would coach local sports and work with the YMCA and Robin was the local girls volleyball coach, both committed to giving back to their community.  As their family grew, they welcomed Tony's mother and sister into their home, helping them to leave the uncertainties of life in Nigeria for the benefit of life in America.  On Tuesday afternoon, September 8, they all lost everything they had built. You can see the smoldering embers where their family home once stood below.  In the distance you can see the destroyed small business they spent a decade building together. The fires leveled their home and wiped out their business in a matter of minutes.  All was lost. 
This Go Fund Me page is started to help Tony and Robin rebuild.  They are committed to rebuilding but they need our help.  Please help us stand together with this amazing couple as the work to pick back up their lives. All of the funds will go to help them rebuild and take care of immediate expenses while they put their lives back together. 
NBC News Visits with Tony & Robin to tell their story
NBC Nightly News covers fire damage in Oregon and talks with Tony and Robin
Local Hawaii news covers the devastation in Oregon and speaks with former UH alumni Tony Akpan who lost his home
Organizer and beneficiary