FINN TOBIN ON TARGET 2020
HELP FINN WIN IN VEGAS!!!
This is no small dream....LAS VEGAS and LANCASTER USA!!!
The Two Biggest Archery Comps in The World.
But he can't do it without your support.
Finn is an amazing young Australian archer, thirteen years old, who has smashed both Victorian and Australian records. 
Finn is ranked NO. 1 in Australia, in his age division. He also ranks among the top open men's indoor recurve archers in Australia( top 12). Finn has won the Indoor State & National Championships  2 years in a row, and brought home 5 medals from the National Youth Archery Championships this year, all shot with a broken leg!! His gold winning score for the 30/720 so high it took 35 points of the Australian record and was just shy of a world record. 
From Learmonth, just outside of Ballarat, this country boy is a member of both The Wendouree Archery Club and The Diamond Valley Archers in Yarrambat, Melbourne. He is a student at St Patricks College.
Finn's natural ability, his skill, his ambition and his potential are unstoppable. There is an excitement about him that has caught us by surprise. But, it comes with it's own challenges.

Finn hopes to compete internationally early next year. With his sights set on 4 four major championships in 4 months.
*First up Finn's set his sights on shooting in
The World Indoor Championships
early in the new year in Syndey. 
*
The Vegas Shoot
and
The Lancaster Classic
in the USA Jan/Feb 2020.  We have no doubt his drive and natural talent will see him on the podium if we can get him there. 
*
The World  Archery Oceanic Championships
Fiji April 2020 should he qualify, and we think he will.
And Finn is on target to get there.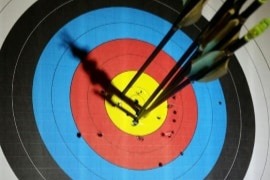 WILL YOU HELP GET BEHIND FINN
Unfortunately in Australia all archers are responsible for their own expenses to compete. 
Finn must pay for international flights, visas, transport, hotels, and entry fees. And his equipment costs are ongoing. Arrows alone are more than $50 each.
Please don't feel like you need to give much! Perhaps you could cover the cost of an arrow. Any donation will be greatly appreciated, even $1. 
Stay up to date with Finn's journey on his Instagram @tobinfinn
Thanks so much!

Organizer