My dad's fight against cancer
Our dad has been battling cancer for more than a decade. His first fight was against stomach cancer. I remember thinking to myself, wow you would never even know he is fighting against something so scary. His symptoms and side effects were little to none. He beat it and life went on. I didn't worry, I didn't even dwell on it. It was that easy. As the years went by he continued to enjoy life without even a mention of that small hiccup named cancer.
 About 8 years after his amazing first win against Malt Lymphoma, he entered the ring once again. This time, the same Malt Lymphoma had spread to his lungs. He was calm and collected. His faith and strength remained the same as always. He took on this battle and came out with another WIN! His winning statement remains the same " God is faithful".
 Last summer, not too long after beating lung cancer; he was once again set back with another challenge. This time it was skin cancer. A slow growing type, called basal cell carcinoma. Again, his faith in God did not waver. When I heard the news that he was going to have half of his nose removed, and start radiation; I was scared. I didn't want his face to change. I didn't want to watch him fight. Unfortunately, we didn't have a choice. After his surgery and 32 treatments of radiation we thought the fight was over. Cancer on the other hand had a different idea.
 This May, my dad was told he now had squamous cell carcinoma. Here goes another fight! After years of observing cancer, I always saw cancer as silent and hidden. Today, I now see cancer front and center. I watched each week as my father's face was rapidly being eaten away by cancer, something nobody should ever have to watch. As more tumors grew, his features and skin deteriorated away. This all was happening so fast. My father is one of the most loving and strong men I know. As strong as he remained, he couldn't do this alone. This time it was a tag-team effort. My oldest brother Malachi, stepped in the ring with our dad. He was well conditioned and ready to take on anything in the way. The oncologist and ENT specialist were not prepared for this type of fight. Because each week was crucial and the window of opportunity for treatment was closing, we had to act fast. With the right team and support, I've learned nothing is impossible! Our team was unstoppable! In my dad's corner, he had; his wife, children, extended family, and friends. In the same week while his local doctors were scratching their heads at a stand-still, my brother Malachi worked hard with the help of some others and got The University of Michigan Hospital to take on this challenge.
After several appointments, as the surgeons studied my father's face and body, they came up with the plan of attack. We received his surgery date! Yes, surgery. Not just any surgery--This was one of the biggest, scariest, surgeries my family has ever encountered. My dad was having the entire left side of his face removed. As the surgeons, nurses, and other specialist prepared us all for what was going to take place, we also prepared ourselves mentally. My family has always been close, and as we prepared we became even closer.
 So many people asked, "how do you even prepare for something like this"? My answer; you prepare with prayer, love, and comfort. This fight is really no different than any other day. It's important to take the time to love and stay true to your faith. Tomorrow is never promised, and with that we prayed for the strength to take one day at a time.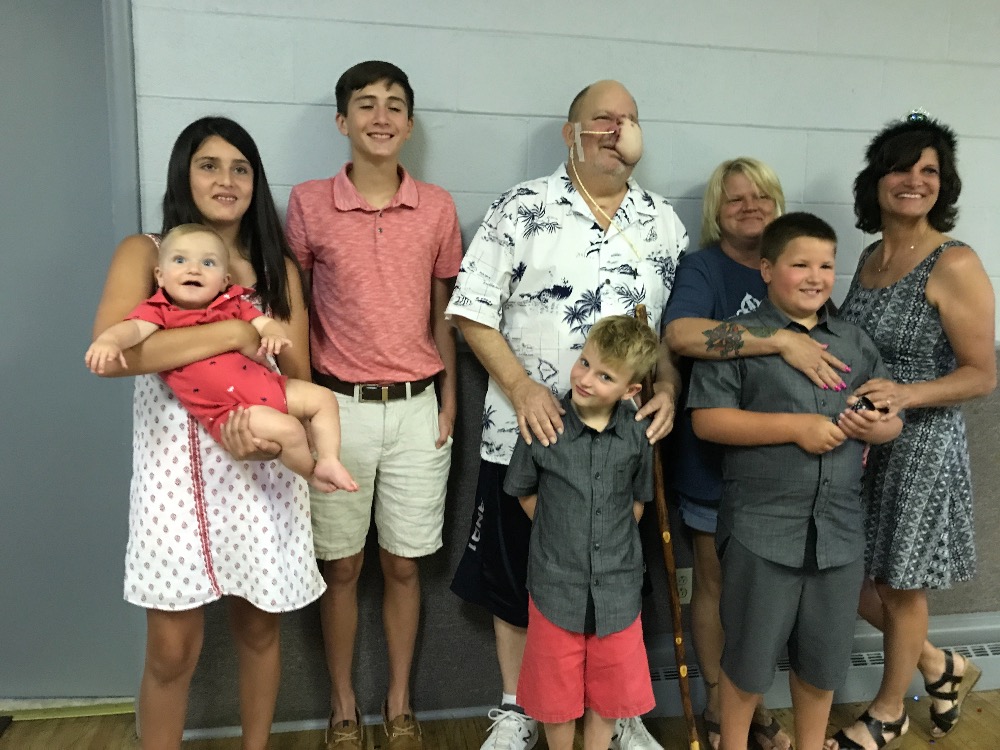 Today, just 4 weeks after my father's surgery, we were told that his cancer still remains in 5 different areas throughout his face. Two places that absolutely knock the wind out of my chest; his brainstem, and his bone. Even though this news is just part of the fight, as I sit here today typing this I have a lump in my throat. It's hard to swallow this one.
As my dad enters his final round, against this horrible cancer; I'm reaching out for help.
For the next 6 weeks, my step-mother will be driving my dad a total of 2 hours a day. He will receive radiation 5 days a week, and chemo 1 day a week. My step- mother, Kristen has not worked in months as my dad needs constant care. My brothers and I have continued to help in all ways possible. At this time, even the smallest donation will help tremendously! Your donation will go towards all travel expenses, as well as the constant medical bills and day to day bills. Please from the bottom of my heart, know that we are so thankful for all the prayers, kind words, and any contribution.

Thank you from our entire family!
Organizer
Kirbygirl Tousey 
Organizer
Sheboygan Falls, WI