A friends loves at all times, and a brother is born for a time of adversity...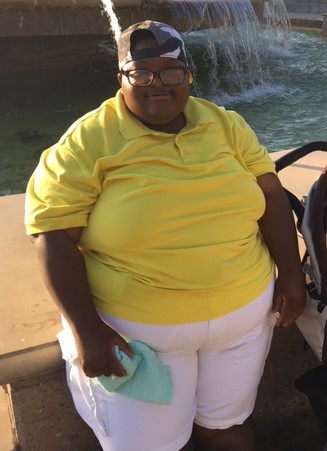 Hello world, 
I'm writing on behalf of my youngest brother Derrian, pictured in the photo. At the present time, he is fighting to live due to complications from a very rare genetic disorder that he was diagnosed with at birth.
This is not the first time Derrian (affectionately known as Derri) has dealt with any of these things, but it is the first time he's had a medical challenge of this magnitude and severity. About three weeks ago he was rushed  to Indiana University Hospital in Indianapolis, IN which is over two hours (160mi) away from where he lives with our parents. 
This rare disorder can cause many health and life challenges for the individual and the caregivers. 
Derrian requires 24-7 care and this support has come from my parents. This year has proved to be the toughest year yet—both physically, emotionally, and financially for my family—as Derri has fought off a series of illnesses in as many months. This is his second hospitalization in less than one month's time and fifth time this year. 
Our parents have had to make some very difficult decisions and sacrifices for the betterment of Derri's life, which means that they have had to put everything else on hold, including work. Due to his inability to communicate his needs or even understand what's going on with him, they have had to remain by his bedside daily to meet with the many doctors and specialists while making critical life decisions.  With mounting expenses, the stress and wellbeing is taking a toll, especially on our mother.
Adding to all of this, my brother has to be transferred  to a one of a kind hospital in Pittsburgh, PA whenever he's medically stable enough to be moved. They specialize in critical care patients dealing with this rare syndrome. He needs this in order to help him fully recover.  The financial assistance will help with medical costs not covered by insurance to ensure that Derri receives the necessary care to regain a better quality of life. He desperately needs all the help he can get. All of this treatment is vital to his continued health and success in living with this syndrome. 
Derrian is simply the most beautiful soul anyone has ever had the pleasure of meeting. One encounter with him and he's won your heart forever. This is the greatest challenge for everyone's heart to see such a vibrant personality fighting so fiercely to live, as he is. We know that he will beat this crisis because he's a fighter! Always has been, always will be. Please help us to continue to fight with Derrian as he fights his way back to the world he so loves. 
We want to personally thank you in advance for your love, prayers, thoughts, and support. It means the world to all those whose lives Derri has touched. God Bless. 
 Meisha Mayo