Fighting to win with Md Anderson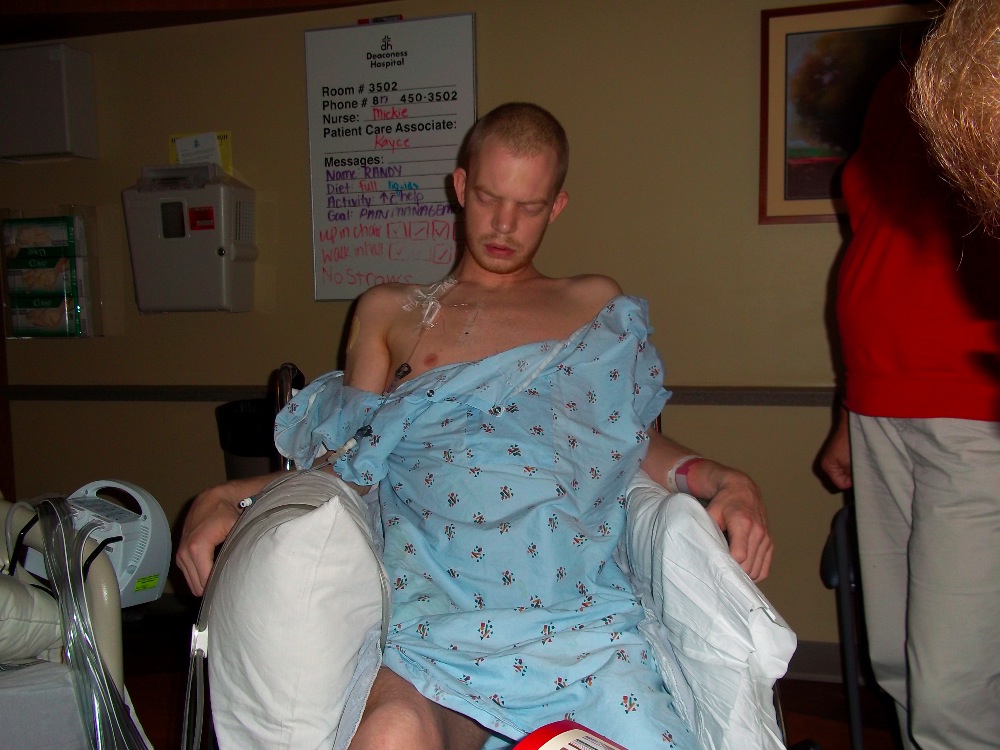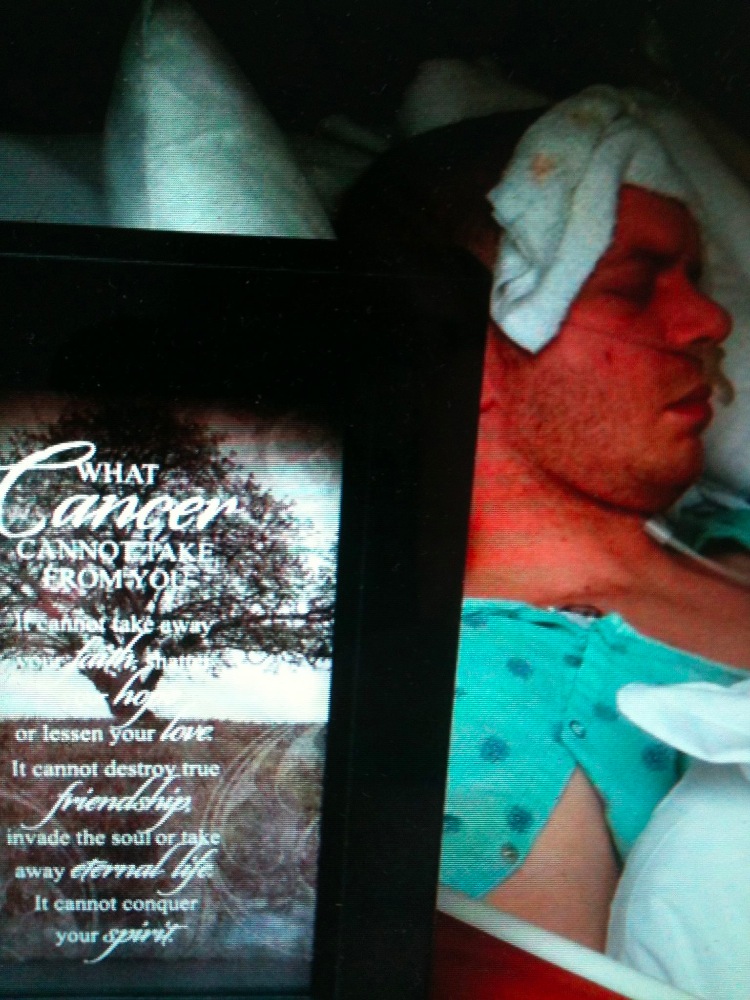 Randy was hit by a drunk driver when he was 16 and took him 45 mins to extract him from the car ripping half his ear off and mangling his back. In Early age 23 2009 Randy was helping a little girl that let go of her balloons in the store and crying, Randy stepped up on a cart to get her balloon for her and he tore his ACL in his knee. May 2009 Randy was taken off work to repair his ACL, Age 24 October 2009 Randy finally had his back surgery in which they did a fusion and placed a cage in his lumbar spine. Months after the surgery Randy was still taking heavy pain medication, as his family we thought he was addicted to the pills and not having the back pain. January 1, 2010 we took him into ER for detox and rectal bleeding and were sent home with nothing is wrong just heavy pain meds he is on is causing constipation and rectal bleeding. and paper for outpatient rehab. In March 2009 Randy checked himself into brentwood meadows for addiction. He was there close to two weeks and the day he came home on a Thursday, he called me crying April please come home I am bleeding and there is blood in toilet. I went on about my business thinking it was minor bleeding. Within an hour he called me frantic again where are you, I sped home to find large amount of blood in the toilet. Myself working in the ER and as well a Nurse, I did want to seem too concerned told him lets just watch and see how it goes. He went back into bathroom again , yet again a large amount of blood. I said well lets go to the ER. In the ER the Doctor did a rectal exam and asked if he had ever been sexual assault anally. If anyone knows my brother , thug life tatted up kid that never really had a chance to grow up, yell hell no lol.The dr said she was going to send him to see a GI specialist Dr Prasad. She felt what she thought was scar tissue on rectal exam. We called Friday Dr. Prasad's office and they had a cancelation for Monday for us to get in. So Monday we went and saw Dr. Prasad and he said he was very young and had never had another at the age 24 with rectal cancer that he could have Chrons, IBS or something else, but he would do a Colonoscopy the next day they had an opening. So Tuesday we went in for a colonscopy. Afterwards Dr. Prasad spoke to me and my mother off to side and showed us pictures , that he suspected that my little brother age 24 that was laying in the cot down in a room could have rectal cancer. That the mass in his rectum was the size of a baseball and almost closing off his rectum to have a bowel moment. He did a biopsy and it would be back and to come into office Friday April 2 for results.They also wanted him to have CT scan done. After the colonscopy my brother was never the same. He lost complete control of his bowel and couldn't go anywhere besides my house of my parents which he lived. They called on Wednesday March 31, 2010 and told us to come in Thursday April 1, 2010 for results. We were thinking thats weird to come in early.
Little did we know our worst fears we were about to face. April Fool's day April 1, 2010. We sat in office as a family, My brother, my Dad ,and my Mother. The Nurse practioner came in and told us in fact it was rectal carcinomia and a spot of concern on his liver.. The first fears when you hear someone has cancer is you think they are going to die. That is what is put into our brains from years no enough education at that point. We just know everyone dies that has cancer. My brother and I went to car and held him in my arms and let him cry like i have never seen my brother cry and we talked. We talked about the battle we were going to fight . My parents sat in office together and spoke to Dr. Prasad and Dr Prasad said he has never in his career had anyone at age 24 with rectal cancer. We have no family history of rectal cancer in either side of family. He set us up with Dr. Titzer that next week.
I was three weeks away from getting married , and now my little brother is fighting for his life. The week of my wedding he started his first round of Chemo and radiation. In July 2010 Randy was admitted to hospital to have his rectum completely removed and an ostomy placed that can never be reversed as many can have done. Due to the location of randy's mass and what they had to remove his ostomy bag would be permeant the rest of his life. At the Age of 24 he has been told he has rectal cancer and possibly on his liver, that he would have an ostomy bag that will alter her physical appearance, and that he will never be able to have children due to the chemo , and radiation to area. Randy had his surgery with complications of a wound infection and needing a wound van. He lost over 40 lbs and was nothing but bones. After he healed he had second round of chemo weekly for 6 months. It wa a battle every time to get him to go.He was never alone he always had my mom right by his side every step no matter what was going on , she took off work and took care of him and I assisted in packing wounds at home.
So then comes the 6 month scans- 2011 scans come back good except the last one of the year. They thought he might have a spot on his lung. They did the Pet and sure enough we start 2012 with a trip to IU to have part of his right lung removed. Surgery went great and they removed a little more than they expected but no complications. We returned and started back on Chemo every other week again. In June 2012 he came down with an infection in his pelivis where his rectum use to be located and was admitted to hospital for IV antibiotics . Chemo was not continued and finished due to infection.
The Scans continue every 6 months and he lives his life every 6months what is going to happen. Scans 2013 everything came back good.
Started off February 2014 yet again with scan coming back that he had cancer again back in his pelvis. They confirmed it with Pet Scan and Biopsy done here in Evansville. Dr. Titzer said lets go back to IU to the best surgeon. So the trip to IU first appointment they didn't have all their ducks in a row and didn't tell us anything that he thought it might not be cancer and be infection down there they would do a biopsy and if it was cancer they would stop and prepare for major surgery the next step but if not. Then they would sechdule him for a skin graft to fill in the empty cavity in his rectum. Biopy done at IU came back no cancer just infection after playing phone tags getting results. Go back to Titzer and Titzer says I still believe it is cancer and they just didn't biopsy enough or the same area. We go back to IU see surgeon and have ultrasound down. Radiologist reports there is nothing there. Never saw the Doctor. They never had our appointment with him as they had told us. So we are lost what do we think. It is a blessing it isn't there and he doesn't have cancer or should we be scared they don't know what they are doing. We go back to Titzer and he says lets follow up in a few months and scan you. So last Wedesday Randy went in for his scan and Friday we saw Titzer and the news hit us just as hard as it did the first time. He has cancer in the Pelvis same spot that he saw previous and a new spot on his lung. Dr. Titzer said we are not messing around anymore ,we go to vanderbilt and we could have the same outcome as IU. He said we have to go big, he suggested MD Anderson in Houston texas or New york. But travel and expenses would be far more expensive on our family if we go to New york. So the decision was made MD Anderson Texas. We are waiting on them to receive reports and call us with an appointment after review records. Dr titter said he would get Randy in ASAP. So here we are waiting for the call when we leave.

Organizer
#1 fundraising platform

More people start fundraisers on GoFundMe than on any other platform. Learn more

GoFundMe Guarantee

In the rare case something isn't right, we will work with you to determine if misuse occurred. Learn more

Expert advice, 24/7

Contact us with your questions and we'll answer, day or night. Learn more