Flowers for Our Frontliners
COVID 19 Resources
For up to date and accurate information about COVID safety, visit the CDC or WHO websites.
Our hearts go out to our healthcare heroes courageously fighting this Coronavirus pandemic. Every day, we hear stories about physicians, nurses and first responders working tirelessly to help others. As life for many people has been put on hold, the persistent efforts of our healthcare workers have continued in full force.

At Flora Fresh Inc., a wholesale flower company in Sacramento, CA, co-owner Allan Nishita has initiated a campaign, Flowers for Our Frontliners, to recognize our healthcare heroes, while also supporting the floral industry. In challenging times, flowers serve as symbols of hope, healing and gratitude. During this pandemic, floral demand has drastically declined, yet flowers continue to grow.

Rather than letting the flowers go to waste, Flowers for Our Frontliners brings flowers to our healthcare workers in Northern California, with the hope of spreading beauty, joy and emotional well-being to their lives. Flowers are a wonderful way to show our deepest appreciation and help lift the spirits of our brave healthcare workers on the frontline.

How it works:

1) Through your generous donations, Flora Fresh Inc. coordinates with American flower growers to purchase their fresh flowers and greens

2) Floral arrangements are personally delivered to the receiving hospital

3) Flowers for Our Frontliners launches at a new Northern California hospital every week, until a vaccine is developed

Our ultimate goal is that other floral organizations will continue the campaign to spread beauty across the rest of California and hopefully, the entire United States. Our healthcare workers sacrifice so much to care for us; our campaign is a small token of our gratitude.

We will post updates here and on our Instagram (@florafreshinc) with each delivery - starting with our initial launch on April 29, 2020 at St. Joseph's Medical Center in Stockton, California. The first 1000 bouquets will be generously donated by Lane DeVries, CEO of Sun Valley Group in Arcata, CA.

All donations will go directly to the dedicated flower growers, floral transportation companies, and businesses helping to distribute the flowers. We thank you in advance for helping us spread the beauty to our Frontliners as they continue to fight COVID-19. The more money we raise, the more healthcare workers we can reach throughout Northern California.

Stay safe and healthy!


First Delivery: St Joseph's Medical Center, Stockton, CA 04/29/2020
Second Delivery: Sutter Medical Center, Sacramento, CA 05/06/2020
Third Delivery: UC Davis Medical Center, Sacramento, CA 05/14/2020
Fourth Delivery: Kaiser South Sacramento Medical Center, CA 05/28/2020

Tulip greenhouses located at Sun Valley Farms in Arcata, California


The process of grading, separating and preparing tulip bouquets to deliver to Flora Fresh Inc. 


Flora Fresh employee sanitizing buckets for flower delivery


Truck loaded for delivery!


Delivery to our amazing healthcare workers!! We appreciate you and all you do for the community!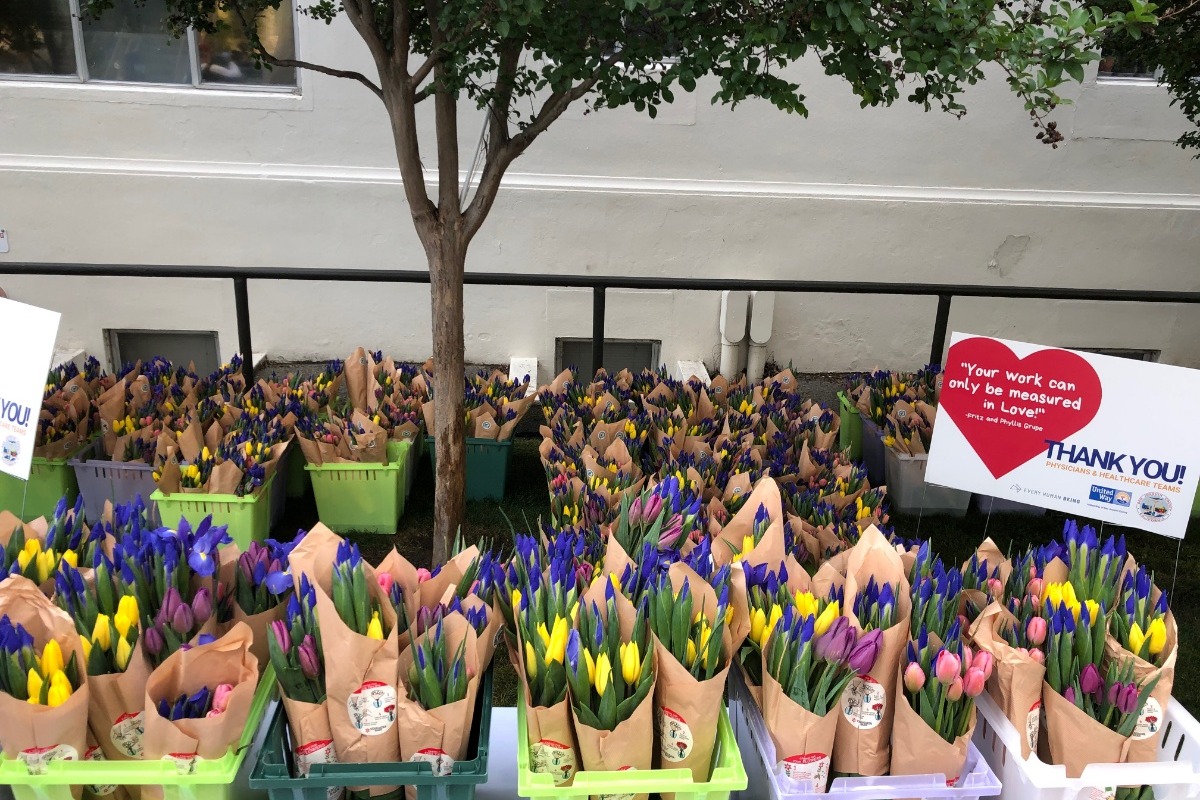 Organizer and beneficiary
Flowers for Our Frontliners