Fashion Truck for Homeless Children
In August 2018,
Beverly's Birthdays
, a Pittsburgh based nonprofit that provides birthday cheer for children experiencing homelessness and families in need , launched
The Birthday Boutique,
  a mobile fashion truck that accompanies us to the group birthday celebrations we host at homeless shelters, family support centers, and community service providers. 
The birthday recipients and their families board the truck and receive a brand new duffel bag, three new outfits, and a Beverly's Basics Kit, which includes pajamas, socks and underwear. Since August, we have served 750 boutique shoppers.
The children and families we serve struggle daily with one of the many humbling consequence of poverty: inadequate clothing. This struggle was front and center at a birthday party held for Becky, a youth in the foster care system. When Becky arrived at her birthday party, she was wearing clothing that was at least two sizes too small. Becky had been sent to a foster home the week prior, but had returned to the facility by the time of the birthday party. For both these moves, her belongings had been packed into trash bags - and most of her possessions didn't return in the shuffle. 
No one's self worth should be directly connected to the contents of a trash bag.
 Every child deserves to have enough clothing AND clothing that fits them. This is not a privilege, this is a right. 
The first time we took the truck out, the birthday girl exclaimed, after shopping, "
All of this is making me feel so special!"
.  This is truly the reason why this service exists. Beverly's Birthdays was able to identify a need, clothing, and wrap it up in a fun, meaningful, special service 
In conversations with our agency partners, parents, and the children themselves, we have learned how deep the need is for clothing and basic care items. Children have asked, "
What are pajamas?" or "Can I have another pair of underwear, I only have one."
We are thrilled that our program is helping with this need.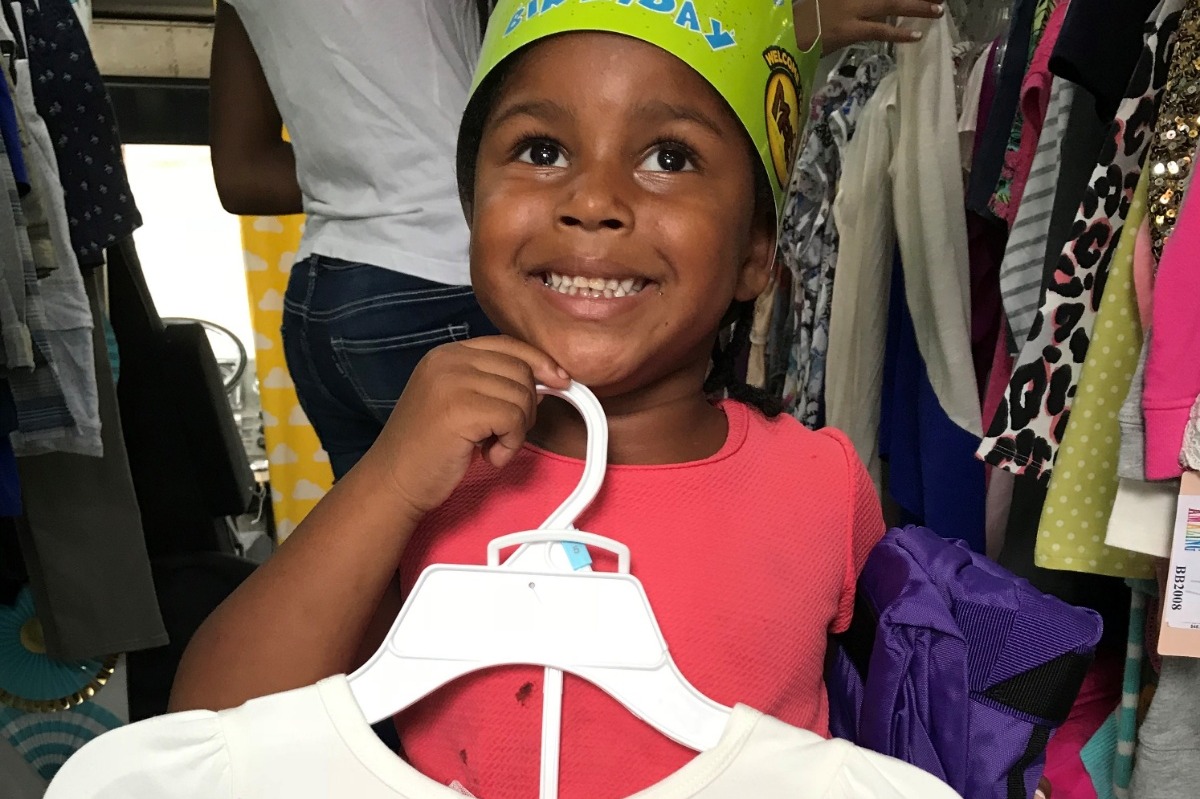 WILL YOU SUPPORT THE BIRTHDAY BOUTIQUE?
$10 - A new pair of pajamas
$25 - A new birthday outifit 
$50 - A Beverly's Basics Kit + a new outfit
$100 - 40 Birthday Boutique duffel bags
We want youth like Kayla, a 16-year-old girl we celebrated at a recent party, to have the amazing experience of going on the boutique and shopping for items that make her look good and feel good. Kayla asked Beverly's Birthdays for a dress at her recent birthday party --- she told us she had never owned one before. After Kayla received her dress, her caseworker shared with us that she truly transformed into a different person. It was so much more than just a dress for Kayla,....it was
HOPE ON A HANGER
.
Why was Beverly's Birthdays created?
Founder, Megs Yunn, started the organization after meeting an 11-year-old girl, Beverly, who shared she had never had her own birthday party or even her own slice of birthday cake. Since 2012, the organization has created six Birthday Cheer programs and has recognized over 30,000 birthdays. 
Every child, regardless of personal or financial circumstances, deserves a very special birthday. 
Beverly's Birthdays has been featured on Good Morning America, NBC Nightly News with Lester Holt, People.com, Inside Edition.com, Parents magazine, Family Circle magazine, and Returning the Favor with Mike Rowe. 
Organizer
Megs Yunn
Organizer
Irwin, PA

Registered nonprofit
Donations are typically 100% tax deductible in the US.