Lyle Broughton-Verndale man,Farmer Burned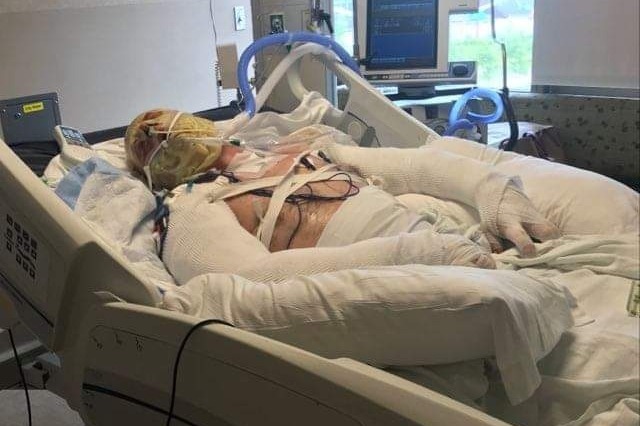 I'm not sure why this family had to suffer so much tragedy in such a small amount of time.
Lyle and his wife are farmers in rural Minnesota. On July 25th, Lyle was driving his tractor when the gas tank suddenly exploded, engulfing him in flames. He jumped to the ground covered in gasoline and fire. He had to roll around on the ground to put out the flames, he then rolled into the river to try to relieve the extreme pain that he was in. His wife, Eileen, saw the billowing smoke from the tractor and ran to the field only to find him in the water. She helped him back to the house to see that he had 3rd degree burns over a large portion of his body. His hands, arms, face, and back are the worst! He's a farrier by trade and uses his hands to do all of his work. They have horses and cattle on their farm as well that need to be taken care of and fed. They also have hay to bale, and many other chores that occupy their time daily. All of this is tough for two people to do let alone just one now. Lyle will have to be in the burn unit for a month at least, probably longer. Not only that, but a little over a year ago they had another terrible tragedy. The log cabin that they called home and built with their own hands, burned to the ground along with everything inside of it. They were working in the field when they saw flames and smoke shooting into the sky. They ran to their home only to watch helplessly as it burned. It is proving to be a very long and arduous process to rebuild their cozy little log home, which is still a work in progress. As of right now they are living in the basement space only. They had no insurance. Unfortunately, with the burns on his hands it will be an even longer and more difficult process. As if that wasn't enough, shortly after their house burned down, Lyle's son offered to move himself and his family nearby so he could be closer to the farm to help his father. Lyle was in the process of helping build his son build a new home, there was a HORRIFIC accident,  his son died instantly. This is too much for one family to handle. Please help them.
I am devastated. I've been a friend of the family for the past 13 years and I feel that they could really use help right now. They are the type of people who are always willing to help others and now they need help. Prayers are especially important. Lyle will not be able to work for a very long time, let alone help take care of the farm. I am asking for money for them to pay bills, get help with the farm, and travel expenses for Eileen to drive to the cities to the hospital 2 1/2 hours away. Lyle will be in there for a long time healing and I want to make sure money does not stop her from being with him as much as possible. All funds will go directly to Eileen and Lyle.
Organizer and beneficiary
Nancy Lam
Organizer
Verndale, MN
Lyle Broughton
Beneficiary