Currently
Buck
is non-weight bearing to his left hind leg. He is in need of a
TPLO
surgery. I'm trying to give Buck his quality of life back, but I need your
help
.
Buck
, my 5-year old Bull Mastiff/German Shorthaired Pointer mix, is a dog that has one heck of a story. Born on a farm in Ellicott, CO, Buck came into this world with 11 brothers and sisters. He of course the
runt
... 
His birth may have been an accident, but God knew this dog would definitely be a
miracle
in my life. When he was just a puppy his mother had accidentally sat on him and he stopped breathing...
But with some
CPR
they got him back! He's a
fighter
.
The day I met Buck I was a fighter too, I just didn't know it yet. After years in an abusive relationship God helped me find the
strength
to leave. Then he guided me to Buck.
It was almost perfect how he just fell right into my lap! He pulled me out of that
darkness
I had been stuck in for far too long. 
He loves & comforts me
always.

He's right there with me through every
up
and
down
in my life.
He's my
best
friend
. 
The best dog I've ever known. 
1. 
Only sleeps in the bed
2. 
Makes noises like he's an engine
3. 
Barks at the wind
4. 
Will eat literally 
anything
*literally*
5. 
Snores super loud
6. 
Loves the ocean
7. 
Brought me a dead rabbit in bed once
8.
Swallows things whole
9. 
Hates the cold weather
10. 
Loves watching Southpark or the Golden Girls
That's just the short list.
 Normally I wouldn't ask for help like this but I am. I've learned that it's okay to ask for help. I've tried applying for financial assistance and been denied.
 Whether you can
donate
the smallest amount or
share
this on social media, I appreciate you. Thank you for taking the time to read Buck's story, and thank you for wanting to be a part of it.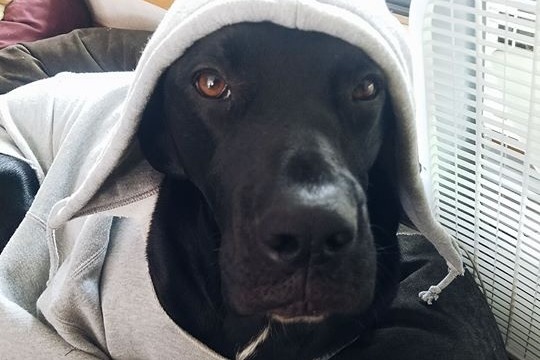 This rock solid 130 lbs mini horse thanks you. I thank
YOU
. From the bottom of my heart. ❤
Become the first supporter
Your donation matters
Organizer
Caitlin Krzywonski
Organizer
Colorado Springs, CO