Lil Ez's Big Deaf fundraiser
Short version:
Help us create a promising future for our bright, loving and vivacious son!  Your support makes a difference in his specialized deaf school, therapies and related medical costs.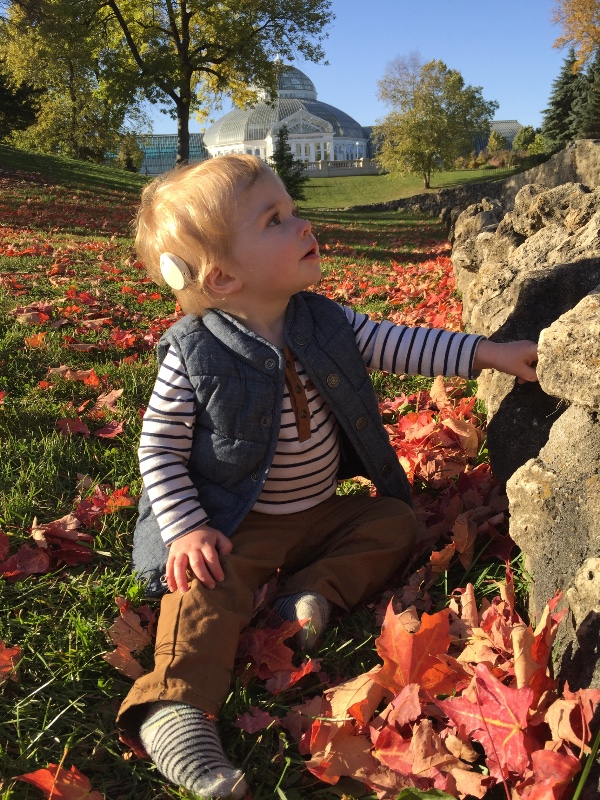 We welcomed our beautiful son to the world May 15, 2014. He was born perfect, unique and unexpectedly
deaf.  As hearing parents we had to learn a alot about what being Deaf means and to give him the best resources to thrive. 
Ezra recieved two amazing cochlear implants that was surgically implanted at 1 year old.   He takes speech therapy at Northern Voices to help him understand sound and has since caught up to his hearing peers. He is a very smart, spirited and vivacious 20 month old.  Miraculously he said his first word at 19 months and his favorite word is up. He talks, sings and imimates wonderfully!
Additionally through a deaf mentor program we are learning ASL, he signs more, bird, mom, cheese, eat, all done, baby, ball, bear, horse, hot and blows kisses! The whole family is learning and Ezra is now bilingual.
We are having a Benefit Feb 6th, Sounds Bazaar, to raise money for Ezra to attend his deaf school, Northern voices, and to continue his individualized speech therapies. The money will also go towards the costs of his doctors, equipment and to support programs that have helped us, like Lifetrack where we recieved a deaf mentor. 
Long version
Holding our newborn in our hands we assesed his little toes, his dark full head of hair and the love he brought into our families hearts.  When he failed his newborn hearing test we tried to pass it off on the equipment. A Csection and a beautiful but colickly baby, we as first time parents were exhausted. After many tests, it was confirmed he was Deaf. It was overwhelming to attend audiology appointments, doctors and speak to the many specialist over the course of the following year. I just wanted to wear pajamas, sing my baby to sleep, hush his tears away, and raise him in a musical world! 
 We worried about him being excluded from things and that his feeling would get hurt and even for his saftey. We worried about choosing a Cochlear implant and excluding him from both a hearing world and a deaf world. We worried about the major surgery he would undergo if we chose an implant to help him hear.
More worry came over us after doctors told us to search for a diagnosis which meant he could have health related issues! After a year of waiting to get test results, the good news was he was a candidate to recieve a cochlear implant. The bad news was he was diagnosed with Usher Syndrome that caused his deafness and eventually will cause him to loss his vision. While possible advances are coming down the road for his vision, the diagnosis was really hard. We chose for him to recieve the implants upon diagnosis.   We were happy he didnt have a life threatening disease, that he would posses his parents strong will attitude and be able to exhibit those as he overcame barriers.
We tackled those barriors from infancy. Surronding him with love and giving him all the tools to succeed. We got a deaf mentor who taught us, what a wonderful little deaf ABLED boy he could be and the strong deaf community that he would be raised in. We teach him to express himself in ASL and vocally. We dance with him, sing to him, sign to him, love him and love him some more. 
Help us raise money so we can continue to give him the tools he needs, like his individualized speech therapies at his deaf school Northen Voices. His medical and doctor needs at Lion's International Hearing Center. In addition, to help support programs, PACER, MN Hands and Voices and like the deaf mentor program at Lifetrack! 
We are having a benefit, Feb 6th, if you would like to come please make the suggested donation of $15 with your RSVP. The event will be at the Thompson Memorial Hall  in Saint Paul at 5:30.
https://www.facebook.com/events/929985720370037/
Or make a gift today to directing go to Lil EZ!!!
One of the hardest parts of all this is having to ask for help and we wouldn't be if we didnt need it.  We both work full time and still costs caught up to us! We appreciate all the love you have given us. So thank you for your donations and support.
Organizer
Colette Jo
Organizer
Minneapolis, MN