Executive Order Bar Looting Damage Recovery Fund
Executive Order Bar & Lounge is a local, Filipino-American / Person-of-Color -owned, small business on Mission & Jessie West St in San Francisco, located on the street level of the Westfield San Francisco Shopping Centre in the SOMA/Yerba Buena district, nestled between the Moscone Convention Center and Market Street. We are one of the first large, high-profile Filipino-American-owned small businesses in what the City of San Francisco had designated the SOMA Pilipinas Filipino Cultural District.
I (John-Eric Sanchez) opened EO in December 2018 after having to relocate my old bar- SIP Bar & Lounge from North Beach/Chinatown after 13 years in Feb 2018. It took close to a year to make my labor of love a reality, but with my wife Elena Slivnyak, my family, friends and the community's support, we did it!
In March 2020, COVID-19 struck and everything changed for ALL of us.
All of our events were cancelled for the foreseeable future and we issued refunds to everyone who had paid a deposit to book our venue. We closed down completely, so that our staff would not be put in a position where their health would be at risk. And we waited.
A small light at the end of the tunnel appeared mid-May with the possibility we could reopen in mid-June for modified service. We started to plan for that eventual reopening and also for potentially working for the City as an approved vendor to provide daily meals for seniors and other San Franciscan's impacted by COVID-19.
Then George Floyd was brutally murdered. And America had, rightfully, had enough. The right of the people to peacefully protest and air their grievances to their government is one of our most precious freedoms. I support peaceful organized protest, as it has been the driving force for change since America was founded. I support the Black Lives Matter movement. I recognize and admit to my own privilege as a non-Black American person-of-color who has never had to fear the systemic racism that Black Americans have had to face all of their lives.
The ongoing racism and violence perpetrated on Black Americans in America must end.
We the people have a duty to ourselves, those who have gone before us, and to our children and the future, to expose, remove and hold accountable those embedded racists and white supremacists- those cancers- that are in and have been in positions of power from the highest levels of government and judiciary to those racists and supremacists hiding behind the protection of a badge. We do this with our hearts and minds and with our votes.
Unfortunately, like those cancers in positions of power, among the honorable and just, who peacefully protest, there are opportunists and instigators that hide and seek to incite anger, fear, mayhem, vandalism and violence.
And we became victim of those dishonorable, opportunist looters who, at approximately 8:30pm on Saturday, May 30, 2020 shattered one of our 11 ft x 7ft, 1/2" thick tempered glass windows behind our backbar and started what became a 5 hour long looting spree. Glassware was shattered, glass shelving damaged, and countless bottles of liquor were stolen or destroyed along with other equipment and items in our bar and kitchen areas. We were violated over and over again for 5 hours.
Micah Byrnes and the Monarch/Pawn Shop team quickly replied to our distress signal on Facebook and generously offered us plywood and 2x4s to board our window at midnight.
The SFPD finally gave me and my nephew/godson Dave Sanchez the OK to come to the bar to secure our broken window at 1am. They searched the venue to make sure no looters were still inside and allowed us to begin boarding up- which we did until 7am Sunday morning. Sunday afternoon, our chef Cody and AGM Brenda-Jane came in to do clean up and assess loss. My cousin Vic and godson Dave returned to paint over our unbroken windows and remove remaining valuables from the premises.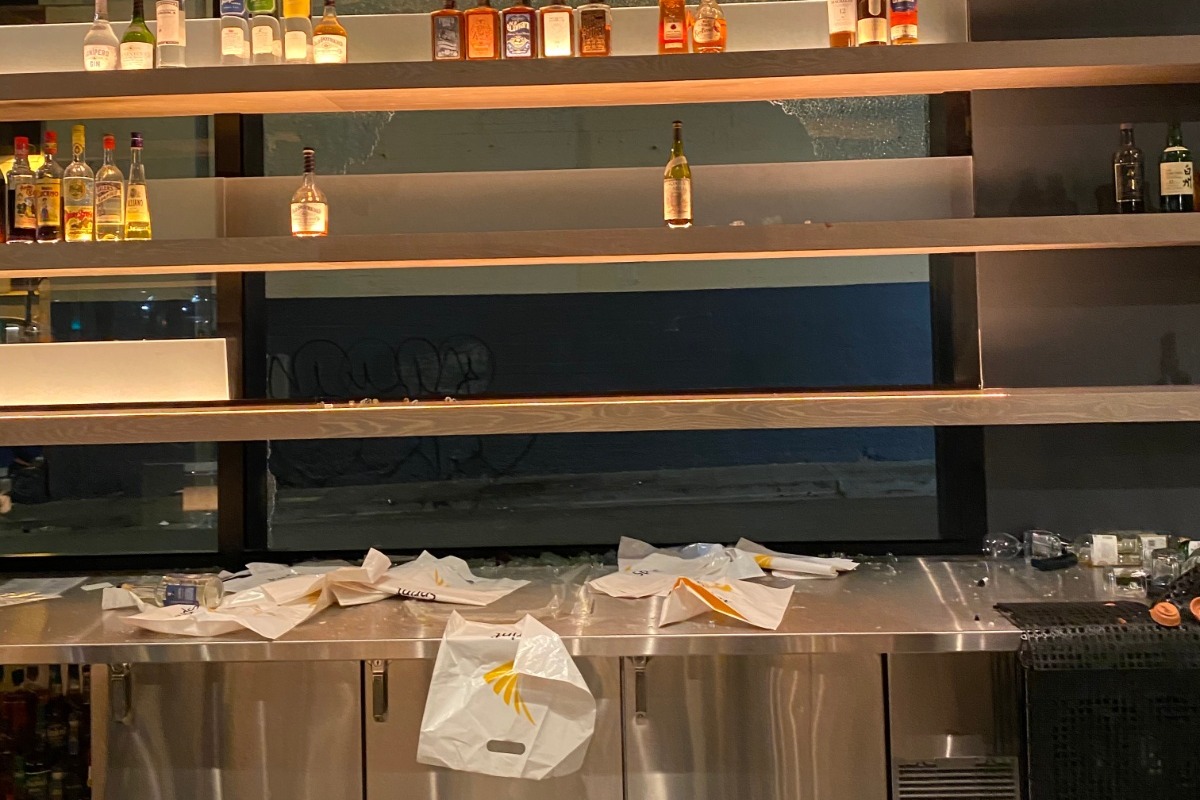 With the on-going risk of further vandalism, looting and mayhem, we decided today, Monday 6/1/2020, to hire a landlord-approved, Union contractor to erect barricades all along our entire storefront windows and side windows, at a very costly expense (especially when we have been closed for over 2 months and the bills have piled up).
Thank you to the many friends and family that have reached out with offers to help in any way they can. I appreciate you.
If you know me, I have never been comfortable asking for help, so I am humbled by the positive messages and offers to help.
If you can Share this Call for Help with your friends and if you can contribute, it would go a long way to help me pay for the barricades that have been put up and potentially our window replacement and replacing all that was stolen or damaged. 
UPDATE: Some have asked about whether we have Insurance and if they would cover repairs and replacement of stolen goods.
We have experienced a history of claim denials from our insurance carrier that date back to Sept 2019 for property damage caused by a flood which insurance denied, then a claim for business interruption due to the COVID-19 pandemic was also denied (like many other restaurants) as viruses are "excluded from the national policy" and "physical damage to the property must occur in order for business interruption coverage to activate". We fear that Insurance will hide behind fine print and COVID exclusions to deny any claim happening during this time as well.
As I stated above, I believe that BlackLivesMatter and that the movement is a just cause. America was built on the sweat, tears and backs of generations of Black Americans. Systemic, institutionalized racism and white supremacy must come to an end, racists and supremacists from the highest offices of the land to those who hide behind a badge must be exposed, held accountable and removed from positions of power (and abuse thereof) they have over Black Americans and all citizens.
What will I and my business do to show our support and be an ally?
When we reopen we intend to support Black candidates seeking local, state and national office by waiving rental fees and not requiring minimums for their campaign fundraisers, and further will also donate a portion of the proceeds from their campaign fundraisers back to their campaign.  From our GFM proceeds, we intend to donate a portion of proceeds to the NAACP. 
THANK YOU FROM THE BOTTOM OF MY HEART.
For those interested in reading further:
ABOUT US: 
Our theme was to pay tribute to the good acts of more benevolent leaders of the United States' history- understanding they were still flawed men, but for their time, having done more good for America, than harm. Because of our proximity to hotels and Moscone Convention Center, we knew we'd be hosting people from all of the country (where they don't necessarily agree with San Francisco's (my own) political views), so I wanted to remind visitors (and ourselves) of the kind of character, values and vision we should expect from our leaders.
From the Founders who sought independence from British rule/tyranny and had the vision to start a nation of the people, by the people and for the people- to Abraham Lincoln, the Emancipation Proclamation, abolition- Theodore Roosevelt, his environmental protection/preservation policies & trustbusting to level the playing field for businesses- to FDR, America's only president with a disability, the New Deal and work to help America's economic recovery after the Great Depression. The theme also emphasizes the values of equal rights for all, the important role immigrants have played in America's progress, economic & social justice, the importance of unionized labor to protect workers, protecting the environment and many more ideals.
Executive Order became a popular venue for weekday happy hours, birthdays, engagement and bon-voyage parties. We also hosted holiday parties and large events for big conferences that were in town. (It's how we paid the rent!)
Donations

Organizer
John-Eric Sanchez 
Organizer
San Francisco, CA
#1 fundraising platform

People have raised more money on GoFundMe than anywhere else. Learn more

GoFundMe Guarantee

In the rare case that something isn't right, we will refund your donation. Learn more

Expert advice, 24/7

Contact us with your questions and we'll answer, day or night. Learn more