Dearest Supporters to be,
Luka Sikic's family has allowed us, their friends, to establish this Go Fund Me project to help them in their time of need.  
On the evening of Saturday February 26th, Steve and Michelle Sikic were given the unimaginable news that their youngest son, Luka has Acute Myeloid Leukemia (AML). This vibrant and amazing 10 year old boy's difficult journey back to health has already begun & his family needs your help.  
On Tuesday March 1st Luka began his fight at the London Health Sciences Centre Children's Hospital in London Ontario, where he will reside while undergoing 6 to 8 months of treatment and recovery. Steve and Michelle must bear the incredible burden of being separated to be at Luka's side and also to care for Luka's older brothers, Marko 13 and Jordan 15 in their hometown of Kitchener Ontario, 80 kms from London. Michelle has been off work while recovering from a back injury and Steve just recently started a new job. This Go Fund Me project will help the Sikic's manage the great financial impact that lies ahead.
Luka's Story 
Like many children this winter, Luka has had bouts of cough, cold and flu.  Caring parents of three active and healthy boys, Steve and Michelle have been through it many times before and responded as every parent would - with love and compassion. A few trips to the doctor, a prescription for antibiotics and a couple restful days at home brought Luka back to running around the neighbourhood, park and school yard. However, starting in January, Luka's health issues began to string together.  
Luka developed a bump under his chin, which was determined by the family doctor to be a swollen lymph node. It was monitored, and later went away.  Luka started to complain about pain in his back, which was diagnosed as a swollen spleen, which was also treated. But Luka began experiencing shortness of breath and pain in his abdomen.  While playing with his beloved Uncle Johnny at home after Marko's hockey game, Luka's pain level spiked and he was taken to the emergency  room at Grand River Hospital in Kitchener where he underwent a full array of testing - Ultrasound, Xray and Blood Analysis. Luka was found to have various areas of blood clotting.  This lead to more in depth exploration of his blood and it was then determined that Luka's hemoglobin reading was 74 - 170 is a normal level. At that time, doctors told the Sikic's, "you have a very sick boy. " Luka was transported to London that night.
The Sikic Family
Steve and Michelle have worked hard, struggled and persevered to provide a family life for their boys rich with love, togetherness and support. The Sikic's strong values of family and loyalty make their multitude of friends connected to them through sports, neighbourhood, school, work, church and community always feel like they are a part of the family. Biking with the boys or throwing the ball around in the park, the Sikic boys always stick together. The Sikic's love to host their friends at their home in Kitchener's Doon community and they are wonderful contributors to Luka & Marko's school, St. Kateri. Steve has a talent for bbq'ing and roasting pigs and Michelle's amazing recipes keep the Sikic boys nourished and happy. They enjoy annual trips to the Godparent's cottage in Midland for endless fun on the ATV's, fishing, tubing and cherished time just being together. Their family bond through the boys' various sports is a huge part of the Sikic's life. Steve has coached all three boys in football, which Luka intended to play in the upcoming season. Big brother Jordan, a grade 10 at St Mary's High School, plans to compete in cross country and track and field. Marko excels at the highest levels of baseball and hockey in his age group. The Sikic's consider the baseball and hockey tournament trips and hotel stays to be "their family vacations" and an integral part of their family experience together, which will have to placed on hold while bigger family matters are attended to.
Please Donate Generously
A true testament to Steve & Michelle's commitment to their boys is evident in the sacrifice and resourcefulness required to allow the boys to continue play sports while Steve was between jobs & with Michelle off on long term disability. Steve's new employer has been extremely supportive and understanding.  As this family has just recently started to slowly regain their momentum, they are not prepared or capable to endure the cost of this fight on their own.  Luka is fighting for his life and his family, as always, will bond together and join him. Your donation to this fund will allow Steve and Michelle to continue to press forward confidently and focus on Luka's treatment and path to recovery while sustaining a stable and nurturing home for Jordan and Marko.
The Sikic family will be deeply appreciative. Your donations will go directly to them.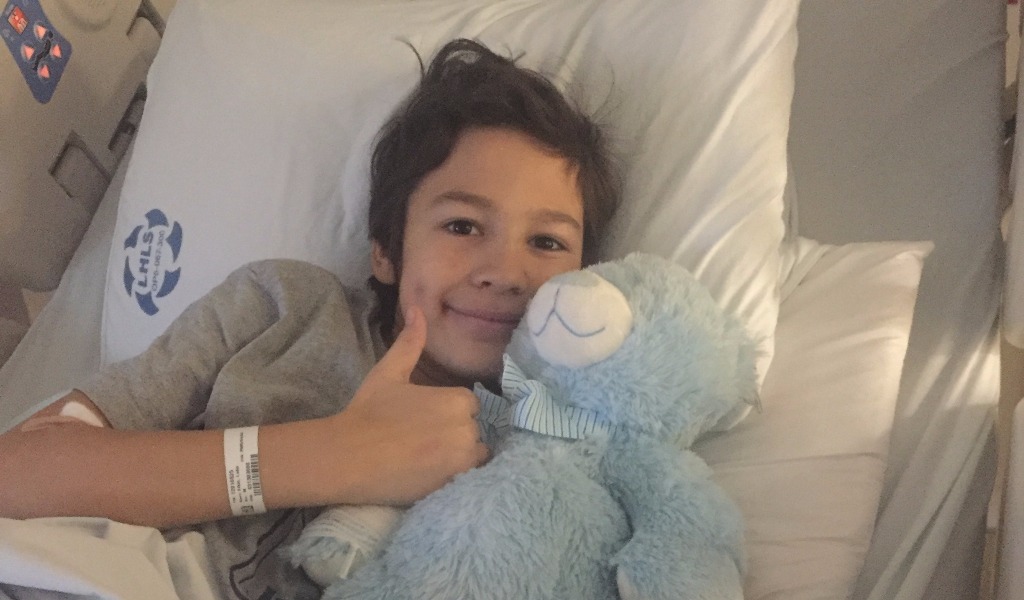 Some further details about our project to support the Sikic's
- Janine Desjarlais is a good friend of the Sikic's, their son's play baseball and hockey together in their hometown of Kitchener, Ontario.  However, these aren't your regular team experiences.  Our Jr Ranger and Jr Panther parents, coaches, siblings, grandparents, aunts, uncles and cousins make up a very close knit "team family" who enjoy close relationships and support one another away from the rink and ball park. The Go Fund Me project was determined by Janine and a small team of other parents & coaches to be the most effective way to raise money for the Sikics.
- The fund will be used to support the Sikic's in every aspect of their lives over the next year; all of the costs to carry and operate their home, groceries and consumables, travel costs for the countless trips to London, extra hospital and medication expenses.
- Janine administers the Go Fund Me account and will follow the procedures as detailed by the Go Fund Me team making transfers from the fund to the Sikic's.
Become the first supporter
Your donation matters
See all
Organizer
Janine Desjarlais
Organizer
Kitchener, ON