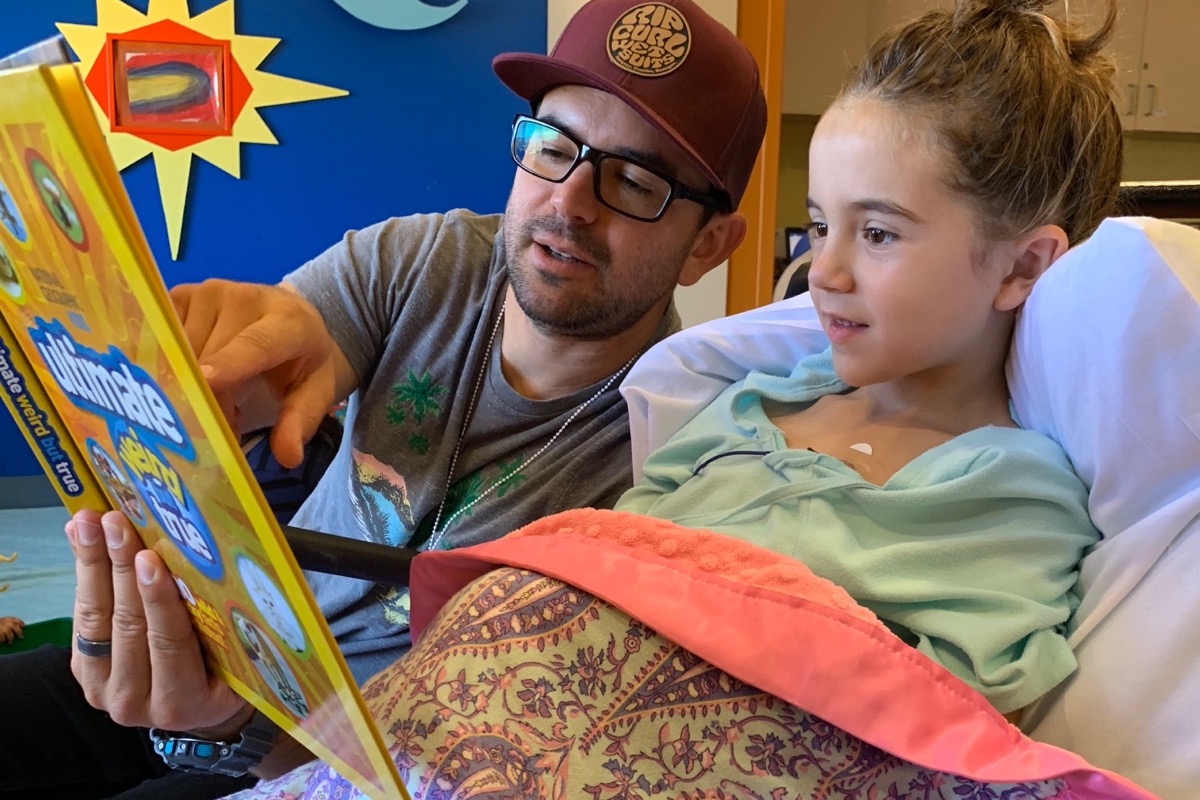 Our sweet Evelyn had a rough October. She had a stomach bug the beginning of the month then mid-month she got a fever and wasn't feeling well. The low grade fever and varying symptoms lasted 14 days. We visited 3 different pediatricians each diagnosing her differently - virus, acute sinusitis, pneumonia. She was on two antibiotics and not getting better.
On Day 14 she spent most of the day in bed. She was tired, not communicating and needed help moving around the house. We took her to the ER and within an hour, she had two focal seizures. The next day she went through a long day of tests and the final  diagnosis was Acute disseminated encephalomyelitis (ADEM), or acute demyelinating encephalomyelitis, a rare autoimmune disease marked by a sudden, widespread attack of inflammation in the brain and spinal cord. The Doctors believe it was from the stomach bug. The light "m" you can see in the image of her brain is the inflammation. 
Evelyn is being treated with steroids and IVIG treatment. While initial signs were positive, doctors have not been pleased with her overall progress. We will continue to monitor her and rescan her brain to ensure that there are no other risks.
She is expected to remain in the hospital for several weeks or months as needed to help her receive speech and physical therapy for a full recovery. She has lost all speech and much of her movement. Depending on her progress, she may require near or long term assistance once we are discharged. We are taking it one day at a time and blessed for each small victory.
Many people have asked us how they can help. Richard has just started a job and will not be returning to it. Emily's job has been very supportive but it's challenging to predict the route that Evelyn's recovery will take us. We also have our two year old son to care for while both of us are active with  Evelyn's recovery. 
It is very hard for us to ask for help, but here we are. If you would like to contribute to help fund a meal in the hospital, buy Evelyn some books/toys during her stay, help with the medical bills or contribute so that finances do not influence the type of care we can provide for her - we would be forever grateful.
We can't wait for our strong, sweet, sassy, outgoing, loving girl to be swinging across the monkey bars and riding her bike again.
Many blessings to you and yours.
CHECK THE UPDATES FOR CURRENT PROGRESS.