Eternity Cavazos Funeral Fund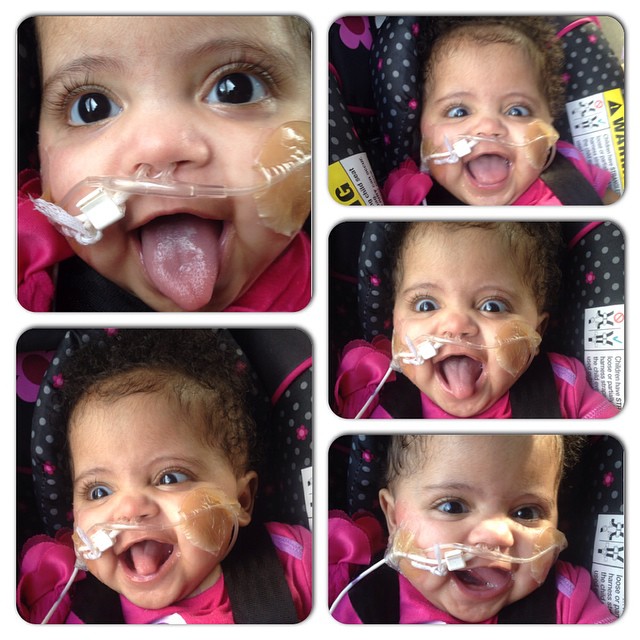 With heavy hearts, our family grieves the passing of our beloved daughter, granddaughter, sister, and niece, Eternity Mariposa Cavazos. After being born premature on November 11, 2014 at 24 weeks, she has struggled for the last 16 months to develop a healthy heart and lungs. Two months ago, she was admitted to the hospital because the arteries of her heart were not working and she was already diagnosed with having pulmonary hypertension and pulmonary vein stenosis early on. During this visit, her condition worsened to the point where the right side of her heart failed. After a brave and valiant fight, it became clear that she was not going to recover and there was nothing more doctors could do to repair her heart. Yesterday, she went from the arms of her Mother to the arms of Jesus. 
Eternity will be remembered by her family and hospital staff as a feisty little lady who was constantly smiling as she fought for her life until the very end. She was smart and full of joy. Her memory and smile will live on in the hearts of her beloved siblings, Elijah and Elyana. We also want to give a huge thank you to the entire staff of DeVos Children's Hospital. Over the last 16 months, it has become a second home for our family and we are grateful for the excellent care and support they have provided for the whole family. 
This fund has been created to help offset the cost of Eternity's burial, which is $2,500. Any amount you can contribute is deeply appreciated by Jen and the entire family. If we were blessed enough to to raise anything above and beyond, it will be used to help provide for Jen as she grieves and continues to raise Elijah and Elyana. Thank you for your support!
We will have a grave side service on  Friday at 3pm at Washington Park Memorial Gardens Cemetery (1205 Richmond St NW, Grand Rapids, MI 49504) on the Westside. There will not be a visitation. Many people are asking how they can support Jen  and there are three ways: donating, helping with childcare for Elijah and Elyana or bringing a meal or groceries. You can contact Margarita Chappell, Jen's sister, with questions or to make an offline donation at
[email redacted]

Organizer and beneficiary