Erik's Leg Braces (A New Hope)
Erik is a joyful amazing young man who expresses so much love and laughter, giving him an ability to win people over immediately.  It seems no matter where we go someone knows Erik.  Diagnosed at birth with a very rare genetic disorder (61 known cases when he was born),
Coffin Siris Syndrome
, he has faced many challenges throughout his life.  Erik is so special and so brave, he has endured multiple surgeries and overcome many challenges with such grace and courage.  Every day, as parents, we learn from Erik.  His patience and constant joy is humbling.
Erik's first braces.

Due to his condition Erik has very small feet for his stature and very tight muscles and tendons in his legs and feet.  He has had four corrective surgeries, endured serial casting and has worn multiple braces, orthotic shoe inserts, chiropractic treatments, radical new approaches with little to no improvement.  Buying shoes for Erik is impossible, so we have to be creative, sometimes coming up with some pretty unusual footwear.  Currently the smallest shoes we can find are still an inch and a half longer than his foot.  Unfortunately, even after all these efforts to help Erik walk normally he still struggles to live a normal, independent life.
Christmas during his serial casting treatment.
Because of the issues with his feet Erik has lived a life of limited mobility and independence.  He is fearful of uneven ground, stepping up a curb, walking in the grass or on a beach, which all require assistance.  This has contributed to a life of very little exercise and consequently weight gain.  Sadly, this weight gain makes him feel even less stable so he is even more fearful to get the exercise he needs. Both his condition and additional weight have also caused him considerable pain now when he walks or stands for any length of time. We feel he is in a downward spiral that will be hard to reverse if we cannot make him feel more secure on his feet.
This is a recent video of Erik at therapy trying to step up on a exercise platform set at the height of a curb.  The goal is to have Erik step up and down with no assistance.  The star he is grasping is a compromise used by the therapists to help wean him off the need to hold onto someone for support. He still has not overcome his fear.
We do not want Erik to have to endure another round of surgeries so we have been searching for a solution to enable him to be independent and live a life of stability, instead of being in constant fear of falling. We have finally found a solution that can give Erik the life he so much deserves.
Erik giving a thumbs up after one of his surgeries.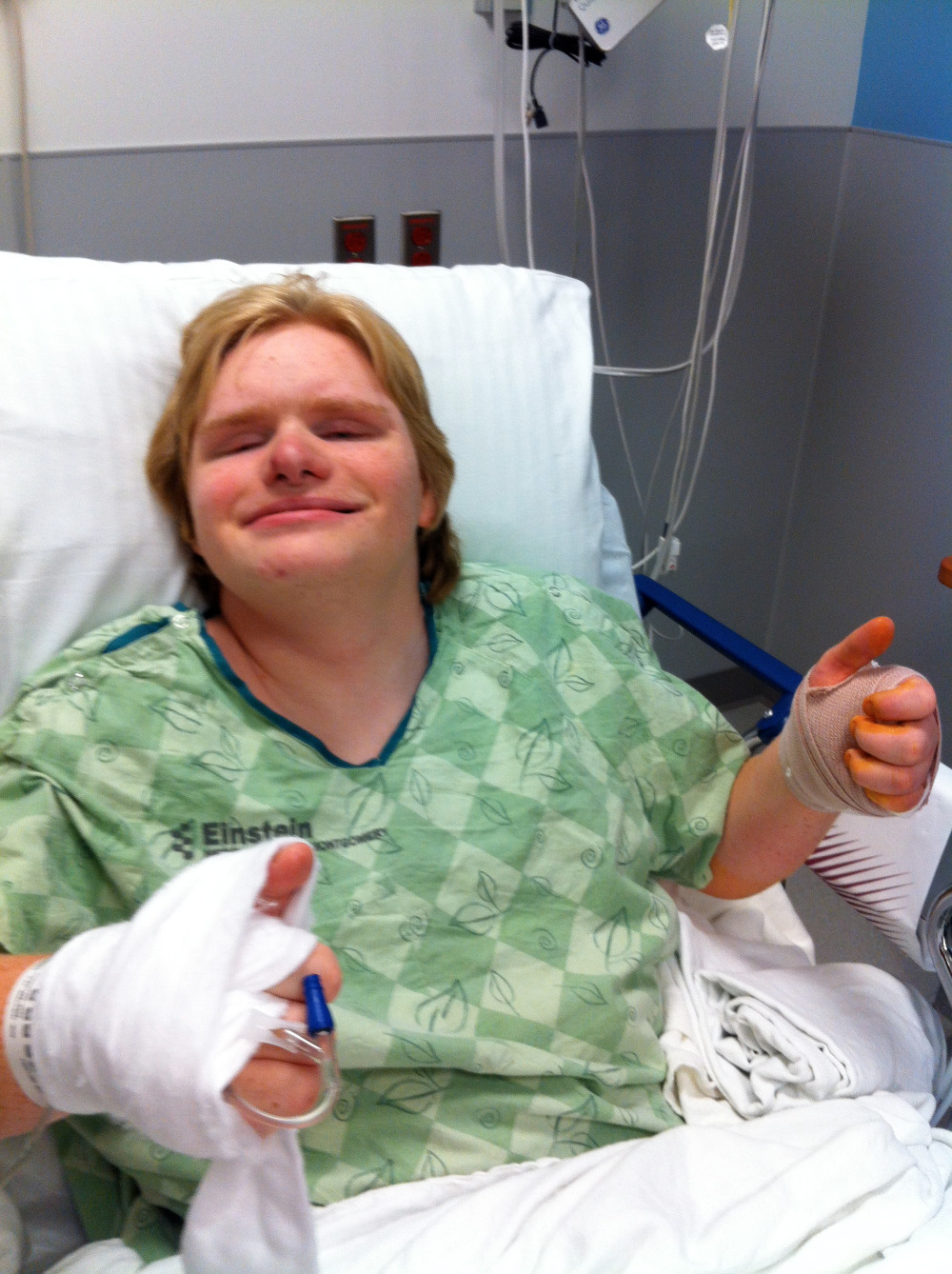 We have never bought a copy of the magazine Men's Journal, but there was an article in the October, 2016 issue about a devastating incident that involved a dear friend of ours in Africa. After reading the article of interest we read another article in the magazine titled "The Story of My Leg" about a young man born with a condition that caused him to endure 16 surgeries and a life of pain.  Faced with the decision of amputation of his lower leg, he was directed by a friend to Ryan Blanck, the developer of a new type of brace, the ExoSym, that enabled disabled Veterans with various injuries, including partial amputations, to walk, run and live a normal life.  As we read the very emotional article we started to hope that this may be the answer we have been looking for all these years for Erik.
After contacting the Hanger Clinic and going through multiple screening appointments the doctors believed Erik was a perfect candidate for the ExoSym.  We finally had a viable non-surgical solution.
Click on link below to see the ExoSym in action:
https://youtu.be/dlqel7udvEI
Unfortunately, the braces are very expensive and it is unclear if insurance will cover the costs.  In addition to the cost of the braces there will be other expenses incurred on this journey.  We live in eastern Pennsylvania and the clinic is in Gig Harbor, Washington.  Airfare, hotels, rental cars and other costs involved with traveling to the clinic and staying out there for the fitting and training Erik to walk in his new braces.
Our goal is to raise $25,000, which should cover the costs listed out above.  The majority of that being for the braces and training, $18,000.  We will not know if our insurance will cover these braces until after we go through the process.  The insurance will not pre-approve the procedure so we must go forward with the process and then submit our claim for approval.  If the insurance company approves the braces we will still have a hefty bill of approximately $12,000.  Our plan is to try to raise the full $25,000.  If during the fund raising phase the insurance company comes forward with coverage and we have raised $12,000 we will halt the campaign.  However, if we don't hear from the insurance company until after we have raised the money we will place whatever extra funds we raise into a medical account for Erik for any future procedures, therapies or medical needs. 
We have already started the process with our first trip to the clinic last month, July, to fit him for his new "bionic" braces.  Our next visit is coming up at the end of this month, where they will make final adjustments and he will be retrained in how to walk with his new braces.  Our hope is he will no longer feel the pain he currently experiences and that the braces will give him the stability and mobility for him to navigate daily obstacles independently.
Erik enoys being around people but doesn't feel comfortable participating in the activities he enjoys.  Over the years we have seen him go from rounding the bases in a wheelchair to being escorted with a helping hand. Now because of the pain he doesn't like to stand in the field or run the bases very much.  Hopefully, with the ExoSym braces we will see Erik running the bases one day.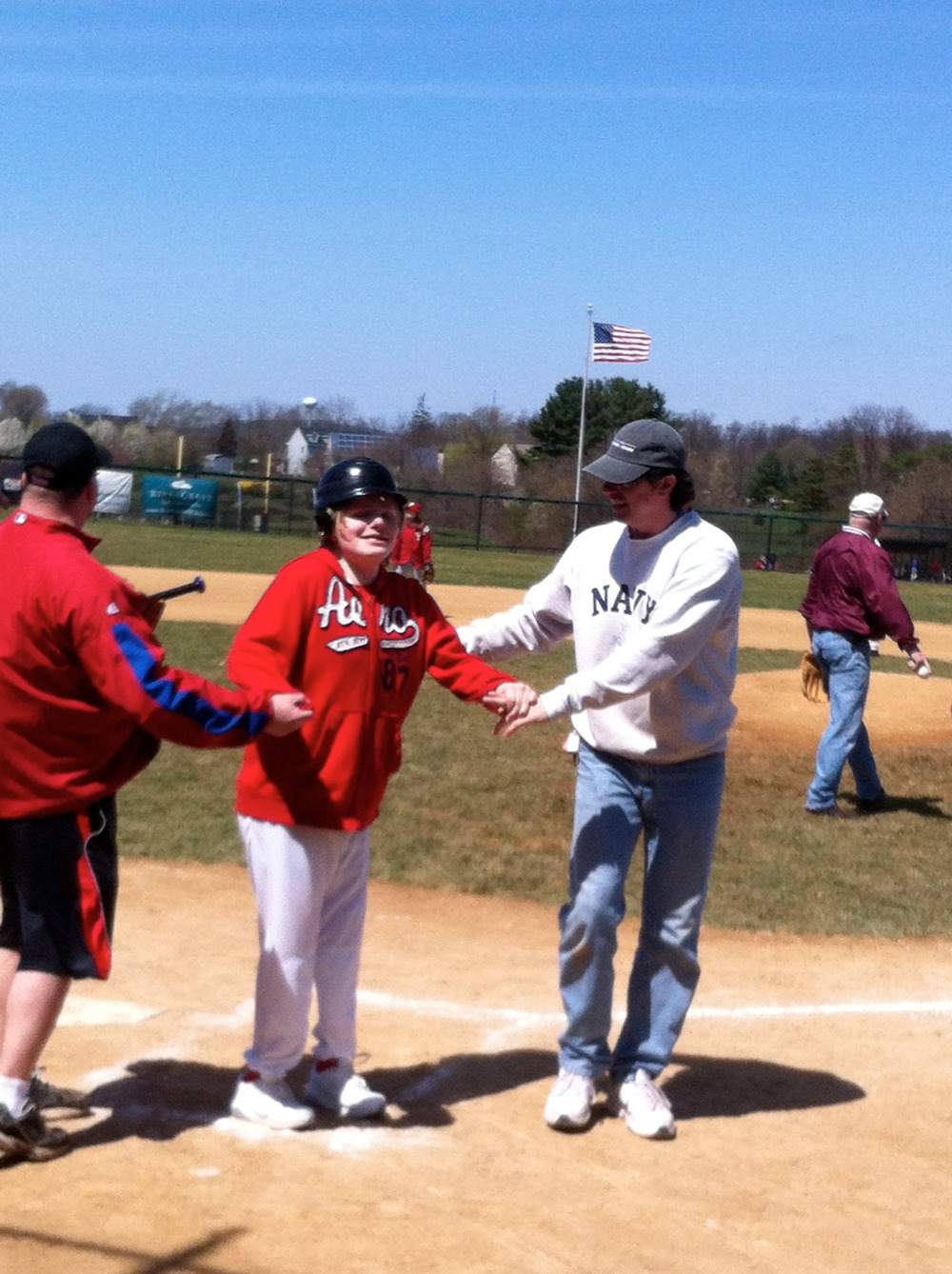 Please visit our Facebook page for Erik to view more photos, videos, updates on his progress and please take time to share any thoughts or memories you may have regarding Erik
Organizer
Erik Walker
Organizer
Skippack, PA