Tucker's "Thick Skin" Campaign
Hi, all! Forgive me if this comes across as exhaustive, as many of you viewing this page likely know Tucker's background. For those of you that do not, meet my brother Tucker Cassidy:
In 1994, Tucker sustained a spinal cord injury (C4-C6) due to an accident. He became a quadriplegic at the age of 18.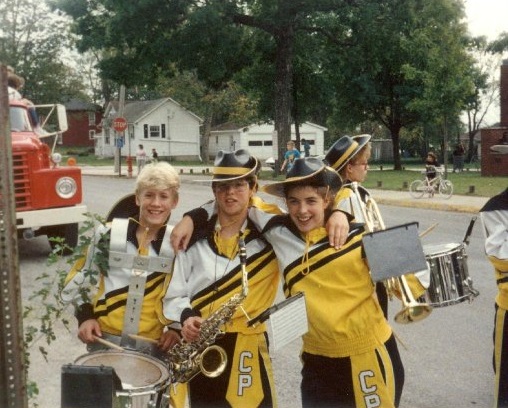 (Tucker in HS marching band - on left)
At the time, he attended college and worked part-time. None of us knew what to expect beyond the initial bleak prognosis. A severe spinal cord injury fundamentally changes a life - plans are changed or forgotten completely. For many that sustain such an injury, institutionalization is the end result.
Due to our health insurance coverage, Tucker was able to avoid a similar fate; he has been able to live a more normal life than others with similar SCI's. His health care needs have been met by a registered nurse visit in the morning, two visits a day from an in-home health aide, and someone putting him to bed each night.
Despite his injury, Tucker went on to finish his BA at the University of Iowa in Psychology, followed by work at the graduate level in Social Work. He moved into his own apartment (and later had his own house built). He runs his own websites (which are his main source of income). By any measure, my brother is a success.
However, over the years insurance has sought to reduce the amount of coverage provided in order to lower costs. We are constantly embroiled in appeals to provide documentation that having meals prepared and having an everyday nurse visit are "medical necessities."
In addition to battling with the insurance company, Tucker has been dropped by in-home healthcare agencies on a whim on multiple occasions. With the push to privatize Medicaid payments here in Iowa, many agencies are eliminating their in-home healthcare (as that type of care may soon fall under the umbrella of out-of-state "Managed Care Organizations").
Tucker's most recent struggle came in the form of a skin infection. After a visit back in November to check up on a minor surgery, his doctors informed him he would need to be on bed-rest for a period of four to eight weeks in order to heal properly. He was released to a skilled nursing facility in Waterloo, IA.
After roughly two months at this facility, he was informed by his in-home healthcare agency that they would no longer provide him services, effectively cutting off his ability to return home.
Around the same time, the insurance company cut off his funding to remain at the facility. Since the start of the year, he has been paying roughly $2700 per month to remain under supervision and care (in addition to paying his monthly mortgage, insurance, and utilities). Since he has been on bed-rest during this time, he has been unable to maintain his websites. The time he has had available to be up and on the internet has been spent desperately seeking solutions to his care crisis.
Now he is leaving the facility, STILL without in-home healthcare established. Presently, he is relying on a network of friends and family to help provide his care, in addition to advertising and paying out of his own pocket for private nursing. No agency has yet filled the gap in coverage.
Due to the loss of potential income, the insurance bills, and possibility of more bills to come for out-of-pocket expenses, $10,000 may not even cover the extent of financial damage done. I realize it seems like a lofty goal, but any contribution you could make to help him get back on his feet (or get him rolling again) would be greatly appreciated. 
Tucker is not the type to ask for a hand-out or help - in over 21 years as a quadriplegic, he has maintained an extraordinary level of independence and still done truly amazing things.
Your contributions will go a long way to putting his mind at ease. Every day, he has to worry about things that would never cross the minds of most people. I have no doubts he can overcome these challenges like all the others he has beaten - I just hate to see him constantly try to go it alone.
If you can contribute, I know I'll be eternally grateful. If you can't contribute financially, pass it along. If you want to help him in other ways, please feel free to contact me.

Organizer and beneficiary
(Tucker) Jeremy Raymond Cassidy 
#1 fundraising platform

People have raised more money on GoFundMe than anywhere else. Learn more

GoFundMe Guarantee

In the rare case that something isn't right, we will refund your donation. Learn more

Expert advice, 24/7

Contact us with your questions and we'll answer, day or night. Learn more