I'm raising for a life saving liver operation
My journey so far...
I'm Emily Locking and I live in Bow Brickhill, Buckinghamshire. Following my terminal cancer diagnosis I am now raising funds for myself to have a life saving liver transplant abroad as this operation isn't available in the UK.
In October 2015 we had our beautiful daughter, our life and family were now complete and myself and my husband were ready to start our new lives as parents. But the following month I started explaining to my GP that I just didn't feel quite right inside, bloods were taken and then we were thrown into a world of constant tests. In December 2015, Christmas week, me and my husband sat in a consultants room at Milton Keynes hospital where we were told I had bowel cancer, and it had already spread to my liver which was now consumed with seven large tumours, three of which were over 10cm. I was offered palliative chemo, informed I was inoperable and told I had 1 to 5 years maximum to live providing I responded to the chemo, otherwise I only had around 8 weeks.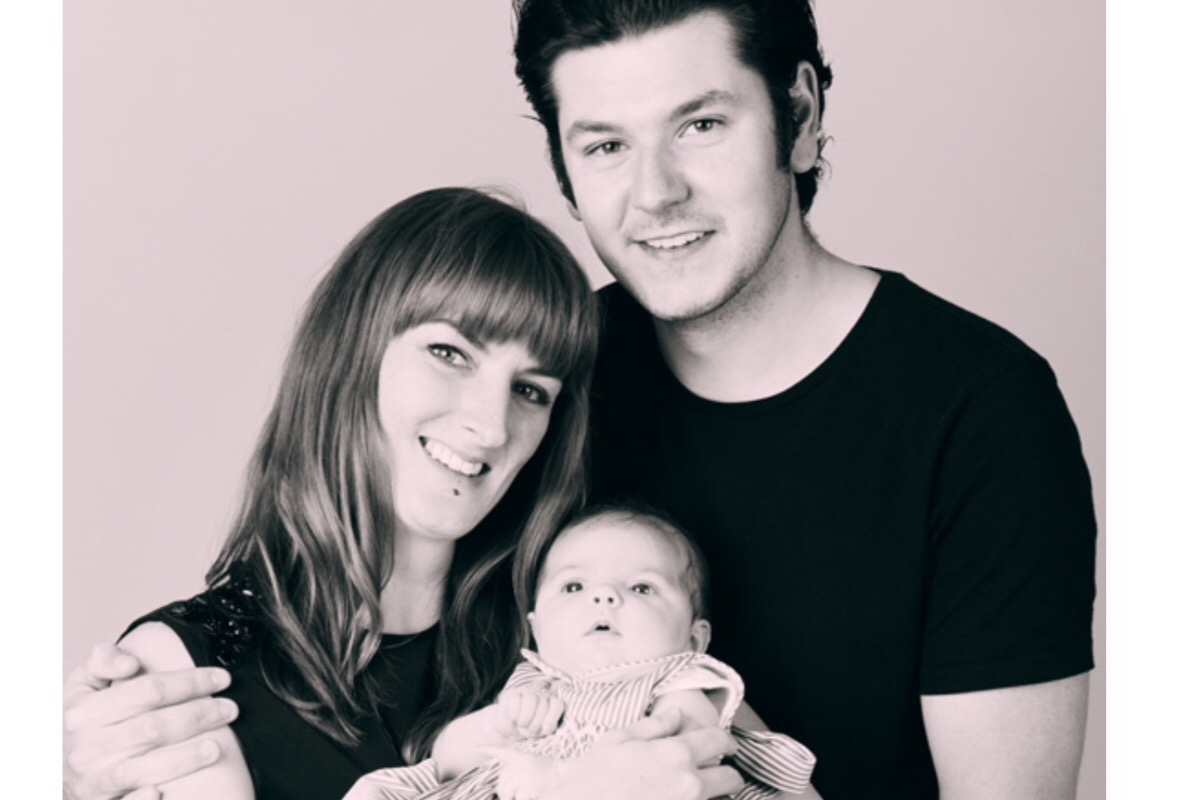 We drove home where my parents were watching our daughter and I had to tell them this, I just remember saying to them we need to enjoy the time I have and make the most of everything. We then tried to get our heads around this and allow it to sink in, but I couldn't begin to accept this... I had just had my baby, I couldn't leave her. I remember thinking 'how dare anything try to tell me I wasn't going to watch our little girl grow up'. We enjoyed her first Christmas and carried on as best we could as new parents.
My mother in law had found an oncologist over the Christmas period and made me an appointment for me to see him in the new year privately in London. Me and my husband went with all my results from my local hospital, he explained he would treat me under his care at Guys hospital where he worked for the NHS, he also explained that I didn't have time on my side so I needed to try all the chemo drugs at the same time because we couldn't wait to see which ones worked better or not at all, I was happy to try anything and everything. But he said the words 'I've gotten people worse than you through this' and those are the words that made all the difference, they meant there was a chance, no matter how small the chance to survive was, it was there.
I had a PICC line fitted in my arm and started chemo in January 2016. I was on four different drugs, the plan was to only stay on these for eight treatments because of the level of toxicity but I stayed on them for twenty six, one solid year. I also had a radiotherapy treatment to my liver called SIRT during this year in the November. I had a fantastic respose to the treatments and my tumours shrunk and also became dormant, allowing me the option to go ahead with surgeries.
2016 was also the year that both of my parents were diagnosed with cancer too, my dad two months after me and my mum four months after me. My dad had surgery and recovered well, my mum started chemo and we both spent 2016 on chemo together but the cancer was just too advanced and she passed away in January 2017.
I had my primary tumour in my bowel removed in March 2017 and ten weeks later the cancer in my liver started to show as active again so it was agreed I would have surgery to remove the entire right side of my liver. I had this operation in June 2017 and all went well. I was now left with just one tumour and this was in the left lobe of my liver, sitting right on an artery. I went back onto chemo for six months to try to shrink this down, but I was told it was inoperable.
But in December 2017 I very unexpectedly received the news that they would operate on the remaining tumour, in six weeks. So in January 2018 I went in for another liver operation, although this one didn't go quite so smoothly. The tumour was removed with clear margins but I developed a bile leak which became infected, leaving me incredibly ill, I developed biliary sepsis.
My PICC was removed and another put into my other arm. I spent around four months of the year as an inpatient... this really tested me. Being away from my family and home for such a long time was a little too much to cope with. Our little one was two years old and I felt I missed so much of her learning to talk and growing from a baby into a toddler, not to mention I spent the year being unable to lift her, carry her or cuddle her properly. But we did it, the tumours were gone and me being around for my family is all that matters, it doesn't matter how we achieve this or how painful it is.
I finally got back home in the summer 2018 but unfortunately with the bile leak still in place. Meaning I have to have a stent replaced in my bile duct every two to three months and I now have a small hole in the front of my body where the bile is finding it's way out naturally, this is managed by sticking a bag over it and draining it myself. It blocks and it hurts but we just learn to live with it.
In March 2019 scans showed it had worked, however they also showed it is now in my right lung, there's also two tiny suspicious areas within my left lung that we are watching. The area in my right lung can be removed through surgery, I've met the surgeon and am due to have lung surgery on my right lung next week, on the 18th April 2019.
I have been told that if/when the cancer returns to my liver treating it becomes more of a problem because of everything my liver has already gone through, it probably wouldn't be strong enough to cope with another operation and has already been flooded with chemo and radio. So my only option and chance of surviving if this happens would be to have a liver transplant. This isn't however an option in the UK, so I would need to travel and self fund the operation in Norway, something my oncologist and surgeon have said they'll support me doing. This operation is incredibly expensive, we need to raise around £150,000 (this is based on estimations over here and I need the amount confirming from the surgeon in Norway but this could take a while so I need to start raising on the estimated figure I have), and I would need the funds in place and ready to go as if/when it returns I wouldn't have time on my side.
Please help support me and my family raise this amount, I know it's an incredibly daunting amount of money but this really could save my life... every penny will be truely appreciated.
If for some miraculous reason the cancer stays away from my liver or I can't have the transplant then the money raised will be split amongst charities that have helped me throughout my treatments and surgeries (Mummy's Star, Something To Look Forward To & Willow Foundation) and also go towards our little girls future.
Emily x
Please click here for updates on my treatment and information on any upcoming fundraising events
Annie Love Made Me Weddings
Organizer
Emily Locking
Organizer
Bow Brickhill, South East England, United Kingdom