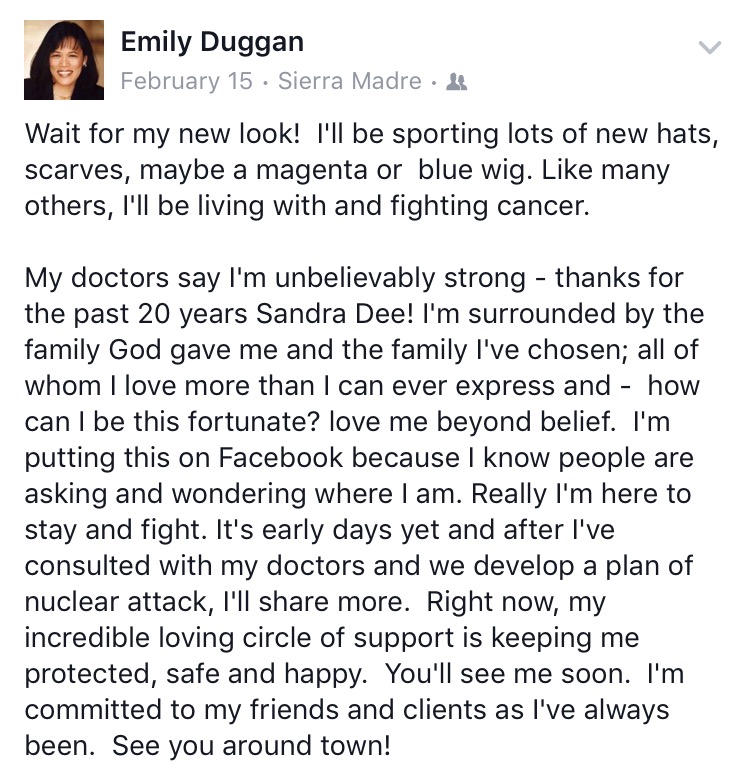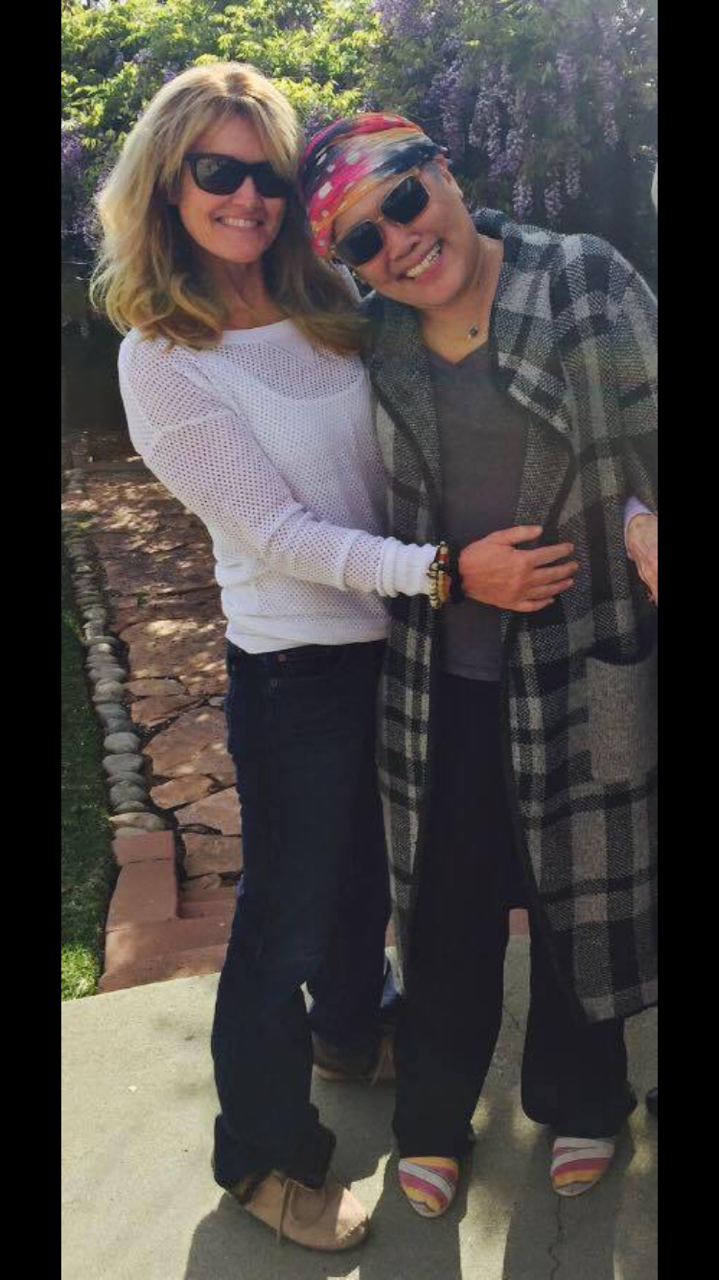 My dear friend Emily was diagnosed with brain cancer (Glioblastoma) in February, 2016.
Her cancer is the most aggressive cancer that begins in
the brain.  For more information, go to this link:
https://en.wikipedia.org/wiki/Glioblastoma_multiforme
For over 25 years, Emily has been a very successful and well known real estate agent for Century 21 in
Sierra Madre, CA. For the last ten years, she has been caring for her husband who was stricken with
Parkinson's disease, making her the sole provider of the household.
As her personal trainer and friend, I started to notice Emily having balance issues which was first diagnosed
as vertigo. As time went on, we realized it was something more serious. On February 9th Emily had her
first brain surgery to remove the tumor. A week later she came home to recover and was scheduled to
start radiation in early March. In fact, the photo above was taken at the Wistaria vine around this time. After
consulting with Doctors at The City of Hope, Emily decided to have a second brain surgery to remove more
of the cancer. As a result of the second surgery, she is now in a rehab facility. As she is working to get
better, she is unable to care for herself or her husband.
Many of you who know Emily know she is one of the most caring and giving people you will ever meet. She
has always gone out of her way to help others and it is time for us to help her.
Her dear friend,
Sandy Duvall
Pictured: Sandy Duvall, Tom Gammill, Emily Duggan. Taken at Wisteria Restaurant,  March 2013.
For over twenty years I've been going to Sierra Fitness to train with  Sandy Duvall and Emily has too. Often we skip the gym completely  and go to Starbucks across the street to drink coffee in our work-out clothes.  Emily , I need you to get well soon and come back and drink coffee with us, you laugh at my jokes when no one else will. Love, Tom
Organizer
Hannah Dudek 
Organizer
Sierra Madre, CA