Emergency Infant Care Fund for Joe
The Hi-Desert community is bereft to learn our luminous friend Melanie Buck died suddenly and unexpectedly at home in Landers, CA, leaving behind her 6-week old infant son Joe Claude, and adoring husband Paul. 
This is an emergency fund to hire an infant care specialist to help Paul feed and care for baby Joe in these precious early weeks of life– an overwhelming time for any parent, let alone a grieving father. 


ABOUT MELANIE: Melanie Buck was a communications officer in the US Navy before launching her landscape design firm which she ran for 15 years in Los Angeles. Since moving to the desert five years ago she continued to bring her boundless energy and warmth to all around her, especially to her job as a librarian at the Joshua Tree public library, where she was beloved by all, from eager young readers to old-timers using a computer for the first time.  She raised goats, gardened, and brought into the world baby Joe with the love of her life, Paul.  Words cannot express how deeply saddened her sudden loss has left the Hi-Desert.
[You can listen to Melanie's interview about her incredible life and service to others in this recent Desert Ladies Diaries podcast.]


Baby Joe Claude Buck. Mel called him her little "Kit Fox"

HOW YOU CAN HELP:  Donate.
Home visits from a infant care specialist cost $25+ / hr.
$25hr x 30hr week x 6 months = $18k. 

Help us raise the funds to provide professional infant care to help Paul and baby Joe get through the next six months, from helping infant Joe transition from breastfeeding to taking the bottle (enough breast milk has been donated to last 6 months) to giving Paul a respite during this unimaginable time of loss.
Mel pregnant with Joe, holding one of her beloved goats


HOW THIS WORKS: Every cent of this campaign will go into paying a part time baby nurse. Please share this link on Facebook, your Instagram profile link, and through email– Paul and baby Joe need our love and help, and this is a direct way to support them. There is no deadline, no minimum limit, and no amount too little– every little bit will help this baby start his new life without a mom. We can help make that transition. 
Melanie and Paul at the their desert homestead in Landers, CA.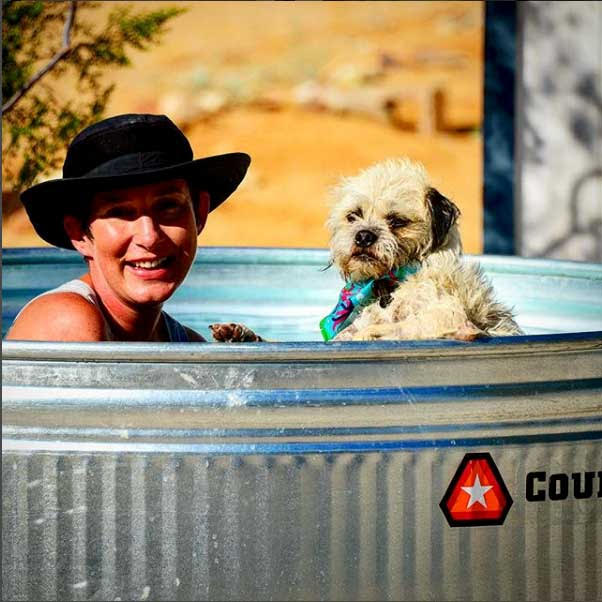 Mel cooling off in the cowboy tub with Bart, one of her many doted-on critters.
Melanie, baby Joe, and papa Paul at Thanksgiving.
Melanie with her adorable goats. Many knew Mel from afar from her wonderful Instagram, @jackrabbitgoats , where she documented rural life in the Mojave.

Melanie posted the above picture on Thanksgiving morning, and wrote on Facebook reflecting on the desert life she and Paul had built together, and the joy of bringing Joe  Claude into the world:
"Wanting to take a moment and say just how thankful I am for all of the unbelievable abundance I have been fortunate to receive in the last couple of years.

My life is so incredibly full and rich and good. I have a gorgeous, strong, smart husband, a fulfilled lifelong dream achieved of maintaining a small farm with so many wonderful critters, wild and tame, plants and crops all nestled in the high desert Mojave, my dream home.
Our Jackrabbit, our Ranchita Liebre is the apex of all of this , a culmination of so many hopes and dreams I held as a child and young woman. I am so fortunate to have such good health, such incredible, wonderful and close kinfolk, my little librarian job that I absolutely adore, all of my new magic Mojave friends and all of my incredibly amazing enduring and older friendships.
This year we brought our son into the world, and he is the icing on a cake more delicious than I ever could have imagined.

Thank you for following us on our Jackrabbit journey. We are grateful to have you share in parts of 'Our Little Slice of Hi-Desert Paradise' and I hope you all have a blessed holiday season ✨❤️"

---
Let's do everything we can to help Melanie and Paul's beautiful baby adjust to life without his mother. Thank you to all the loving friends who are helping support Paul and baby Joe in the wake of this tragedy.
Organizer and beneficiary
Lily Stockman 
Organizer
Flamingo Heights, CA