On Sunday, September 24 our family were hosting a yard sale. What seemed to be a typical laid back Sunday, turned into one of our worst nightmares.
Eli (5 years old) was playing with his older brother Cohen (9 years old). The boys were climbing up a ladder and onto some shelves in the garage, something they both know they aren't allowed to do. Even though myself and my husband (their father, Jacob) have told them numerous times that it is very unsafe and not to do it, they decided to be sneaky and do it anyhow.
Jacob was advised of what they were up to and just as he was going to get them down and get them inside, Eli slipped and fell from one of the shelves that is roughly 5 ft from the ground. He hit his head twice on the ladder before hitting the concrete. Jacob ran over to him with me running not far behind him, and picked Eli up. He was wimpering and completely limp before briefly losing consciousness.
I called 911 and they dispatched the fire department. After getting off the phone with them I called the Eli and Cohen's mom (Tracy) to advise her of what happened and she arrived at the same time as the fire department. Eli was conscious and they checked him over. They said that nothing seemed broken and probably just had a bad hit to the head (as he had a bump on his forehead). They figured he may have a concussion and advised us that if he didn't wake after sleeping or continuously started throwing up, we should bring him into ER.
Jacob carried him inside to the couch and he was absolutely exhausted. We tried keeping him awake but he wasn't having it, so we let him rest and woke him every 15 minutes. Once it came to Jacob and I going to bed, Jacob was going to Eli's bed and woke him every half hour. That morning he was throwing up everything he tried to eat and drink. My mother in law wanted to have him for a bit as she was worried and took him to her house. After several hours of this and not seeing any change she called Jacob and Tracy to advise them and they left work immediately to pick Eli up and take him to the ER.
I stayed home with Cohen and my daughter (Grace) anxiously waiting to hear an update. Jacob told me they were doing a CT scan and just had to wait upon the results. This is when our world flipped upside down. The CT showed that he had a fractured skull and bleeding of the brain. They admitted him to ICU immediately and waited there for the neurologist to come speak to them. The neurologist advised them that he was going to need to do surgery. They had to remove part of his skull, stop the bleeding of his brain, and put 2 titanium plates where they removed part of the skull. They started prepping him for surgery right away and was in for the procedure within the hour.
An hour and a half later, Jacob and Tracy were advised the surgery went well. They removed part of his skull, found that the bleed had stopped in the brain and removed a blood clot about the size of a plum. They also removed a fragment of bone floating around that had chipped from the fracture. 


A few minutes later they were able to see Eli. Jacob and Tracy decided she would spend the first night there and Jacob would do the next overnight. 
He was doing quite well Tuesday morning and they moved him to regular care shortly after.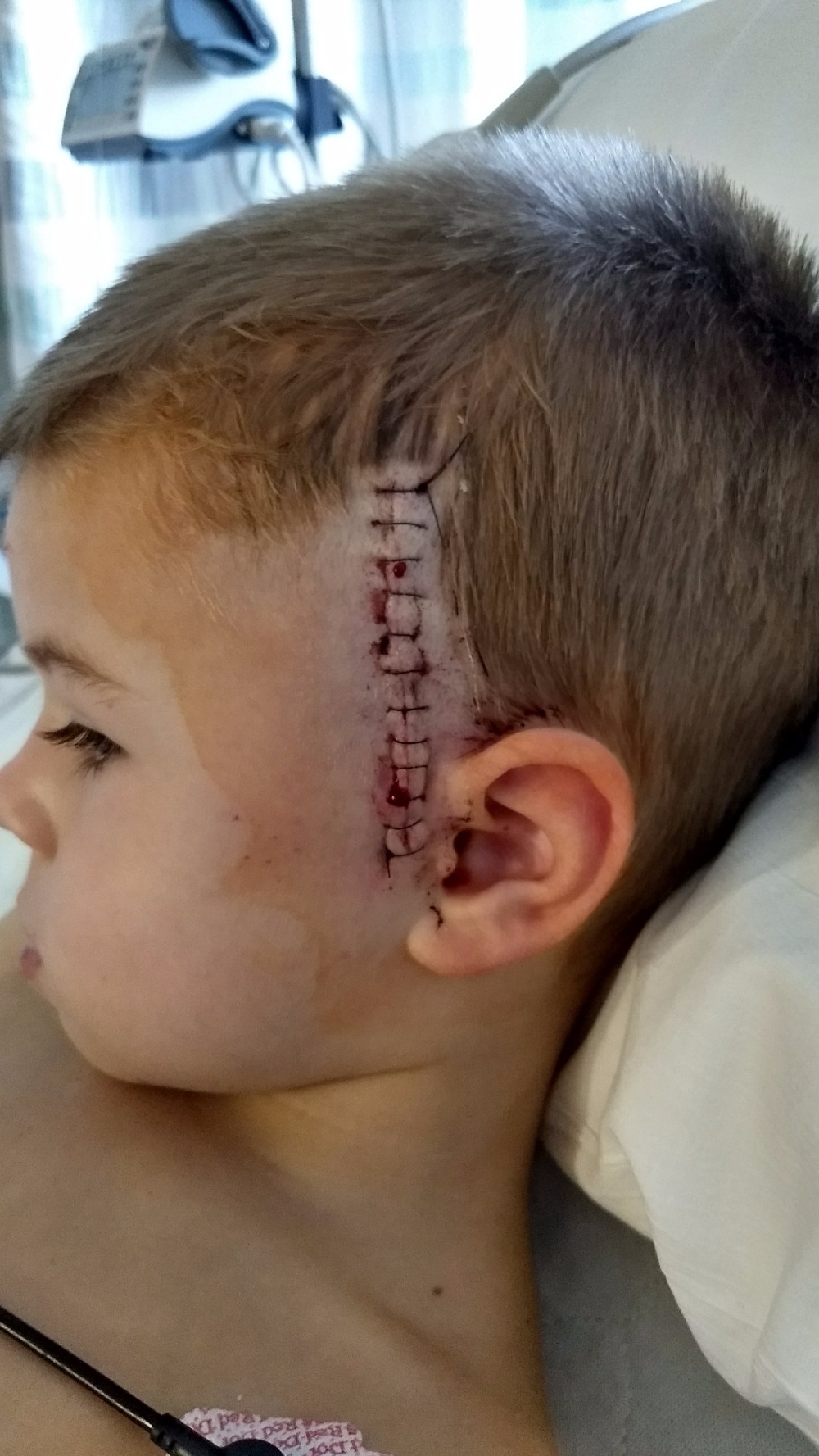 I finally got to go and see Eli on Tuesday and he looked so sad and just wanted to come home.


He slowly started to seem like himself again and started smiling, laughing, talking, and making all his crazy sound effects with his mouth (something that normally drives me a little nutty but I can't tell you how happy i was to hear it this time around). I got to lay in his bed with him and talk, cuddle, play some video games, and watch him and his daddy practice writing his alphabet letters. We also took funny pictures and videos together and he was laughing and yelling so loud I actually had to tell him he needed to quiet down (it was about 10pm). I was just waiting for the nurse to come in to tell us to hush!


I ended up spending the night there with Jacob and Eli which was very comforting for all 3 of us. 



Today is now Wednesday and since he has been progressing and doing so well, he was discharged and over the moon happy he was finally getting out of the hospital. He is now at home with his mom resting. He will miss 2 weeks of school which for some reason he was completely ok with! ;)


My step son is such an energetic, loving, sweet, funny, active, and resilient little boy and I can't even begin to explain how blessed so many people are that he is expected to make a full recovery. He will be returning in just over a week to have his 12 stitches removed and he will also need another CT scan to make sure everything is all good.
Even with insurance coverage, Jacob and Tracy are going to have to pay $5,600 out of pocket. I am a stay at home mama and am not able to work yet, as i recently moved to Spokane following my marriage and am awaiting to get a visa. Jacob is providing for not only himself and his boys, but myself and my daughter Grace as well. Anything helps, even if it is just sharing this.

Thank you so much in advance.

XO

Organizer and beneficiary
#1 fundraising platform

More people start fundraisers on GoFundMe than on any other platform. Learn more

GoFundMe Guarantee

In the rare case something isn't right, we will work with you to determine if misuse occurred. Learn more

Expert advice, 24/7

Contact us with your questions and we'll answer, day or night. Learn more