Help us rebuild a primary school that got destroyed by the 2015 earthquake in Nepal!
  'ELEVATE' is an initiative that was born from the strong friendships we made during our tourism work in Nepal. We want to elevate communities which are located away from the touristic hotspots and therefore do not receive as much attention and support. 
The Bigu Village in the Dolakha District was heavily destroyed during the 2015 earthquakes, and it is the birthplace of our good friend and assistant guide Nara. 
Together with the Bigu-Village Development Committee, we decided to build a library complex which can function as a small teaching facility and community center at the same time. We put down the initial funding last year, and it was completed in March 2017, thanks to the generous additional help from '
The Collver family & friends
' (Canada) and '
The Rotary Club Pulheim
' (Germany). Together with the people of the Bigu village, we are beyond grateful for their support!
Our next big goal is the reconstruction of the primary school on the other side of the valley.
Around 60 kids are mostly taught outside at the moment since the mud floor of the temporary school-shelter gets flooded whenever it rains, there is little to no furniture let alone learning equipment or soundproofing between the 'classrooms.'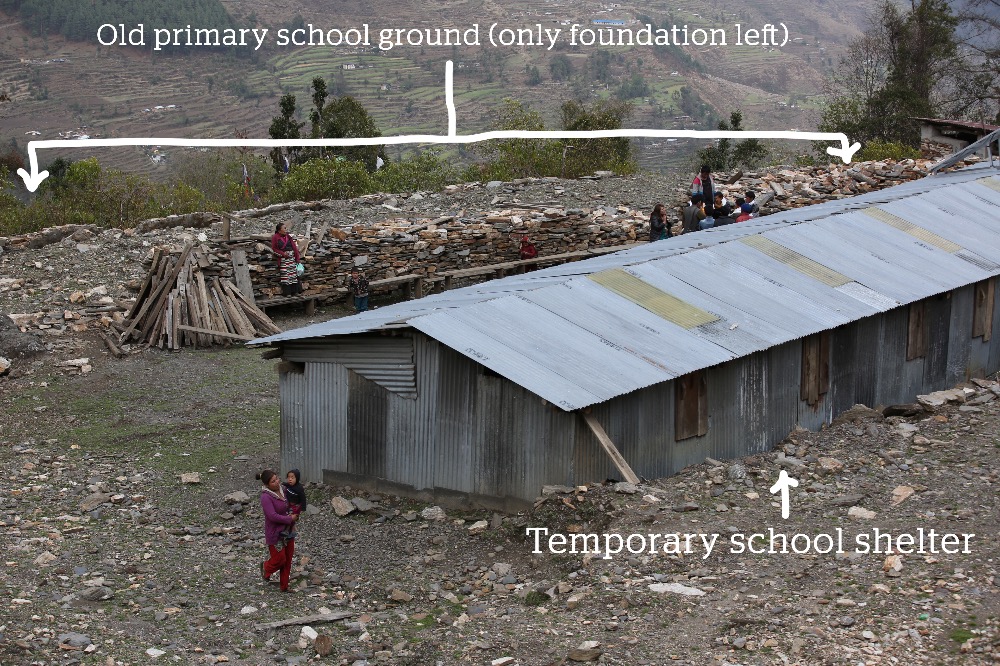 Due to the very limited road access and new Nepali 'earthquake-safe' building laws (which double the construction costs), this is going to be a challenging process. 
The government is still sitting on millions of dollars of international aid which will most likely be lost in the corrupted system and endless bureaucracy before it reaches any of the affected areas and its inhabitants.
In the end, it is the kids who have to suffer the consequences, their chances to prosper in the nepalese society heavily depend on the invaluable tool of education. 
We want to help directly with a small but impactful project! 
A primary school building with five classrooms, one office, and one storage room.
Built according to the new rules and regulations, with electricity and sufficient insulation so that it can be used year round and facilitate other community-related activities. Evening courses for the older generation and recreational activities. As Nara likes to say: 'ANY AMOUNT HELPS!'
Let's ELEVATE Bigu village!!!  #TOGETHER



Special thanks to:
Caspar Schaede
Daniela Schumacher-Nesseler
den Familien Broenecke, Enders, Jecke & Kraemer 
Sunir Gurung 
Tsering Sherpa