We don't inherit the earth from our ancestors; we borrow it from our children. In Native Ways, we are acutely aware of how our actions impact the next Seven Generations of Life. At Red Earth Descendants' 10th Annual Elder/Youth Conference, taking place
during and within
the World Peace and Prayer Day gathering (
www.worldpeaceandprayerday.com
), we will provide a place to pass indigenous knowledge from our elders to our youth. It is a place to celebrate this ancient and crucial way of keeping tradition alive. We humbly ask for you help and support in this culturally restorative and historic event taking place in Southern Oregon this summer.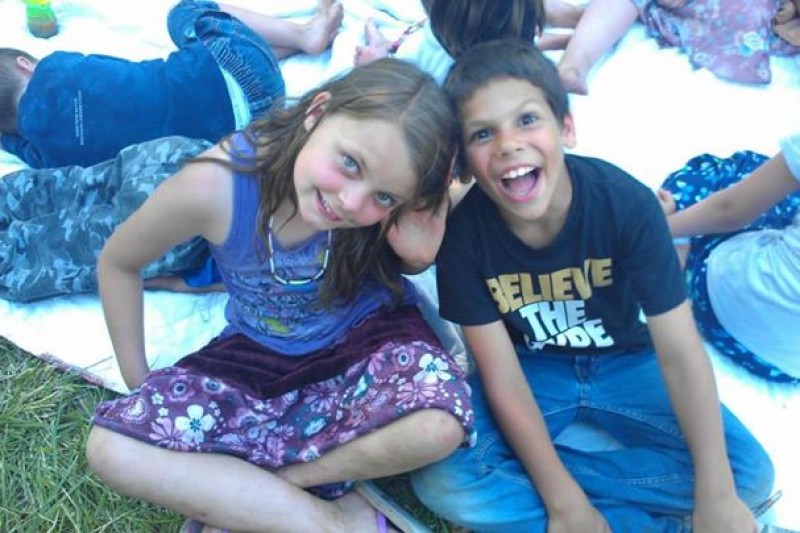 NEW! There are now a limited number of special thank-you gifts available to those who donate to the GoFundMe for World Peace and Prayer Day through June 21.
Be sure to donate soon to take advantage of these special limited offerings!
Please remember to provide contact information so your gifts can be delivered. Thank you! 
First Ten donors of $250:
Special Limited Edition "Supporter" WWPD T shirt, for donors only~ 
First TWENTY Donors of $500:
Special Limited Edition 'Supporter' WWPD T-shirt, for donors only~
WWPD Poster signed by Elders~
WWPD Mug~ 
First TEN Donors of $1000 or more:
Special Limited Edition 'Supporter' T-shirt, for donors only~
WWPD Poster signed by Elders~
WWPD Mug~
Special Mention at Event/Publicity~
Limited First Edition Giclee Portrait of Takilma Elder Agnes Pilgrim, signed~
Our grassroots organization, Red Earth Descendants, has accepted the responsibility of hosting the 20th Annual International World Peace and Prayer Day Gathering this year, June 18-21, 2015, taking place at Howard Prairie Resort in the mountains east of Ashland. We are honored to host this auspicious and historic gathering, featuring elders, wisdom keepers, environmental and social activists, all under the guidance and instructions of Chief Arvol Looking Horse, who will be present to officiate over the prayer and the gathering.  Please continue reading for further information about Chief Arvol Looking Horse.
Help us bring the Elder/Youth Conference to World Peace and Prayer Day~!


A large element of the World Peace and Prayer Day Gathering will be Red Earth Descendants' 10th Annual Elder/Youth Conference, 2015.  We are asking for funds to help transport and host indigenous elders and teachers from around the world to make their way here to this gathering so that they may share their wisdom and teach our younger generations.  We have invited knowledgeable elders from many indigenous traditions to conduct hands-on teachings for the youth and their families, and now we need to raise the needed money to cover their travel and lodging costs.  Many of these elders live humbly in their own family communities and do not have independent means for attending these important gatherings to help pass on their traditions to future generations.  Our funding will give them a chance to share and impart their wisdom to the hundreds of people who will attend the World Peace and Prayer Day, along with the Elder/Youth Conference, 2015.
As always, our Elder/Youth Conference is free to the public, and we welcome all ages, races and traditions to attend and share core Native values and skills through these traditional teachings.  In order bring our teachers and wisdom keepers to the Ashland area this summer, we are busily working on fundraising campaigns, this being one of many.
For Southern Oregon, this is an historic occasion, bridging together many faiths and inter-tribal communities on a global level, and we invite you to please consider helping us sponsor the travel costs for our esteemed elders to make their way to the gathering.
Information about Chief Arvol Looking Horse, Founder:World Peace & Prayer Day~Honoring Sacred Sites Day~
Chief Arvol Looking Horse is the Founder of World Peace & Prayer Day and Honoring Sacred Sites Day.  Recognized as the spiritual leader of the Lakota, Dakota and North Nakota Sioux Nations, he was born on the Cheyenne River Reservation in South Dakota, and at twelve years old became the youngest, 19th Generational Keeper of the Sacred White Buffalo Calf Pipe Bundle.
He has dedicated his life to working for change and fulfilling the sacred prophecy known as "Mending the Sacred Hoop of the Nation".  In carrying out his commitment to religious freedom, sacred site protection and cultural survival and revival, Chief Looking Horse lectures at universities, conferences and symposiums around the world and has met with and established relationships with world leaders, including Desmond Tutu, President Barack Obama and the Dalai Llama.
As well as being invited to speak at President Bill Clinton's 1996 inauguration, Chief Looking Horse's prayers have opened numerous sessions at the United Nations.  His many awards include the 2006 Temple of Understanding Juliet Hollister Award from the UN.  Previous recipients include the Dalai Llama, Nelson Mandela and Queen Noor.
Our elders have taught us that in order to keep a culture alive, the language and the traditions within that culture need to be shared and passed on to the next Seven Generations of life.  We ask that you help us to set the stage for this awesome gathering this summer and help to share this powerful opportunity.  If you can not contribute to this GoFundMe campaign, there are several other ways you can help with this gathering.  Please see our websites and contact information:
www.redearthdescendants.org

www.worldpeaceandprayerday.com
Pilamaya, thank you and many blessings for what you can offer~
Red Earth Descendants
Steering Committee for World Peace and Prayer Day 2015
Organizer
Jaimie Bernhagen
Organizer
Ashland, OR