Kraus Nursery & Primary School has been presented with an opportunity from Code Lagos to expand their educational curriculum  to the technology field and we need your help to join!
About Kraus Nursery & Primary School:Kraus Nursery and Primary school is a privately owned institution in Lagos, Nigeria, founded in 1986. It was initially opened for nursery education, but because of the excellent performance of the children, parents requested and demanded that they would like their children to remain at Kraus. After five years, Kraus added the Primary section to it. Our children are Montessori trained and have excelled in their external examinations. Our teachers attend weekly workshops to help teach effectively.
What is Code Lagos?
Code Lagos is an initiative of the Lagos State Ministry of Education aimed at making coding education framework accessible to every student in Lagos State.How it Works:Code Lagos will train teachers to teach their students how to code & program. The coding activities will be managed by assigned delivery partners. They will attach 2 facilitators to the school and install 10 computers to support the school as a Code Lagos center.
 Why Teach Code?
As Nigeria strides towards an economy in which technology is leveraged to enhance the lives and promote the livelihoods of Lagos State residents, it is important to prepare young students to meet new workforce demands, harness the benefits of technology, and communicate in the language of the future.
Code Lagos is positioning students in Lagos State to:
Harness, create, and leverage on local & global opportunities
Meet the growing demand for tech skills
Approach the world of work as problem solvers
Why we need the funds:
Kraus Nursery & Primary School currently has 6 old computers with VGA monitors. To participate in the program, we need a total of 10 computers with HDMI monitors and Raspberry Pi's  (single-board computers) as well as supply 4 additional computers for the kindergarten classes.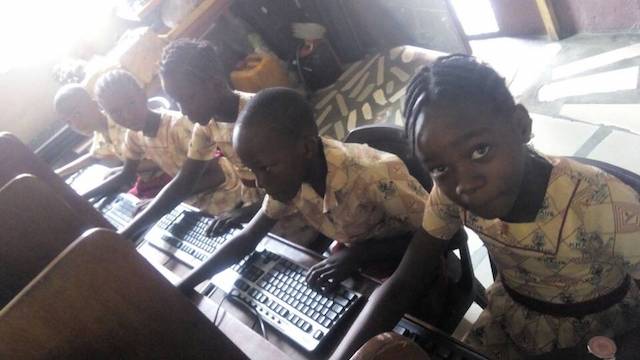 (current computers)
THANK YOU FOR YOUR SUPPORT
With your support we can help young students of Nigeria gain knowledge and skills required to stand at the center stage of technology in the future!
To find out more about Kraus Nursery & Primary School please check our profile at:
http://www.lagosschoolsonline.com/Schools/Profile/7454
To get more information about the Code Lagos initiative please visit:
http://codelagos.org
Please share our campaign and cause with your family, collegues and friends. Thank you!