East village community cafe C&B needs your help
When the coronavirus hit New York City, a lot of my friends joked that I would be the last cafe standing in the East Village. A few weeks later, and that's pretty much the case. The reason I kept open was a simple one. I've got good people that rely on me for their income, and I couldn't do what most businesses have done—close and send their people home with no means to pay for food or rent.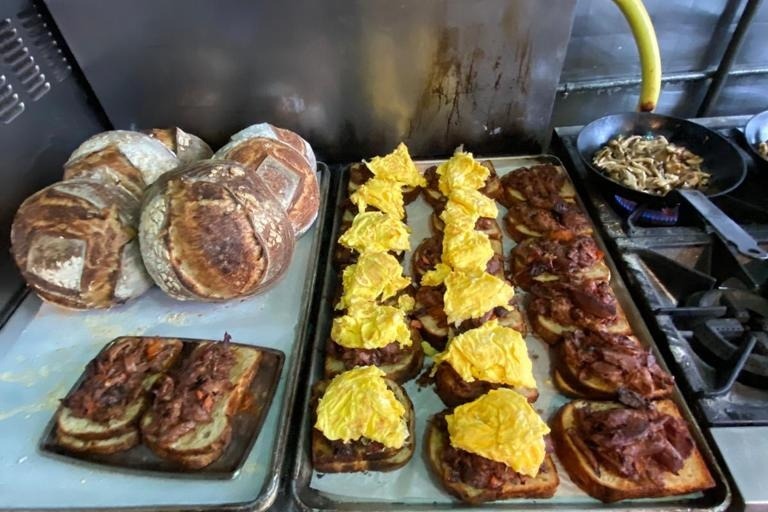 For the first few weeks I kept open on my own running a "one man show." I kept paying my employees, but didn't want them to come in and get sick. After a few weeks I realized that running the cafe on my own with no help wasn't sustainable, and one of my good people volunteered to come back in and support me. We're working an 80 hour week so that we can keep supporting the community, and paying the other workers who have family and kids.
One of the things I adapted to was baking bread by hand. I always made homemade bread for the cafe, but since the virus hit I've been making 30 loaves a day myself to keep the cafe afloat. What I came to realize is that the cafe needs to adapt in order to survive. I want to bring a bread oven in the back so that I can transform the cafe into a bakery and keep the essential supplies coming for the community, while keeping my own people on their feet.
A lot of people call C & B Cafe the heartbeat of the hood. That thought's been getting me through the long days here since all this hit. I'm determined to keep the heartbeat of C & B alive through all this for the community of people we serve on a daily basis, and so that I don't have to add my people to the long list of those who lost their jobs in all this. If you can support me to make that possible, I'll look forward to sharing brighter times with you when we get the neighborhood back up on its feet once again.
With love
Ali 
Mallory & Kashif Acts of Love Fundraiser