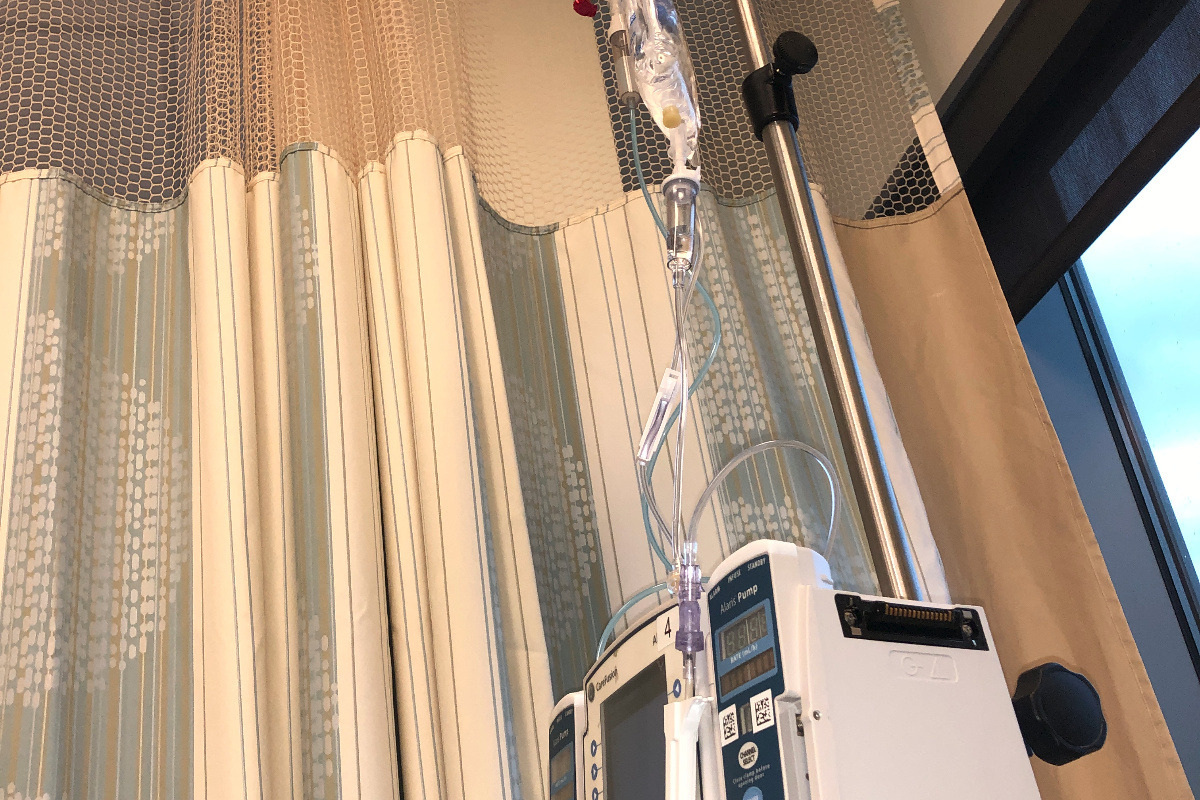 My name is Jim Birch. On October 22, 2019, I was diagnosed with stage 3A rectal cancer. On October 30, 2019, I was informed how the treatment plan works for cancer in this area of the body. The treatment route is eight rounds of chemotherapy, every other Friday for 16 weeks. Due to the area of my body where the cancer exists, health professionals recommend very strong chemotherapy treatments, and then radiation to reduce the size of the carcinoma, then surgery. On November 15, 2019 I had outpatient surgery to have a port (sometimes called by brand names such as Port-a-cath or Mediport) implanted just below the collarbone on the right side of my chest. A soft thin catheter tube connects the port to a large vein. My chemotherapy medicines are given through a large special needle that fits into the port. Every other Friday, I go to the lab, have blood drawn to make sure my counts are ok, then visit with the nurse practitioner, and occasionally the doctor will join. After that I'm in the chair at the hospital's infusion center for 3 to 4 hours, then home with a 100ml intravenous pump for another 45 hours, which is disconnected by a nurse that comes to my home on Sunday afternoon, disconnects the pump and flushes the port. This makes for a total of 48 hours of nonstop chemotherapy! It's a bit of a nuisance schlepping the pump around for nearly the entire weekend which is about the size of an old portable cassette player. Upon completion of the intravenous chemotherapy, which is on March 1, 2020, I will go for a second MRI. This will show how much my tumor/carcinoma has shrunk. In mid-March, I will begin radiation treatments for six weeks. Radiation treatments will be 15 minutes a day, every day Monday through Friday and I will take chemotherapy pills on the days I have these treatments. Following the radiation, I will most likely need two surgeries. The surgeries will entail; one surgery to remove the cancer, and connect my intestine to a colostomy bag for roughly six weeks, and a second surgery to disconnect the colostomy bag and reconnect my intestine to my rectum.
To give overall view of my general health, I'm 53 years old, very active, athletic and fit. In April of 2019, I went for my annual physical, was 52 then. The doctor went over everything as usual, did lab work and a few days later he called me to let me know that I'm in great shape and my labs were all perfect. To quote him, he said, "You're the perfect biological specimen for a 52 year old man." This was reassuring. I already knew I was in great shape, so I continued doing what I was doing. Good diet, exercise, and an overall healthy, active lifestyle.
In October of 2019 is when things changed, I noticed a very small amount of red blood in my bowel movements. Although it was alarming, honestly I didn't think much of it. I thought a hemorrhoid, a polyp, something not so serious and definitely not cancer! After a few days of this, On October 8, 2019 I went to the emergency room. This was a bit of a pointless visit. I was there for four hours; ER staff there did a cat scan, took urine and did blood work. Everything came back normal and the recommended I go for a colonoscopy as soon as possible. On October 18, 2019, I went for a colonoscopy and doctors discovered my carcinoma. It was at this time they took biopsies, which resulted in the October 22, 2019 phone call informing me of my rectal cancer.
To jump ahead to my current status and reduce a bit of the minutia, thus far, I have done five chemotherapy treatments. With each treatment, the fatigue, weight loss and side effects are more and more overwhelming. It's a real struggle to keep myself nourished and rested. Luckily, I am able to do the treatments on Fridays, have the pump for the weekend, and return to work on Monday. Somehow, I am managing and happy that I only have three more of these brutal chemotherapy treatments left.
I am setting up a go fund me due to my income just covering my monthly bills. I have a decent job for a great employer that has been nothing but generous, understanding and supportive throughout this entire ordeal. I have good health insurance; however, it does not cover everything. I have roughly just over $6,000.00 in unpaid medical bills and want to get them paid. This figure will increase as my treatments continue. I am certainly grateful for all contributions as I try to stay ahead of the game, manage my situation and fight off this horrible inconvenience that has entered my life.

Organizer
Jim Birch 
Organizer
Ridgefield Park, NJ
#1 fundraising platform

People have raised more money on GoFundMe than anywhere else. Learn more

GoFundMe Guarantee

In the rare case that something isn't right, we will refund your donation. Learn more

Expert advice, 24/7

Contact us with your questions and we'll answer, day or night. Learn more