Michelle's Medical Bills
Dear Friends and Family
Our daughter-in-law, Michelle Brothers Ellis, is having a health crisis and needs your help. Michelle was recently diagnosed with advanced Lyme disease after suffering debilitating symptoms for over three years without knowing what was causing it. She and our son, Mark, searched for months for a source of her fatigue, joint pain, muscle weakness and neurological issues with several doctors before finding a physician that specializes in Lyme disease.
Weeks of aggressive intravenous anti-biotic treatments have not significantly improved her condition, so Michelle and Mark, along with their doctor, have decided upon a very aggressive treatment that is considered experimental and therefore not covered by their insurance. This treatment will require Michelle to receive daily treatments for three weeks and to live near the doctor's office in Vincennes, IN, during the course of treatment.
Michelle and Mark, and their daughter, Taylor, are deeply in need of your love, prayers and support. Their out-of-pocket expenses will be approximately $10,000. If you would like to donate to their medical expenses, you may do so on the secure website www.gofundme.org Please feel free to share Michelle's story with any of your friends and family for their support.
Also Mark and Michelle want to bring awareness to this disease so others may avoid any of the long-term disabilities it can cause. If you find an attached tick and a large red ring appears, please seek immediate doctor care as Lyme disease is easily curable if caught and treated early with oral antibiotics.
On behalf of Michelle and Mark, we all are very thankful for your prayers, friendship and support.
God Bless You Rita and Gary Ellis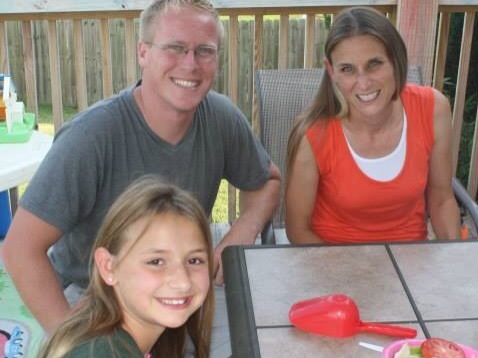 Organizer
Rita Land Ellis
Organizer
Indianapolis, IN