8
4
Dreadnaught Repairs
$3,150
of $4,559 goal
Raised by
13
people in 26 days
tl;dr - disabled girl, cat, and caretaker enby hit with $4k+ vehicle repair bill
(boost/contribute to undermine fascist/LEA efforts to literally kill us)
===
My name is Tessa.
I'm a
neurodivergent
(autism
spectrum
) mechanical/software engineer,
an
activist
 ,
and
an open source contributor
 .
My partner (pictured here with our kittyfloof) is Sessha.
She designs the user-facing stuffs,
helps me navigate paperwork,
and is my favourite librarian.
---
We're trying to make the world a better place
through affirmative action
and development of self-sustaining survival systems.
I've been doing full time caretaking of Sessha since she became unable to walk unassisted five years ago.
We need your help.
Our truck, which we call Dreadnaught,
has a leak
  that requires over $4,000 of repairs.
--- History ---
While working for an international media nonprofit,
I used my spare time and savings to start a business with a college friend,
who came back from military deployment disabled, broken, and needing help to avoid homelessness.
The technology I produced for that company,
and the designs my partner produced,
put the company at the top of its sector within seven months.
Google, Nike, Ben&Jerry's (among others)
brought teams to our organization for training.
We opted not to sell out to the investors,
because we believed that our friend would reciprocate the help we'd given him.
Because we believed we could springboard off our success and help others.
Then, in 2016, emboldened by the political theatre,
our "friend" came out of the closet as a white nationalist and fascist,
targeting myself and my partner first.
Threatening to physically violate my partner,
laughing "jokes" about murdering my friends,
using their size and weight and voices to bully and push and take.
They (Red Thread Studios, DBA Labyrinth Escape Games) attempted to SWAT me,
tried to paint me as a violent antagonist (even attempting to get restraining orders to keep me from showing up at MY company,
among other things, in an attempt to oust us (myself and my partner) from the company,
and they even filed fraudulent paperwork with the state and federal government to claim that we signed over everything.
In theory, we still own half the company, but lawsuits take tens of thousands of dollars,
and they have privilege and money from the old boy's club.
While attempting to rebuild my life after pouring thousands of hours (and most of my engineer's salary) into something that got stolen by fascists,
I was threatened and harassed by a senior co-worker at my place of day-job employment,
which the management did nothing about, despite my best efforts to communicate what was going on and ask for help.
The breaking point was my boss telling me,
explicitly,
that I did not have his support in stating truthfully the work I'd done (which the senior developer sabotaged and then blamed me for).
I took my paid vacation, then my sick leave, then all my FMLA protected leave,
and then tried to get transferred to a different department.
My request was denied, and I lost hope.
Unbeknownst to me, during all this,
my doctor had prescribed a medication that was destroying my ability to process information.
Depression, a massive mis-medication that left me with less than 17% of my faculties,
and an insurance company delaying their payments by six months left me
without a home,
without a support system,
and without a workspace to build things.
My landlord evicted me after I asked him to no longer require me to be his unpaid maintenance person.
I fought it, but ultimately couldn't prove (to an old, white, male judge) that the premises had vermin and water problems,
and so with an eviction on my record,
wait times for housing in my state had 2-3 year lead times.
Then, law enforcement
harassed, lied about, and beat
me.
Thankfully, a local news channel caught the brutal assault on video.
(video content warning:
cops beating a pacifist
 )
Over a year later, I still have $10k+ in medical debt from the assault,
fascists are running my startup (and keeping all the profit),
and my insurance company routinely loses my paperwork and harasses me (with threats of cutting off my legally mandated support) for their ineptitude.
My focus this year (2019) is a housing co-operative that will provide us with stable income while solving portions of
the Pacific Northwest Housing Crisis
 .
Fast forward to yesterday morning:
===
Insurance had just last week finally paid my disability for June and July.
Monday we talked to the lawyer about the Detroit case.
That conversation went well.
In a month or two, we will know whether they'll cover the $10k+ of medical bills,
and whether therapy costs will be included for the brutal assault and beating law enforcement gave me last year.
We'd spent weeks fighting the company's loss of our paperwork and administrative red tape.
More weeks appealing the decision on my disability case.
More weeks pushing the company to actually process the newly re-re-re-submitted paperwork.
Hours every day, with both of us fighting low spoon count, chronic disability, and daily pain.
Then there were five days of time where, in addition to our basic needs, we had a bit of money in the account. Maybe even enough that we could help someone else out. I'd begun looking around for who was really truly stuck. Budget first tho, right?
Bought several parts that I needed for repairing things around our house.
I even got new blades for our electric razor.
Having enough that I'm not panicking about a $15 replacement was nice, while it lasted.
---
Then, on Tuesday, with that behind us,
I took our truck, new-to-us this spring,
to get the alignment checked.
I knew there was probably something needing repairs,
because it'd been a bit since we'd had enough to worry about more than food and basic survival needs.
The message from the mechanic made my anxiety spike.
Phone conversations are difficult for me.
I told myself that things are fine, that they just had a question or something.
I called the mechanic back.
"There's diesel fuel in the radiator. You probably have a cracked head."
(
video of the leak
 )
My heart hit the floor.
The amount the mechanic estimated was enough to drain every last bit of saved money we have,
and use most of next month's paycheck too.
I need that money for medication, and fuel, and food.
I 
HAVE
to repair our only means of transportation,
but it means being without a vehicle, over four thousand kilometers from home,
while I try to refocus from long term engineering plans to make-money-quickly-as-a-handiperson mode.
---
Home for us is a 5th wheel trailer once owned by my grandparents, which we call Chariot.
When my partner and I faced homelessness this spring,
we negotiated a payment plan with them (the grandparents) for the responsibility and privilege of a home of our own.
The trailer started leaking last week.
The roof needs stripped down and re-sealed.
With money, or time, or both, it's fixable.
The insurance payment was going to fix that,
but the funds will go to repair the truck first.
Home feels fragile,
an emergency bill away from being taken from me,
yet again.
Cost for labour, parts, and fluids for the truck amount to an excess of $4,000.
My path forward is one of intentional resistance.
My focus is a cumulative way out of these abusive systems that create inescapable poverty for so many.
I say inescapable because, for the past two years, I've cut everything non-essential.
A $2 item goes on the "someday that would be nice to be able to afford" list.
Literally everything non-essential to survival has been sacrificed.
I've freely given my time, my knowledge, and my resources to others, because that's what they needed at the time.
Now, I need help.
===
Fascists and law enforcement ACTIVELY want me dead.
Capitalism wants my skills and designs to be lost.
I've been resisting, but...
I need help.
I need your help.
I need $4,200ish to fix our vehicle's engine, so that I can pull my home back home, and rebuild my grandfather's legacy.
If you can help with $5, that's an assist.
If you can help by sharing this on your feed, that's an assist.
If you can convince someone else to share it, that's an assist.
---
Right now, browsing the internet, is someone who can cover this emergency repair bill without feeling the loss at all.
Invest in my future.
Share my need.
Help us get past this barrier in our forward, upward path.
Help us help future you.
+ Read More
Update 2
13 days ago
Share
tl;dr - total is $4559.31 after it's all said and done ($3,736.86 for engine repairs, $822.45 for replacing the ball joints in the steering assembly), and after paying for the second chunk we're afloat but not by a lot.

We picked up the truck and paid for the second half of the engine repairs last Friday, but the lightning storm on the 1st (Thursday) killed the internet until yesterday, so I decided to wait and do the update after the fixes and alignment was complete today.


If you're able to, please boost here, share on other social media, and if you have extra past survival and health, send a few dollars our way.

There's still some things that need fixed in the coming months (both batteries need replaced before the cold months arrive, at around $200 apiece for the ones that will last out in the Badlands, the tyres need replaced soon for both Dreadnaught and Chariot)



Thanks to everyone's help, we were able to afford stuff like therapy, vitamins, and a replacement light for the worktable.


We're surviving, and it's your fault, and...thank you.

Thank you, friends.

@todo - write thank-you notes to everyone who donated, post pics of receipts, repairs, and have a 3rd party shop confirm overall service status of the vehicle
+ Read More
Update 1
24 days ago
Share
We took the truck in and paid an initial $2,200 for parts and labour.

The estimated total is $3,587.40 if there are no additional charges, eg extra labour or parts.

The anxiety of seeing that much money spent in one chunk, out of funds that are supposed to pay for our food, fuel, and medications in the next month, cannot be overstated.

We have to pay the remainder before we can get our vehicle back, and it's only through your generosity and support that our path is possible.

---

The mechanic estimated that they'll start work today. It'll take a day or two to get parts, and another day or two to finish, so I don't expect anything before Monday, at least.

In the meantime, I've been getting documentation of other projects, like the generator and 5th wheel, up to date.


Fear of being stuck here is strong.

Hope is winning tho.

Thank you, everyone.
Your help makes my upward path possible.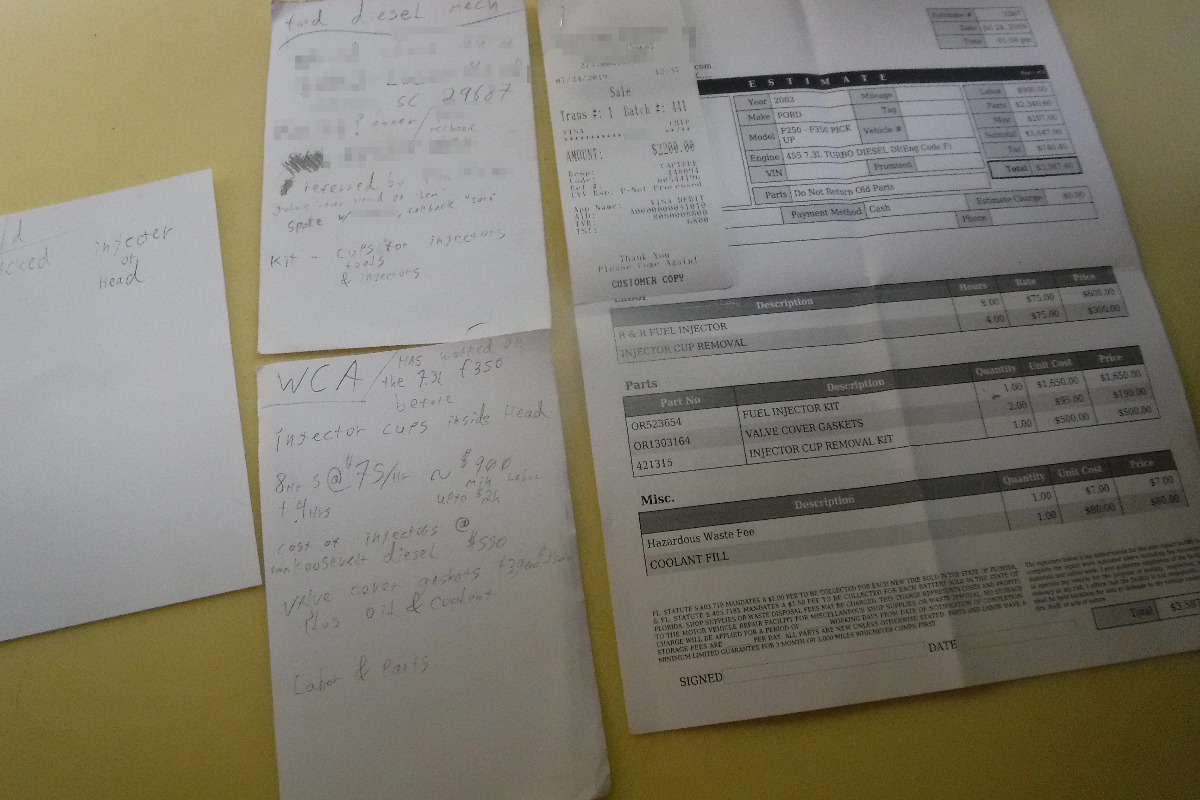 + Read More
Read a Previous Update