An 80s tribute: "Dr. Beyond"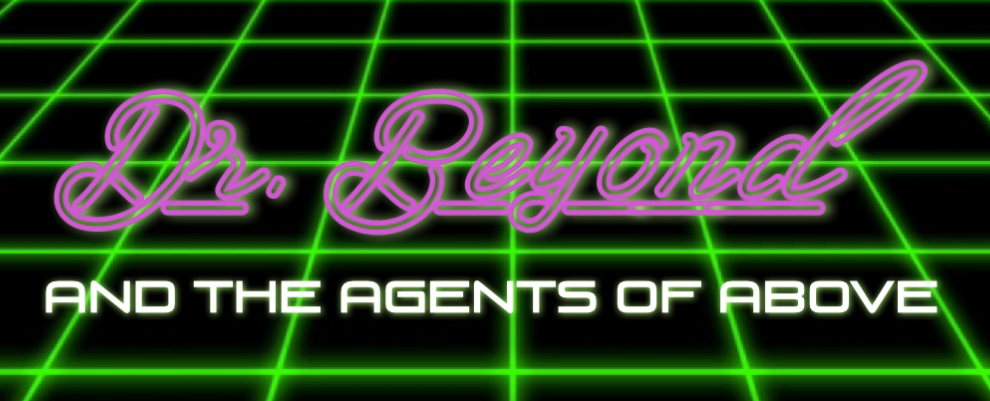 Premiering in fall 2016, "Dr. Beyond and the Agents of ABOVE" is a tribute to everything we loved about 1980s science fiction genre TV. Well-loved classics from "Captain Power and the Soldiers of the Future" and "Misfits of Science" to "Jem and the Holograms" and "Visionaries" told rip-roaring genre stories on a budget, usually in 22 minutes and made sure you were hooked by every commercial break.
You can see the opening credits in our video above, and we'd love to have the chance to bring a series to life. If you love independent filmmaking or 1980s storytelling, this is your chance to help make this project a reality.

"Dr. Beyond" embraces this madcap style of storytelling, with a 12-episode series of 22-minute live-action episodes coming to YouTube later this year. The story follows a quartet of remarkable women and their allies in 1987, working to understand new strands of superscience and fight off those who would abuse it. It's fanfic for an entire era, imagining a TV show that never existed but certainly could have fit right in on a morning block or Sunday night movie.
With the help of a talented and dedicated cast, and a bit of authentic 1980s voiceover from Samantha Newark, the voice of Jem/Jerrica from "Jem and the Holograms," we've completed an opening credits sequence, linked above, that (like all good 1980s stories) summarizes the story and the aesthetic of the show very quickly.

However, a project this ambitious requires funding -- for equipment, materials and most of all location shooting. Creepy-looking churches, abandoned warehouses and WWII battlefields make for great visuals but are not inexpensive. So we're asking for support for this project to help see it through -- and we hope the rewards we offer will make it worthwhile! Most notably, we've teamed with our supplier,
Vortious Custom Accessories
, to offer action figures of all the main characters and, should we reach the $4,000 mark, posters or prints for many of our contributors.
We're aiming for $4,000, and should we go over that mark, we have stretch goals that will kick in at higher levels.
And because it's just not the 1980s without distinctive card art, each figure comes carded in a recloseable blister pack: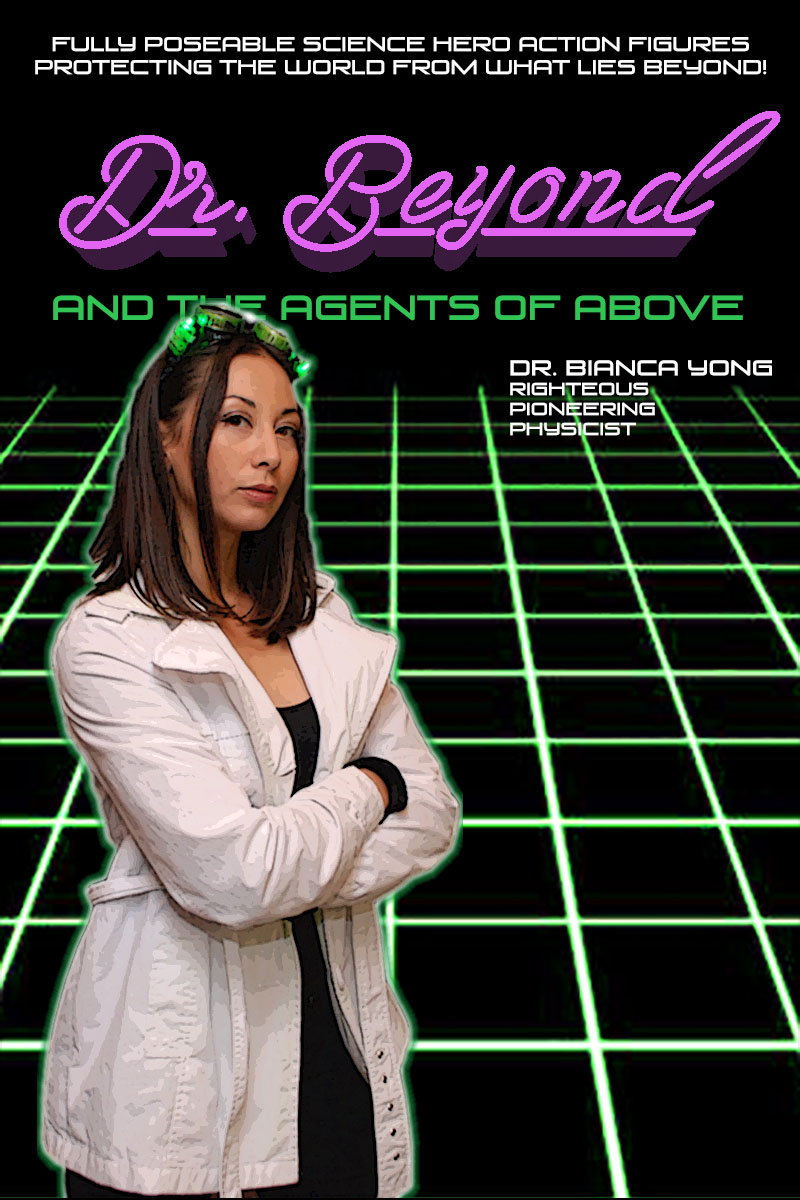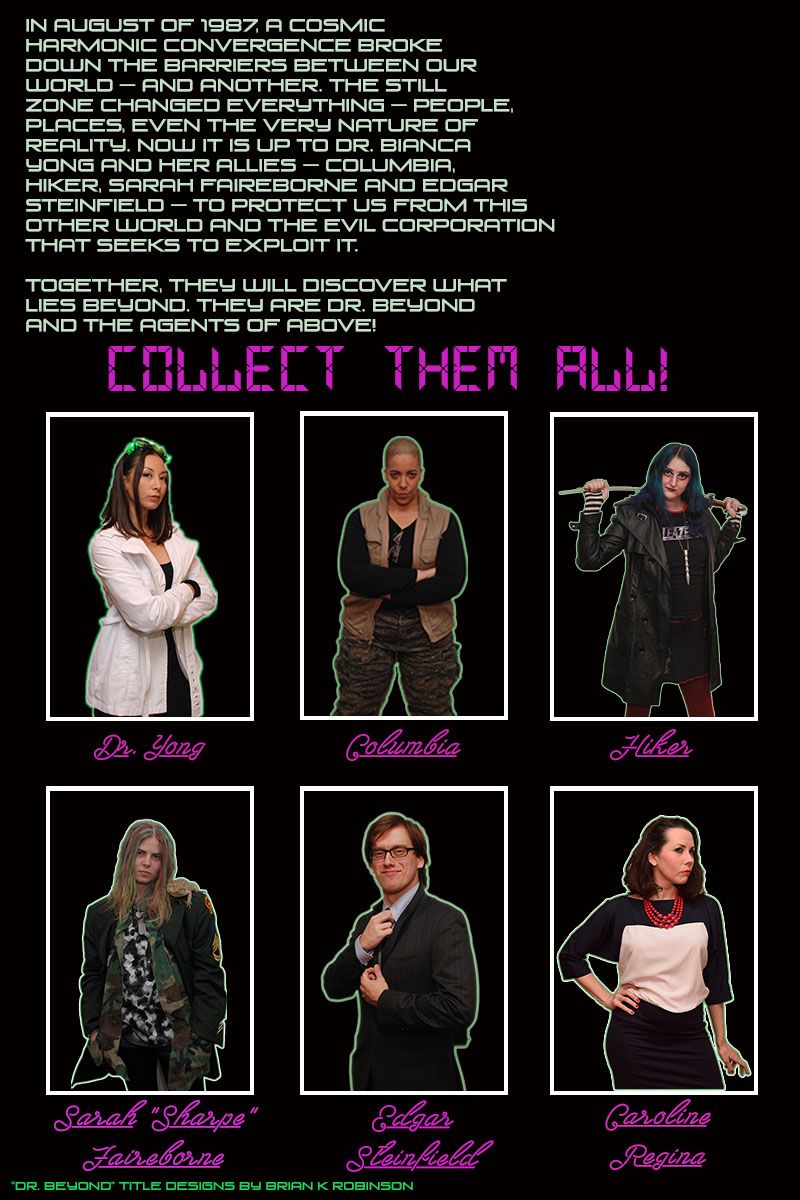 At the $2,000 mark, I'll guarantee a premiere party and screening of the first four episodes later this year. The first 75 people who donate $50 or more get reserved seating at the party.
At $4,000, we'll commission a 1980s-style poster drawn by award-winning comic book colorist Laura Martin. Everyone who contributed $50 or more will get some kind of print, with size depending on the amount of donation.

The ambitious stretch goals! (Because you never know):
Should we reach $25,000, I'll promise a second season of this show or a related spinoff sometime next year. (And also a good business lawyer.) The exact nature of the second season/spinoff will depend on actor availability, but we have enough ideas to keep this going for years! At $50,000, a third season down the road.

A word on the action figures: We're constructing action figures of all six main characters, plus variant editions ("convention exclusives") of the four members of the main team. Estimated delivery date for figures: Early July. Below you can see a few photos of the first prototypes for Dr. Yong and Sharpe.
Depending on what level of contribution you make, you'll receive one or all of the following:
Bianca Yong
Columbia
Sarah Faireborne
Hiker
Edgar Steinfield
Caroline Regina
And the convention-exclusive variants:
Traditional Archer Bianca Yong
Still Zone Sarah Faireborne
Fourth Shift Columbia
Ghost Warrior Hiker

Organizer
Paul F. P. Pogue 
Organizer
Indianapolis, IN