In August 2022, my family and I decided to open our home to the community so we could share our mini farm of rescues. Dragonfly Acres is located on a little Oasis in Odenton! All of the animals reside on our personal property. We live on a modest 5 acres, a perfect size for our tiny little farm. Our Interactive 1.5 -Hour Mini Farm Tours are catered to everyone that has a love of animals, a thirst for knowledge and perhaps not afraid to get their boots a little muddy!
We rescued our horse Dekota 2 years ago come this July. He is my daughter Devyn's horse. We worked hard to get him in shape and fix a few issues he had. They had a wonderful year and last year's show season together. Sadly he became lame again this past January so we decided to do an MRI on both feet to make sure there was not something more seriously wrong. Unfortunately, he tore a tendon in his right front leg. We were super sad and bummed as show season started back up this past March and he would have to miss out. On top of it, our veterinarian advised against stall rest as he is a big boy and would not do well. The healing process is a 1-year rest and slow rehabilitation back to work. So we decided to bring him home to recuperate vs staying at the barn where he was boarding.
Plan for treatment is going to be very costly. And the necessity to expand on our fencing to rearrange so Dekota can live here happily with all of the other farm friends is going to be an additional unexpected cost.
Treatments for Dekota::
MRI
$3500
PRP Injections (need to schedule)
$1300 -he will go to an Equine Medical Center in Leesburg for treatment
Pour in Pad - Eggbar Shoes - Farrier
$210 every 6 weeks for 6 months
Fencing
for a small bump out - $1,000
I started the business, Dragonfly Acres Farm to offset the cost of feed, veterinary care, farrier care, etc and at the same time give back and share with our surrounding communities the little life we created here for our animals. Dekota coming home to us has thrown us through a financial loop and we are trying our hardest to do what is best for him while taking care of everyone else that needs us too.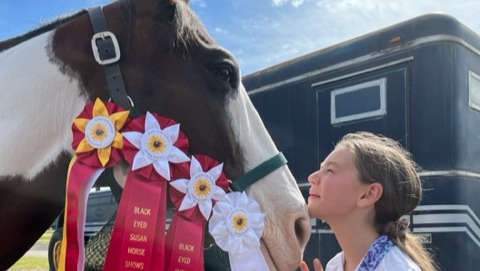 ​Our small visitation program is designed to create awareness about farm animals, their nutrition & care, husbandry and behavior. Dragonfly Acres is a strong advocate of education to empower everyone to make better choices, practice compassion and develop empathy for all living creatures.
This is a family business endeavor and we are so grateful for the support we have gained so far. Our friends & family have stepped up and helped us in the past. They know our hearts are in the right place and honestly, that is what gets us in the most trouble. These animals are family and will live their lives out with us never to face neglect, cruelty or being rehomed over and over again. They are here to stay until their last day!
There are several ways you can help! Making a small donation through Go Fund Me & PayPal on our website. You can also help by scheduling your next private group tour, birthday party or enroll in summer camp. Even purchasing items off of our wishlist is a huge help!
All of the funds for our Farm Tours, Birthday Parties, etc go toward housing, feed and care of the animals!
We appreciate your love and support!
Mike, Sharlee, Devyn. Reece, Bodhi & the Misfit Farm!