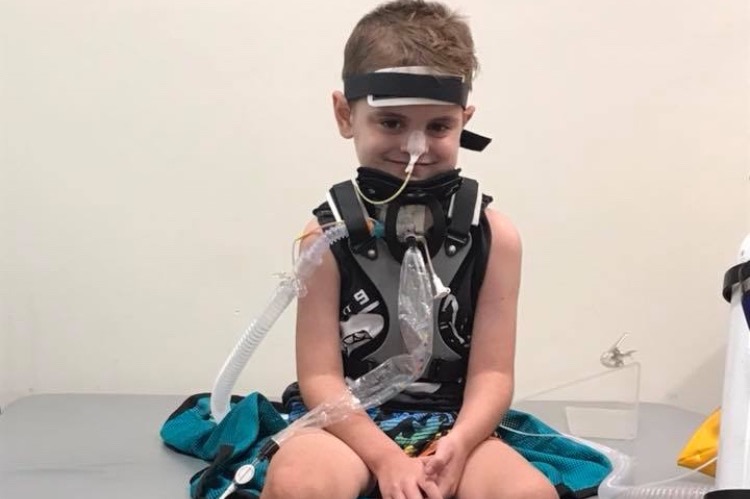 I will start by introducing myself and my family. Hi, we are a family from Cooranbong. My name is Kristie, my husband is Michael and together we have 3 children, Alana (10 years), Jacob (8 years) and Kobe (6 years).Up until 5 months ago, we had a relatively normal life. The children attended the local Catholic school, Michael worked as a Sprinkler Fitter based in Sydney and I worked as an Early Childhood Educator at a local Preschool.
On Tuesday, 13th November 2018, our world was turned upside down. Our youngest son, Kobe, was rushed to hospital and diagnosed with a rare condition called Acute Flaccid Myelitis (AFM). AFM is a debilitating condition which affects the grey matter of the central nervous system in the spinal cord, and causes sudden onset paralysis and loss of muscle tone and reflexes. AFM does not discriminate and affects 1 in a million, and children are the main victims. Over a matter of hours, Kobe became paralysed from the waist up and unable to breathe on his own. Kobe had bilateral diaphragm paralysis, which resulted in him being intubated on life support. Kobe was unable to sit, stand, walk, move his arms or hold his head up. 3 weeks later Kobe had surgery for a tracheostomy. Kobe's cough, gag and swallow reflexes were paralysed, which meant he was unable to talk, eat, swallow or cough.
19 weeks later, Michael and I are still spending alternate nights in PICU with Kobe. My parents are caring for Alana and Jacob while we are unable to. With the help of intensive physio and OT, Kobe is showing smalls signs of recovery every day. He is now able to walk short distances while wearing an upper body brace, although most of his time is spent in a power wheelchair or in bed. Kobe can now use his hands but is still unable to move his shoulders or hold his head up. He has regained some diaphragm function and is able to spend 4 hours a day off the ventilator, but is still ventilated through his Trache for the remaining 20hrs a day. Kobe is still unable to speak, swallow, eat or cough and requires tube feeding and mechanical assistance to cough and clear his lungs.
There is no known cure for AFM and recovery and prognosis is varied. It can take weeks, months and even years to recover, if at all. Most victims of AFM will never make a full recovery and paralysis can be permanent. There is no way of knowing the extent of Kobe's recovery, it is a matter of watch, wait and see which nerves make some form of recovery.
With this being said, we have been given a discharge date of the end of April. We can take Kobe home with the assistance of a 24 hour nurse and lots of medical equipment. Due to the complexity of Kobe's care needs, we will require some home mods to be completed to make Kobe's life easier, and to assist him to be as independent as he can be. We are reaching out to you in hope that you can offer some assistance, and be a platform to ask for donations of materials, and labour to modify our house so we can bring Kobe home and be a family again.
Thank you!!
Organizer and beneficiary
Annalese Sciberras
Organizer
Cooranbong NSW