Prayers for Carter & Conner
Hi, my name is Jasmine Mirabal (Carter and Conners Aunt) and this is our story.
Early last year, Michelle Brantley and her fiancé Bryan Mirabal were just getting used to the ins and outs of parenting with their eight-month-old son, Gage. They'd been through the sleepless nights, feedings, and diaper changes – so by the time the eighth month rolled around, they we're pretty good at it. Michelle was on a birth control shot that is 99 percent effective, and they had no plans at the time to grow their family.   
However, sometimes the plans you make are not always the ones you end up with as the new parents discovered that Michelle was not only pregnant again, but 15 weeks along with twins. Nervous but excited, they began the process of preparing for two more babies, lining up their prenatal care and finding a high-risk obstetrician to help them through the pregnancy. On July 31, 2014, another big surprise was in store for Michelle, Bryan and our entire family: the ultrasound showed that the boys she was expecting were conjoined, a rare occurrence that happens in about one in 200,000 pregnancies.                                         
"It was already a shock finding out that they were pregnant again because she wanted to wait at least five or six years before having any more children, but the fact that it was twins and they were conjoined was a lot to take in. Twins don't even run in our family.
Conjoined twins are not only rare but, depending on where they are attached, do not always do well, and about half don't survive. Michelle and Bryan were told that the babies might not make it beyond 32 weeks' gestation, and if they were born, only had a 25 percent chance of survival. We knew the odds were against us but we had faith, and prayed for a miracle.                             
We knew it was in God's hands.                              
Michelle was monitored very closely throughout her pregnancy by University of Florida Health Jacksonville perinatologists and a team of Nemours Children's Clinic, Jacksonville pediatric surgeons and University of Florida College of Medicine—Jacksonville pediatric subspecialists on the medical staff of Wolfson Children's Hospital.
Several fetal diagnostic tests were performed, including echocardiograms, MRIs and ultrasounds to try to find out the extent of the babies' connection but because of positioning in the womb, visualizing all of the issues in advance was not possible. The good news was that the tests allowed her doctors, as well as the twins' medical and surgical team at Wolfson Children's Hospital, to plan months in advance for multiple surgical scenarios after birth.
A Caesarean section was scheduled for December 17, but Michelle went into labor early and gave birth at 36 weeks and two days on December 12, 2014, at UF Health Jacksonville. Conner and Carter were born weighing a total of 10 pounds, 2 ounces; Conner was 18" long and Carter was 19".
As it turned out, the boys were omphalopagus twins, meaning they are conjoined from the sternum to the lower abdomen by tissue, and share a small intestine. This is the most common type of conjoined twins. And while each baby has his own liver and bile duct, they are fused together.
Immediately after birth, the boys were transported via Kids Kare Mobile Intensive Care Unit to Wolfson Children's Hospital for emergency surgery for a life-threatening condition called omphalocele, in which their shared small intestine was protruding through a weak area of the abdomen.
Nemours Children's Clinic, Jacksonville, pediatric surgeons Nicholas Poulos, MD and Daniel Robie, MD, performed surgery at Wolfson Children's Hospital, placing the shared intestines back into their bodies and covering the area with a temporary mesh patch.
Three weeks later, on January 2, Drs. Poulos and Robie, in collaboration with Nemours Children's Clinic, Jacksonville's pediatric anesthesiologists, and a dedicated surgical professional team for each baby, went back into the Wolfson Children's OR to remove the patch and create a partial separation of the small intestines so the boys could feed orally. Since then, Conner and Carter have healed remarkably well, off the ventilator in days and now receiving breast milk from Michelle. They are recovering in the Wolfson Children's Newborn Intensive Care Unit.
Drs. Poulos and Robie, in collaboration with Conner and Carter's UF College of Medicine—Jacksonville neonatologists, are letting the boys heal from their two surgeries and grow stronger and bigger before the final separation surgery, which will split their fused livers and bile ducts. Dr. Robie said it will likely be six to 10 months before that procedure takes place. Until then, they'll be cared for by a 100+ member, multidisciplinary team.            
"Our goal is to separate Conner and Carter when it is safe to do so," said Dr. Robie, who also is chief of Pediatric Surgery at Wolfson Children's Hospital. "Ultimately, we want to give these babies the chance to live full, independent lives, and it is within our capabilities to do that. We are very pleased to have the opportunity to work with this family, and to make a difference in the lives of these two boys."
For updates on how the boys are doing, visit the Mirabal and Brantley family's Facebook page, Prayers for Carter & Connor. #HOPE4CNC #PrayersForCarterAnd Conner
Born 12/12/14 AT 10:14 p.m.
Mommys first time holding her boys!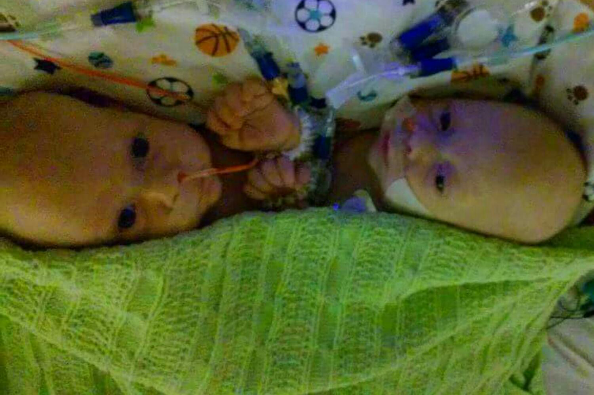 Organizer
Jasmine Mirabal 
Organizer
Jacksonville, FL
#1 fundraising platform

More people start fundraisers on GoFundMe than on any other platform. Learn more

GoFundMe Guarantee

In the rare case something isn't right, we will work with you to determine if misuse occurred. Learn more

Expert advice, 24/7

Contact us with your questions and we'll answer, day or night. Learn more