Meet Doyle, the most child-like cat you could ever imagine! He gives strong hugs, asks to be picked up by raising his arms, and even sits like a human (he especially loves to wedge himself between his people on the couch). He's weird and amazing, and he has a rare form of cancer.



Doyle's life has been a fight from the start. We found a litter of kittens thrown in the trash, and one of those kittens was not like the others. All but one of the babies found homes. The remaining kitten had broken ribs, worms, diarrhea … you name it, he had it. But he was a fighter and we knew he was special. We refused to give up on him so we gave him a name (Doyle, after one of our favorite Whedonverse characters) and bottle fed him until he was out of the woods. He was instant family to us! ❤



Like I mentioned, Doyle is weird. We found ourselves at the vet for annual allergy shots because he would scratch himself to shreds in the Spring. And he had a strange ear. It started as a slight discoloration and over time mole-like growths popped up. They were slow growing at first and the many vets we took him to didn't know what they were. Eventually, though, they grew out of control and all the way through the ear canal. He developed chronic ear infections and scratched until he bled.

6 months ago we found Dr. Ghubash, an incredible veterinary dermatologist. She knew right away what was going on with his ear and she had a strong hunch that it was cancerous. I felt like the worst pet owner in the world for wasting so much time with vets who didn't know what they were talking about. Why didn't I think to take him to a dermatologist from the beginning?!

Dr. Ghubash referred Doyle to a veterinary oncologist and we learned that his cancer was a rare form. The ear growths (ceruminous cysts) were actually common (yet none of the previous vets knew what they were) and apparently only present as cancerous about 2% of the time. That 2% was what we held onto through the scans and biopsies, but it did indeed turn out to be cancer.


(Doyle cuddling after his biopsy)

Doyle had a Total Ear Canal Ablation (TECA) where they surgically removed his entire ear canal and sewed the opening closed (he now has an adorable floppy ear). It was a high-risk surgery with many things that could have gone wrong, from paralyzing his face to not getting all of the wax-producing gland out. Thankfully, everything went better than we could have hoped. I noted how relieved the surgeon seemed and I'm pretty sure she expected the worst. She kept commenting on how much of a fighter Doyle was.


(Late nights with Doyle after his surgery, cuddling him and icing his head)

We were on the right track doing everything we could to save Doyle from this rare cancer. And then Murphy's Law hit. The same day that Doyle was healed enough to put his recovery kennel away, our apartment flooded due to our upstairs neighbor's plumbing. The ceiling in the bathroom caved in, mold started growing everywhere, and we spent the next month hotel hopping with Doyle while the building owner took his time fixing the issue. Long story short, the owner wouldn't fix it properly so we moved.


(Recovered from his TECA surgery and happy in his new home after the move)

Doyle needed follow up care in the form of radiation and/or chemo treatments but with the $10,000 that we spent on his vet visits earlier this year, plus the cost of being displaced from our home and then the cost of moving we haven't been able to afford his follow up care.

My savings was pretty much annihilated after everything that happened but I've been making appointments for Doyle as I've been able to afford them. His last appointment didn't go well, though.

Doyle has 2 new lumps and he needs a CT scan ASAP to see if the cancer has metastasized. I had $1,000 that I could spend on this visit which didn't cover the scan. The vet worked with me to do as much with that money as possible which included blood work and x-rays (good news: they didn't see any growths in his lungs which means things haven't taken the worst turn at this point). But he absolutely has to have the CT scan to determine how we proceed.

Everyone agrees that whatever is going on with Doyle is happening fast, but he's healthy in every other way imaginable. His blood work is great, he's acting like himself, he has energy and is still doling out hugs. If we act now (like THIS week) we have a good chance of being able to save him. If we wait much longer the growths are likely to spread and it will be too late.

So here we are, asking the animal lovers of the internet to help save this amazing furry being. He has spent his whole life proving that he has the strongest will to live and he's counting on us to fight for him now. I can't tell you how many tears I've shed as I've tried to figure out how to help him. I'm stuck, and I need your help ❤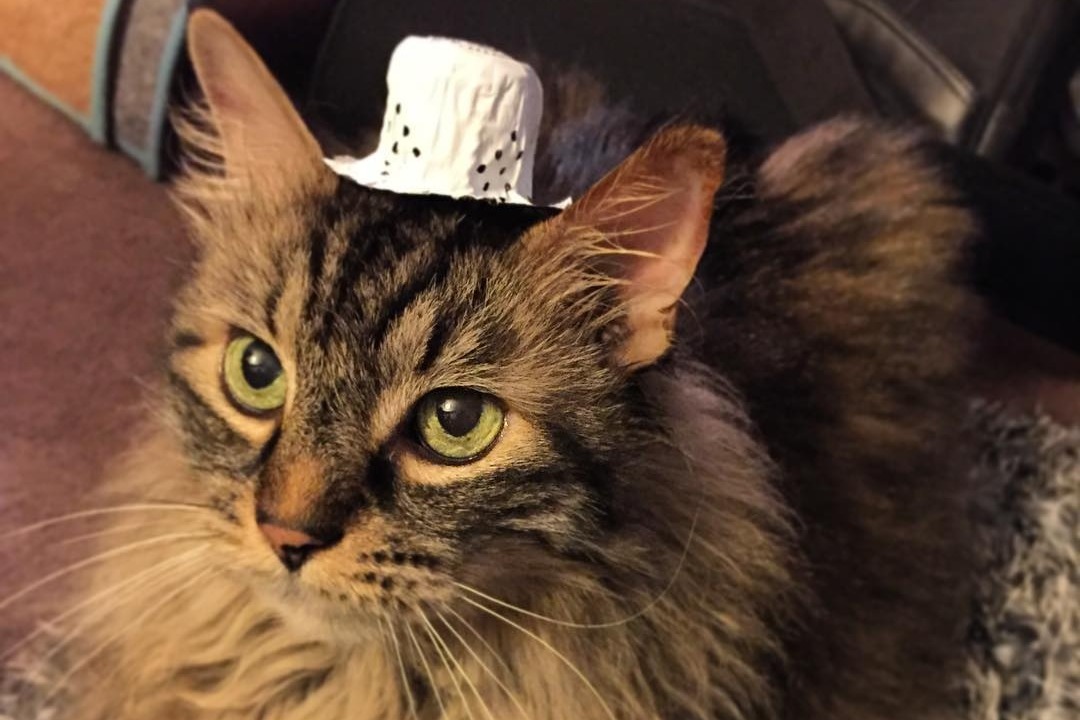 (NYE 2017, just 5 months before his his surgery. If you look closely you can see the ceruminous cysts in his ear)

*I don't know how much this journey is going to cost, so I'm just starting by trying to fund Doyle's CT scan and anesthesia. $1500 is what we were quoted by his oncologist over the weekend. They want to do his scan this week as time is of the essence.
**We reached our CT scan goal! We're going to continue raising funds so we can schedule the next step of Doyle's treatment right away (I'm hoping we can schedule it while we're at the vet getting the scan). It will mostly likely be surgery since his chest x-ray was clear (meaning the cancer doesn't seem to have spread to his lungs so it's still worth it to remove the lumps in his neck). Radiation will likely follow the surgery. I don't know how much the surgery will be so for now I just set the goal as half of what we paid for his surgery in May. It's a start and will allow us to at least schedule the surgery. ACCESS Specialty Animal Hospital does exceptional work but they are sticklers for payment up front. 
Organizer
Jen Harbourn
Organizer
Torrance, CA