Funding for a School in Balanga, India
Update from Balanga SCS School. Mid-April 2019.
Your offerings are already working. 



Purchasing equipment for the school, brooms, kitchen plastic-ware and etc.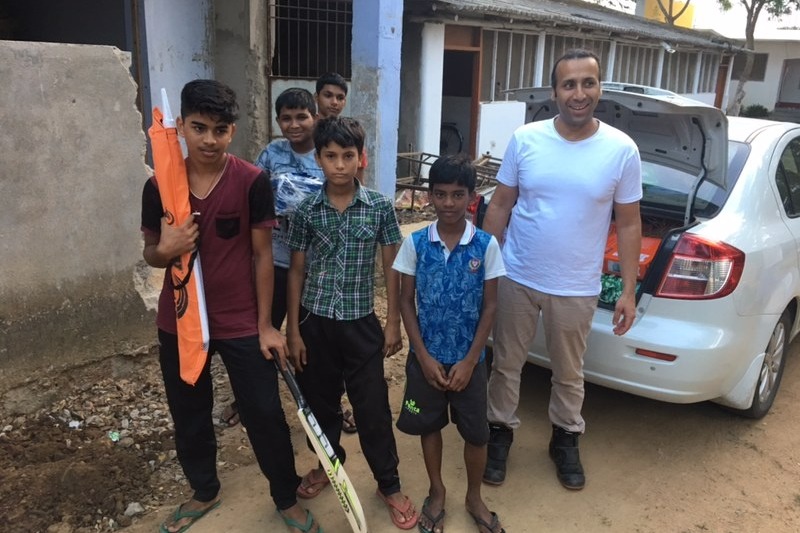 These boys live in the dorm. Here they receive equipment to play cricket, the national sport of India, from Chef Harman of The Red Dot Vegetarian Kitchen of California, USA
One of the key members of the school staff, because he is feeding all the children every day... Cook is happy after receiving ladles, spatulas, pots, steel bowls, peeler, knife... etc. There was nothing there before.
===============================================================================. 


ORIGINAL ARTICLE ON BALANGA SCHOOL

How important is education? What better service to humanity can we render than giving our children every chance to grow?Doesn't it mean the world? Isn't it our future?
We are all aware, as social and spiritual beings, how important for our lives is the foundation of a good education in formative years. Much, if not all, suffering in the world would be completely erased if our little ones would be properly taught and given the opportunity to experience themselves and their lives in a better, more complete and perfect way. To this end a grammar school was founded in 2005 in Balanga, Odisha, India by a living enlightened master.
The school has as its mission not only the horizontal expansion and perfection of the children in their material lives, but also their growth and ascension through the psychic element of their systems to evolve into caring, truthful and powerful spiritual beings and leaders in all areas of life.
In a country with thousands of years of the tradition of Gurukulam (children being raised and taught by sages, enlightened beings and wise men), there has been a steady and growing demand for this type of education from the local community as well as a strong effort on the part of the school to improve itself over the past fourteen years.
However, due to the poverty in the community and the overwhelming cost of admissions to the students, the school's directors have not been able to keep up with structural maintenance and other very basic needs of the facility. Nevertheless, despite any difficulties or setbacks the school is developing a reputation for excellence in the whole state of Odisha. 
When meeting the students for the first time, one cannot escape the obvious impression of their deep love for this school. This is due to the care they receive here. They not only get a good education; here they learn the principles of Life and God within. Parents of young girls bring their daughters to this school because they feel safe. Also, directors, principals, teaching staff and other workers have gone without pay for months at a time just to keep the school alive. Even in their financial hardship, this dedicated team has not been willing to give up on SCS Balanga School. Nevertheless, the situation had to come to a turning point as the financial pressure on the community became increasingly difficult to bear. 
At this juncture, Divine Shakti Educational Foundation decided to step in and do the necessary to relieve the burden of these dedicated workers in order to ensure the success of the school and preserve and expand it for coming generations. 
There are over 450 students at this time, with tendency of rising admissions. Starting with the lower grades (K - 8) the school has advanced to include standards 9 and 10 and is now aspiring to be able to provide education through the 12th grade. Support is now needed to complete the necessary construction and expansion of the school and to provide funds to pay staff. 
If you feel touched by our story, please consider the following:
The total amount to be raised is $16,086.38.
Detail of Costs
($9,936.38)
* Computer Lab Construction/Furnishing & Equipping - $2,240.94
* Science Lab Construction/Furnishing & Equipping - $1,465.98
* Library Construction/Furnishing & Stocking - $2,650.36
* Teachers and Mother's Common Room Construction & Furnishing - $720.25
* Boys' Sewage Tank Replacement - $1,173.54
* Kitchen Renovation & Equipping - $1,685.31
2018 Unpaid Teacher/Staff Salaries
* Back Pay - $6,150.00
The fundraiser is being managed by Divine Shakti Educational Foundation (DSEF), a 501(c)3 Corporation. DSEF will collect and distribute donations, serving as a steward to use all funds received in the areas that are most in need of support.
(All contributions are tax-deductible in the USA.)"At Satyachetana School, our dream is to inspire, train and support each child to realize the divine attributes hidden within. The curriculum and campus life are designed to help the children acquire healthy habits and manifest universal spiritual values in their individual and social lives.
"We try to instill the values of love, culture, and knowledge into the students through an education which enables them to adjust and adapt to the emerging society of multicultural thoughts, beliefs and religions. It fosters in them a courage which kindles optimism and the willpower not to give up during adversities."
-Sudeep Mishra, School Director
Here's a closer look at some of the challenges SCS Balanga currently faces: 
Unfinished building structures are waiting to be finished because materials and funds to pay skilled laborers remain wanting. 
Kitchen facilities are extremely simple. There are very few amenities. Refrigeration and efficient kitchen machines, adequate storage for staples of food etc. tend to be rare luxuries in the state of Odisha. With over 450 children to feed each day and a tendency towards growth, it is imperative to expand the kitchen and bring it up to date without delay. 
To ensure the health and well-being of the children, these unfinished structures must be completed as soon as possible.  
Young children shown here are smiling their gratitude for having hot meals daily. It is a token of love, a letter of promise to them and to the world that they are cared for, that someone believes in them, someone who is willing to sacrifice and struggle to make their lives better, to make their present lives as perfect as possible so that a glorious future, devoid of poverty and suffering, should become possible, that they should not wait years and lifetimes to see it happen. 
With all our Love and Gratitude for your help and support!
The Trustees of
Divine Shakti Educational Foundation
, a not-for-profit 501(c)3 organization.
For more information please contact DSEF.
www.divineshaktieducationalfoundation.org
+1-661-242-2231. 
See this website for more information about SCS Balanga School.
www.scsbalanga.org
.
Fundraising team (3)
Jonas Hunter
Organizer
Frazier Park, CA

Divine Shakti Educational Foundation Inc
Registered nonprofit
Donations are typically 100% tax deductible in the US.
Mai Simranji
Team member
Raised $1,327 from 12 donations
Daniel Schwartz
Team member
This team raised $1,961 from 17 other donations.