Dominic M. Aguilar Special Needs Trust
On November 11, 2012, I gave birth to my only child, Dominic Michael Aguilar. My pregnancy was a "picture perfect" nine months. The nightmare did not begin until Dominic was born unable to suck or swallow. After four days in the Neonatal Intensive Care Unit, doctors informed us they suspected he may have a neurological problem due to his lack of swallowing, low tone, and unusual muscular movements. We reluctantly agreed to have him sedated for an MRI, and discovered that his brain did not migrate and form correctly during the first three months in utero. Dominic was ultimately diagnosed with a very rare brain abnormality called Bilateral Perisylvian Polymicrogyria. His initial prognosis was that he most likely would be tube fed his entire life, would probably not pass a kindergarten grade level mentally, would not talk or walk, would be visually blind or visually impaired, would most likely develop a seizure disorder by four months of age, and would have an overall developmental delay with regards to his neurological, cognitive, visual and feeding development.
Dominic is now 2 years and 9 months old, and has attended physical therapy, occupational therapy, infant stimulation therapy, vital stim therapy, and vision therapy five times a week both in-home and at Children's Hospital Orange County (CHOC) for the past two years. During this time, he has been followed by several Neurologists, a Gastroenterologist, a Pulmonologist, an Ear Nose and Throat Specialist, an Endocrinologist, a Geneticist, numerous Neuro-Opthalmologists, and countless therapists. To date, Dominic is still completely tube fed, has severe reflux, has been hospitalized five times for aspiration pneumonia, is severely visually impaired, developed uncontrollable seizures at 8 months, and is highly developmentally, cognitively and physically delayed. He is on ten different types of medication (for seizures, reflux, and respitory issues) which make him sedated for most of the day, does not have head or neck control, cannot sit, crawl or walk, cannot talk, and has very little interaction with people and objects.
We have learned as a family to appreciate and cherish any and all of Dominic's accomplishments no matter how small. In the past two months, Dominic's swallowing of his own secretions has improved greatly, and we were able to wean him off of oxygen completely.  He has learned to protect his airway much better which in turn improves his breathing and lungs.  Dominic has also recently taken several small tastes of different foods without choking and panicking, has slowly started to track lit objects, recognizes our voices, has started to communicate with lots of babling sounds, and has actually said the word "MOM", has explored his mouth with his right hand, and has developed the most beautiful smile we have ever seen.
I have been blessed with incredible co-workers who have donated many hours of leave allowing me to care for my son as his primary caregiver for 18 months. I returned to work in April, 2014 after my leave expired. Dominic requires 24/7 skilled care along with transportation to and from doctor and therapy visits in order to safely progress. Because of his constant seizures and lack of swallowing, he needs overnight care. We ask for any monetary donations to help lessen the burden on our family so I can be at work with a piece of mind knowing he is in good hands. Without skilled nursing care, I am unable to continue working.
He is our angel, however, our angel requires constant professional supervision, and therapy.   Please keep him in your prayers as we pray for a better outcome than what is medically predicted for him.
We would like to thank all of our family, friends and co-workers who have supported us during this most difficult time. We appreciate and love you.
The Aguilar Family
Surgery For Feeding Tube Placement in NICU at 2 Months Old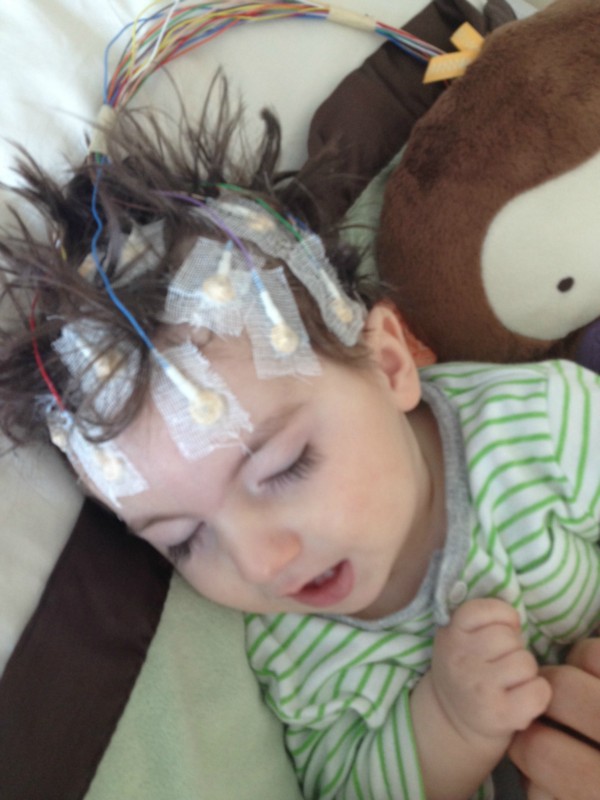 One of Many EEG's Conducted to Monitor Seizure Activity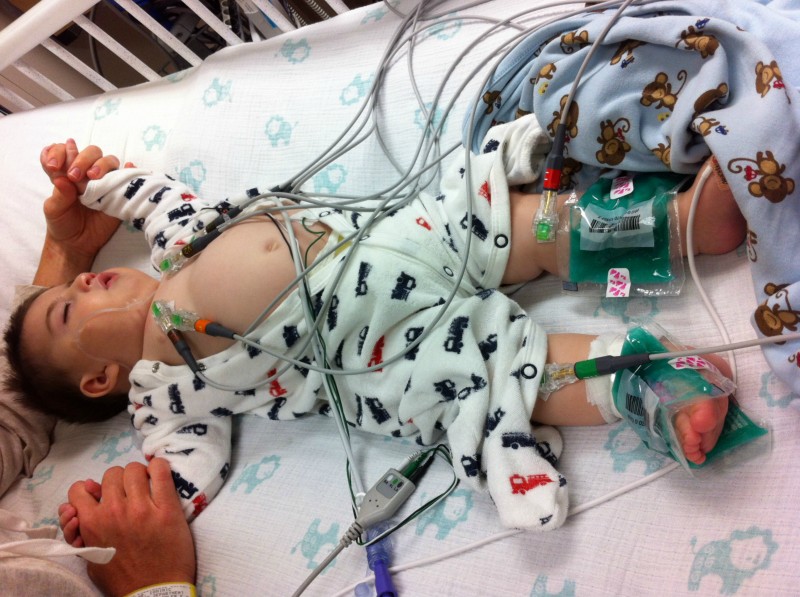 EKG Conducted During a Hospitalization Due to Low Heart Rate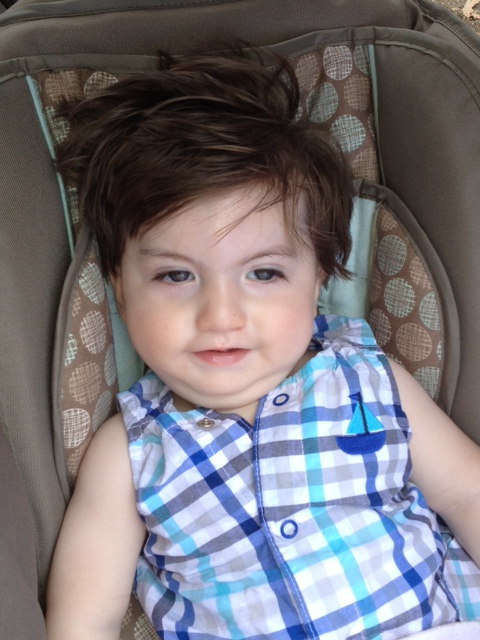 His First Smile at Nine Months Old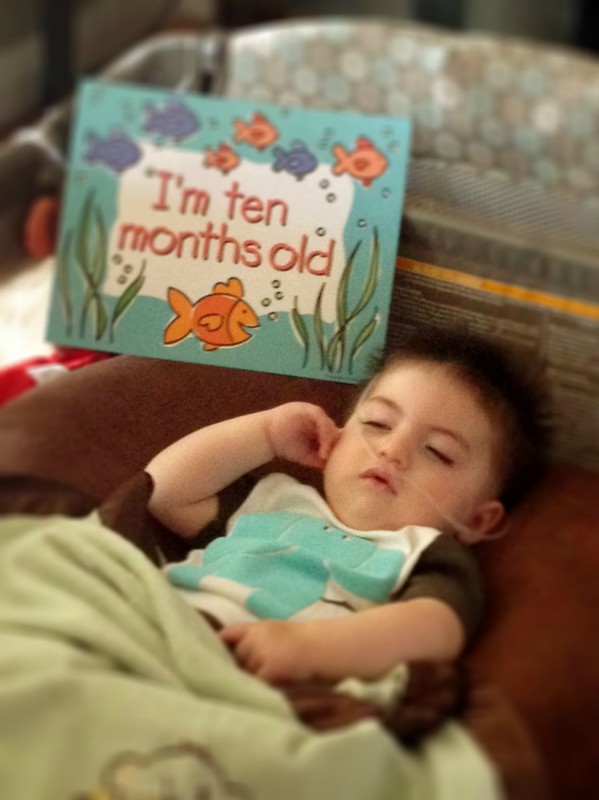 Sent Home on Oxygen Due to Several Pneumonias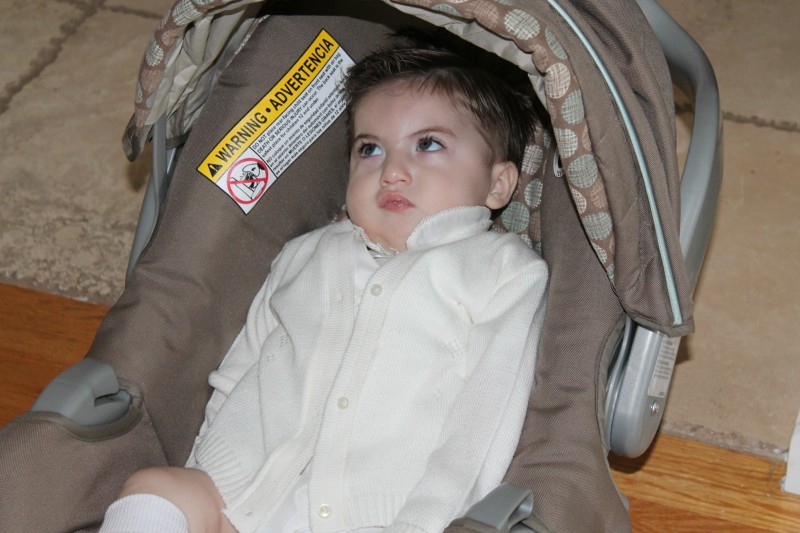 Finially Baptized on October 12, 2013
Easter 2014
Trying very hard to hold up his head.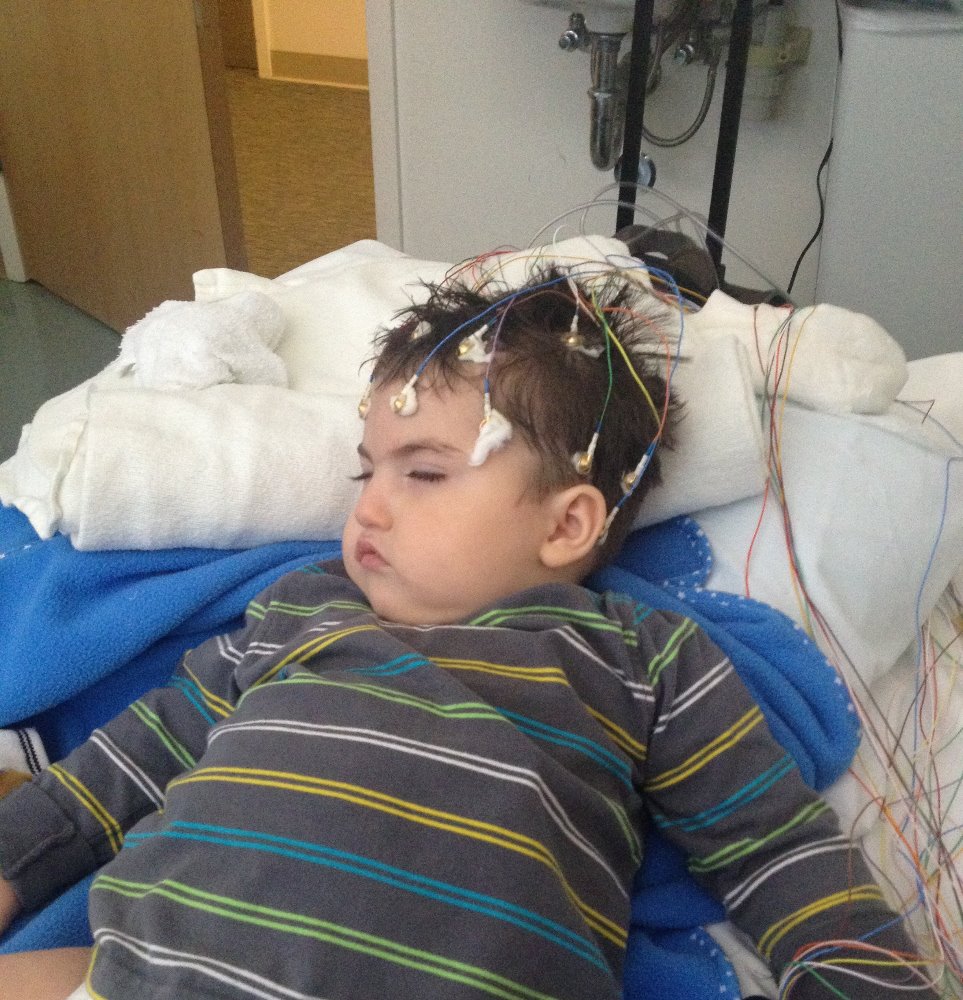 Most recent EEG.    Trying to find the right medication to stop the seizures!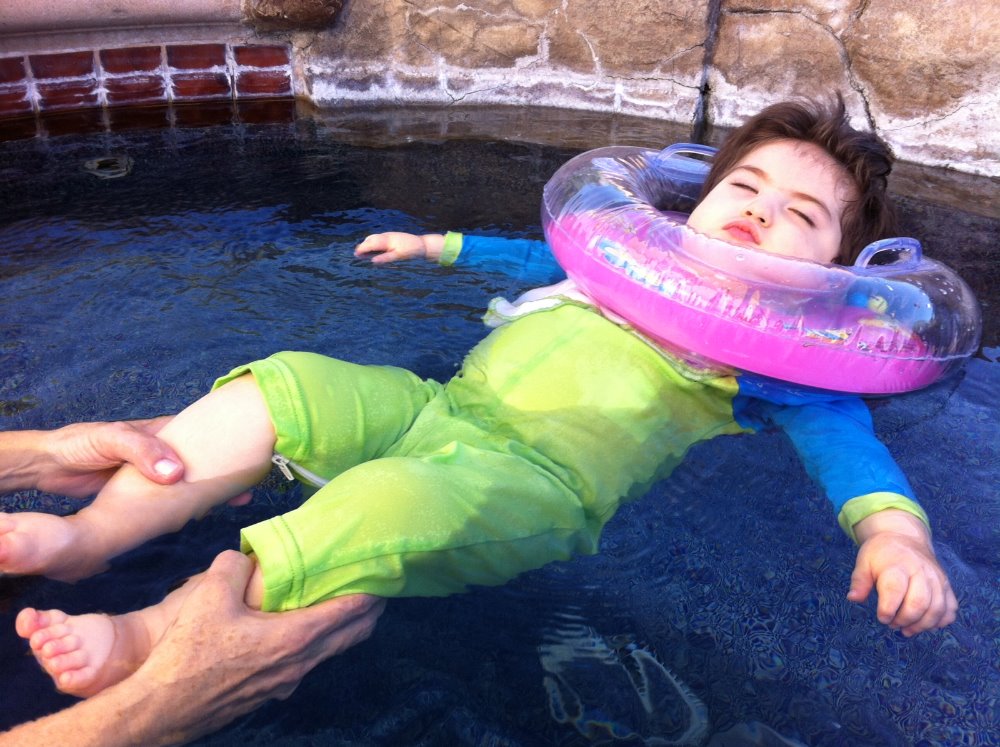 One of my favorite things to do.  This inner tube holds my head up!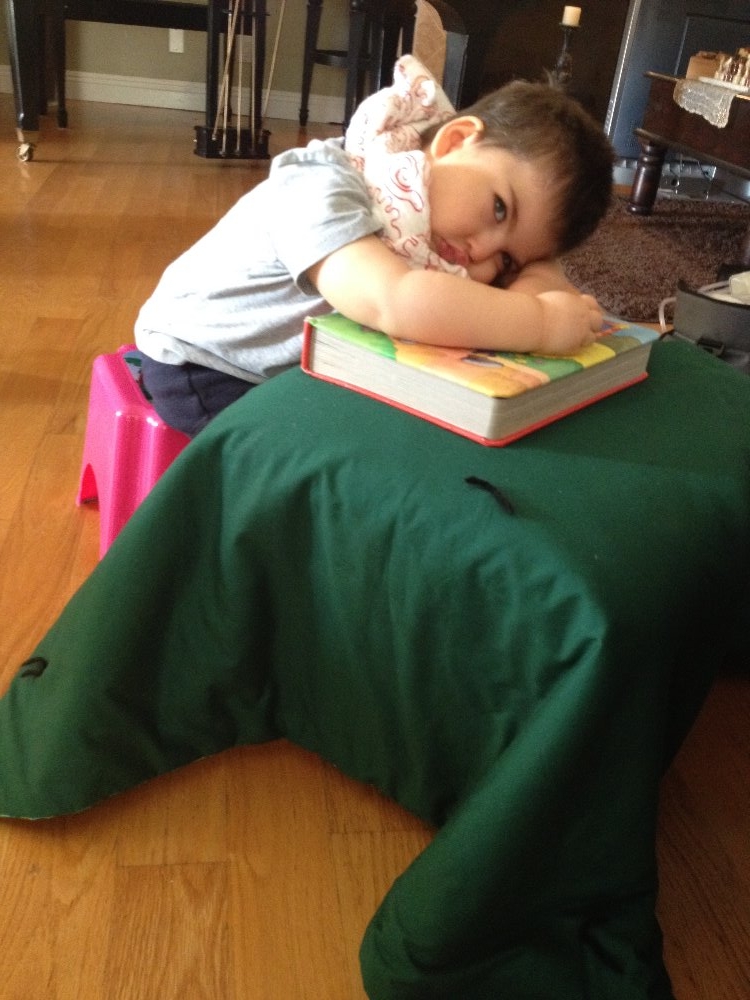 Practicing my sitting during therapy.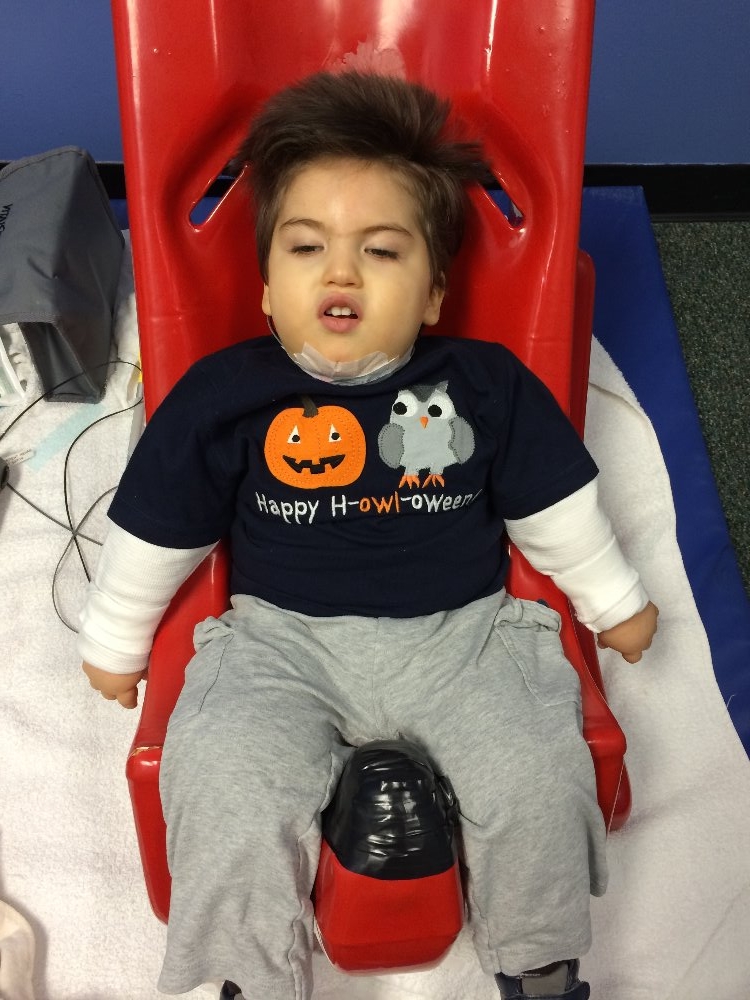 At Vital Stim therapy which assists in helping me to learn to swallow.  10/2014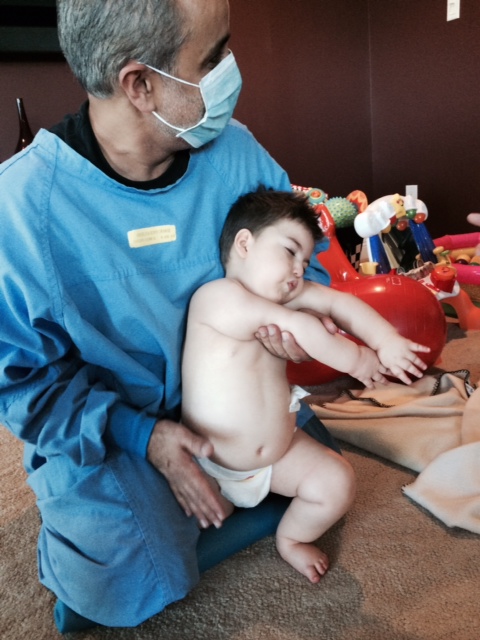 Physical Therapy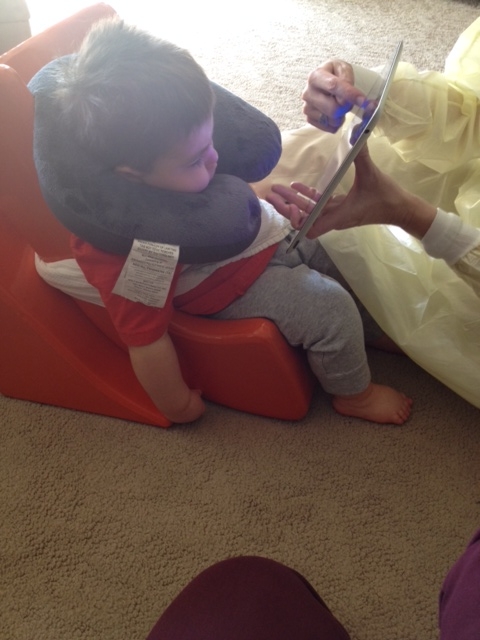 Vision Therapy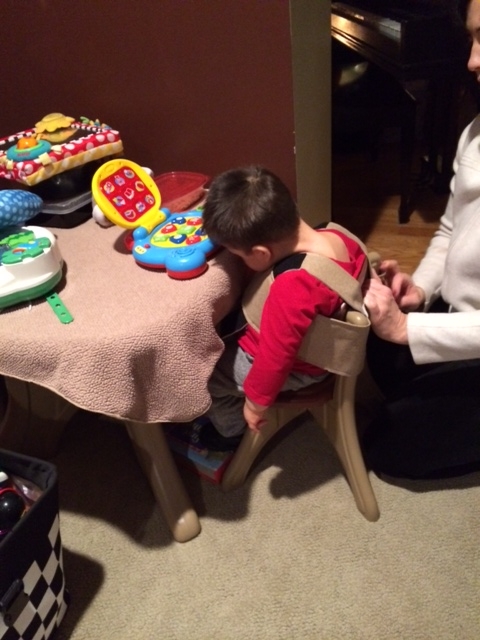 Occuaptional Therapy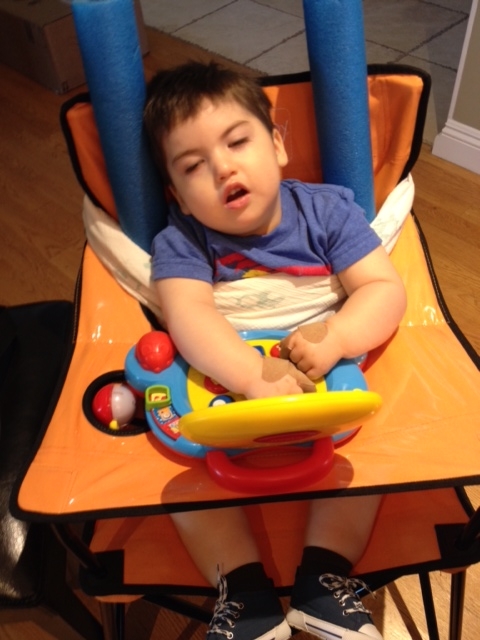 Occupational Therapy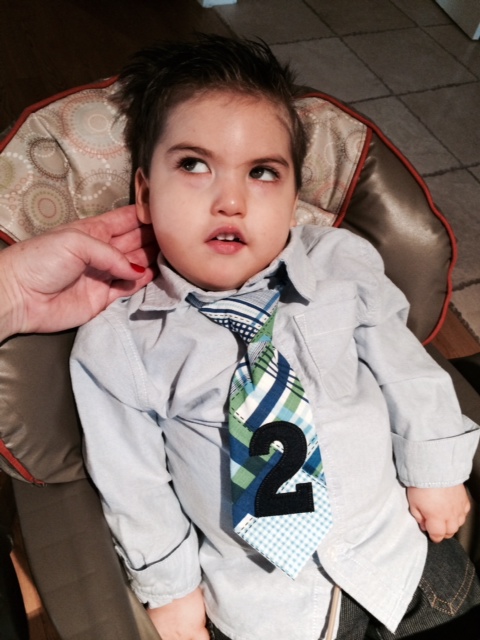 I turned 2!  11/2014
My first visit with Santa.  12/2014