ADAPTIVE Diving for INJURED Veteran
I am an adaptive scuba instructor.
For those that do not know what that means: I primarily train individuals who for one reason or another cannot enter a traditional scuba class and the individuals willing to aide in making it possible for them to become divers. 
The reason for one not being able to join a traditional dive class can be because of something as simple as being unable to read to being confined to a wheelchair or missing a limb, being deaf or blind.  These are not obsticles for my team, we are able to overcome and adapt to make it happen while remaining safe and having fun. 

While I primarily train adaptive divers, I also train all other levels up to instructors.  I spend a lot of time and effort training Scuba.  providing TRY-A-DIVES, Dives and even Scuba trips for the VA Hosp in Tampa for veterans and active duty, for 3+ years now successfully.

I aim to have a well rounded program offering many different water activities and trainings for those individuals needing to be adaptive while encouraging others to join us on trips and dives. In relation to offering those activities I also aim to provide the support for both financial and man power.
I know I have a tall order but I also know it can happen.  I have the dream I only need help with the finances to make it start to happen.  Once I can get to that starting line I am confident I will be off and running for years to come.  All the funds I raise will go directly into the construction of an adaptive pool and the start up of a not for profit company to support the future of my mission.  Any funds above and beyond that will go toward providing financial assistance to future adaptive divers and if there is enough I will sponsor a kick off diver trip in the Keys for all in certified adaptive divers.

Help me to Help them :-)
DIVE HEROES (soon to be the newest not for profit scuba entity with your help)
I am in hopes before end of 2016 to open & welcome officially our not for profit company and to build a pool specific to training adaptive scuba divers and adaptive kayakers.
This pool has many options that must be specific to adaptive individuals or ADA like and be scuba oriented. This pool would allow for me to cut some of the over all costs for participants while providing them the proper training environment and giving many more opportunities to simply practice with supervision.
I will not only be focusing on the disabled community & injured returning soldiers but we will include their families as well. I will train individuals to aide in making this possible and encourage the family to get involved too. They can become divers or helpers, some may even choose to allow this to be something to allow their family member to enjoy without them.
Our goal is to offer this at no charge or at a highly discounted rate to the injured or disabled (we prefer the term adaptive individuals) individual and at a predetermined cost for the family or support team. I plan to support our future through training others to become Adaptive Scuba Instructors, training Adaptive buddy divers, Equipmennt Sales, Contributions, Grants, Trips and Fund Raising Opportunies.

Our mission statement will be & is:
Dive Heroes will continue to provide on going Discover SCUBA opportunities to all ages and abilities. This program is designed to allow the disabled community to see if scuba is something they would be interested in participating in and to prepare them for a class. If they decide to participate they will be invited to participate in an Open Water Class to become certified to a SCUBA dive for a lifetime!!
Adaptive scuba is a fantastic form of therapy for the disabled community.
Through SCUBA diving, snorkeling, kayaking and related activities Dive Heroes & Good Roll Model - Diving will/does support and facilitate programs that teach children and adults with disabilities to fly underwater. Thanks to the "wonder of the water column", the oceans and lakes of the world become the forgiving weightless environment of outer space, giving perfect buoyancy and balance to a child or adult who might otherwise struggle on land. It is the "CAN DO" spirit that Dive Heroes & Good Roll Model - Diving hopes to instill in all its participants. Giving them the confidence and independence that allows them to face their own life challenges and overcome barriers that before might have seemed insurmountable.
THE FATHER OF SCUBA DIVING WAS DISABLED ... Scuba is perfect for children and adults with disabilities, allowing them freedom and movement that can be experienced no where else in the world. In Fact, JACQUES COUSTEAU, the father of scuba diving was suffering from a DISABILITY (after a car accident) when he invented scuba. His hopes and dreams of becoming a French fighter pilot were dashed. But his VISION of FLYING UNDERWATER had only just begun.
Dive Heroes & Good Roll Model Inc - Diving is & will be a volunteer organization, which depends on freewill contributions and fundraising activities to continue it's work. We will welcome contributions no matter the value or amount. Dive Heroes & Good Roll Model - Diving has & will have many volunteer opportunities both in the water for certified divers and topside for the non certified individuals. Please contact Felicia Berg for any volunteer needs, Felicia coordinates all volunteer efforts, scheduling and participation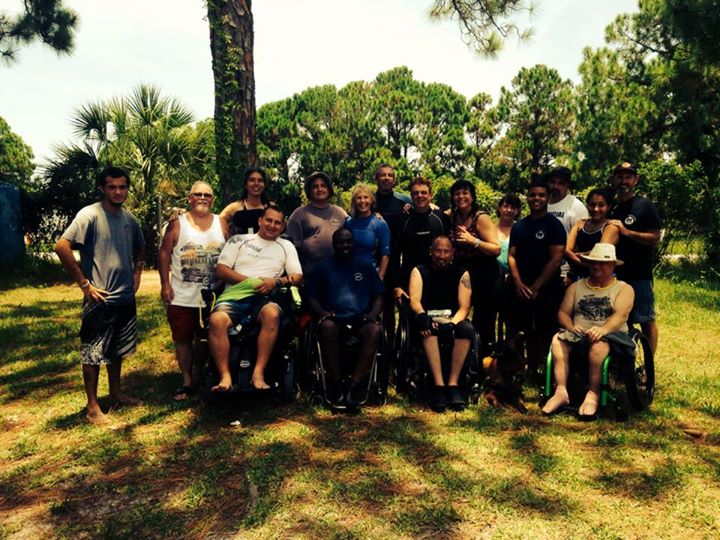 This photo was taken recently of a class that was for adaptive divers for the Tampa VA Hosp.  Each of our participants have served our country, each of them were a pleasure to spend the week with and I am proud to say all but one has completed the process and are now divers of all different levels and abilties.  I am excited to dive with each of them soon, as newly certified divers.  I aim to keep them active and diving often.  I cannot thank the people that helped make this happen enough.  Our possibilities are unlimited. 

Please remember every single dollar counts and they add up.  I am very thankful for your help in making my dream a reality.  Let's "PAY IT FORWARD" together.


Organizer
#1 fundraising platform

More people start fundraisers on GoFundMe than on any other platform. Learn more

GoFundMe Guarantee

In the rare case something isn't right, we will work with you to determine if misuse occurred. Learn more

Expert advice

Contact us with your questions and we'll answer, day or night. Learn more