My story written by the lovely jacqui 
http://www.mummyslittlemonkey.com/2017/05/nikki-smith.html

Always 
BELIEVE
 in
MAGIC
!! .....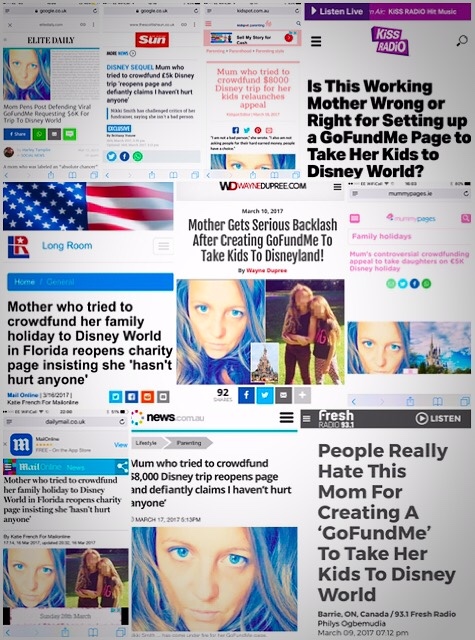 Hello ,
My name is Nikki Smith and I am from Bristol , England , I have had the worst few months because of the stories the British tabloids have told about me and I was prompted to put my page back up , I feel this to be the only way I can speak out , I have lost all faith in reporters, I will never believe half of the stories I read in the papers now ,.I am not a bad person :( ..I also am not asking people for their hard earned money , people have a choice, if I had lied and said one of my children was ill when they weren't to raise the money I could have understood the backlash but I was totally upfront and honest :( .. you can't win in his world ..I made this page because a few people I know told me they had funded their travel in this way and I thought well I can at least try , I never expected any donations I didn't even think people would see it , as I didn't even share it to my Facebook page . I never knew it had been shared so many times until a reporter rang me , I then took it down straight away, I need to add that i did not sell any story and have received no money from any of the newspapers , they took my photos without consent and twisted words .my children , family or anybody knew that I set up this page ( well they do now ) and yes I should have thought about it more before I opened it but it's too late now . i did read it back after and yes I agree it did sound cheeky , but I am very clumsy and if was going to happen to anyone it would have to be me ! I love my children and my job , I'm a carer and I havent been able to get anymore hours at work , nights are not easy to come by , i have gone into a 0 hours contract , I do try . the press have made me out to be a awful person when I was only thinking of my children and making them happy .I have never used go fund me before so I should have looked into it more. I have used the just giving website and I completed race for life last year , in memory of my much loved close relatives. I thought this section of the website was for funding hopes , dreams and wishes, and I believed go fund me was a chance to raise money for anything, I looked in the category and a lot of people were doing similar things , even raising money for breast enhancements and cars , I never meant to upset anyone .I'm traumatised by the abuse and negativity I have received and only put this back up because alot of people said I should. I won't let anyone bully me anymore , Online trolls are hurtful and cruel  , I haven't hurt anyone and I was only trying to fulfil my children's dreams .thankyou to all who have been so kind to me.
In an effort to try and give my girls their dream, I turned to GoFundMe. Luckily, it has been, in recent weeks, a wonderfully successful campaign, but that is due only to the irony that the horrible, cruel treatment I have received in the press, and the literally THOUSANDS of hateful messages I received on social media vilifying me, managed to capture the attention of kinder hearts, and then the donations began to start coming in in a significant way.
In particular, one donor, who has chosen to remain anonymous, has been quite generous, as I am sure GoFundMe is well aware. Although he has remained anonymous to the public, he did include kind notes to me via the GoFundMe onsite messaging, and that is how I learned that this particular benefactor is a journalist. In his words, he said he "was horrified and appalled by the meanness of people quoted in the stories, as well as the malicious nature in which many of the stories were written and edited," and that it was this that first caught his attention when he saw in his online newsfeed a vicious headline attacking me for being a terrible mother for attempting to raise money to give my girls this once-in-a-lifetime adventure.
Although I was very much appreciative of his donations, and wrote him notes through GoFundMe that his generosity was not necessary, this gentleman insisted that it was, again, in his words, his "honor" to help me, and that he wanted to show that not all of those who are in his field (journalism) are, in his words, "vicious sharks engaging in, and encouraging, a feeding frenzy of meanness until they have drawn last blood."
As already said in the public media, I never made any claims that my daughters were ill or anything like that, and I believe I was quite open and transparent that my goal in raising money was to give my daughters a holiday of a lifetime that I could not do. I do not think that anyone could read my story and think that I was trying to say anything more or less than the truth of what my motive was, and certainly I did not (nor would I have the ability!) to force anyone to donate against their will.
All of my benefactors have been quite kind to my campaign, with some giving once, others more than once, some giving a smaller amount, and others giving just a bit more, but all of these donations were made with the person's own free will, with full knowledge of my story and my motives. I am ever so grateful for every donation, large or small, and this kindness has helped restore my faith in humankind.
I will not be shamed because I wanted to do more for my children
..
This is my original story xx
I nikki have been blessed with the most amazing , kind , loving and caring daughters , they are my best friends and my life , my girls are 10 and 12
They are so helpful , animal loving and rays of sunshine , I want to show them how much I appreciate and love them , I work 2 nights a week at our local hospital as this is all I am able to do ATM because of childcare and contract hours.
They watch a lot of YouTube videos where children are surprised by their parents with a holiday to disneyworld and they get tears in their eyes watching it , they love anything Disney and I know that I would never be able to get them there on my own , by the time I save up they would be to old to enjoy it :(
We lost 2 very special people in our lives these past couple of years and this really would give them so much to look forward to , please help me to make my daughters dreams come true xxxx
The money so kindly donated would provide my 2 children with the trip of a lifetime !! I would surprise them with their dream holiday to Disneyworld in Florida  !! Me and my 2 daughters would stay in a hotel in disneyworld for 2 weeks in summer 2018 ( will update donors by email with pictures ) and any remaining money after booking the hotel , flights and park tickets will be used for them as spending money in the gift shops and for souvenirs :) xx

Organizer
Nikki Smith 
Organizer
Coalpit Heath, South West England, United Kingdom