Dill Pickle Food Co-Op Essential Workers' Fund
Purpose
The Greater Chicago IWW is reaching out to you to raise funds to support the essential workers at Dill Pickle Food Co-op.  Management has flatly refused to reinstate the contractually-obligated hazard pay since October 2020 stating, "There is nothing uncommon or unusual about the working conditions of our employees," ignoring completely the sharp difference in conditions before and during the COVID-19 pandemic.
Compounding that, management has not given workers Paid Sick Leave since spring 2021. As a result, Dill Pickle workers have largely had to go without pay if they or their loved ones contract COVID-19—which has happened several times during the Omicron variant surge in Chicago. Since November 2021, Dill Pickle workers have engaged in four concerted actions, walk-outs, over the blatant mistreatment and lack of covid protections in the shop.
The Dill Pickle Workers Union is preparing to escalate further, as it seems the July 2021 strike and countless actions over the past year have not yet gotten through to Dill Pickle management. Please support their fight by making a donation to this fund, which has been depleted during this surge both of COVID-19 and management retaliation. (We aren't sure how to update the actual dollar number remaining in the fund via GoFundMe, or we would do so.)
The Dill Pickle Food Co-op Essential Workers Fund has proven crucial in helping  workers who have lost pay due to COVID-19, as well as those who have lost wages due to partaking in walk-outs. At present, the union has four open Unfair Labor Practice filings and continues to fight for safety and fair treatment at the shop, despite continuous stonewalling and disrespect by management.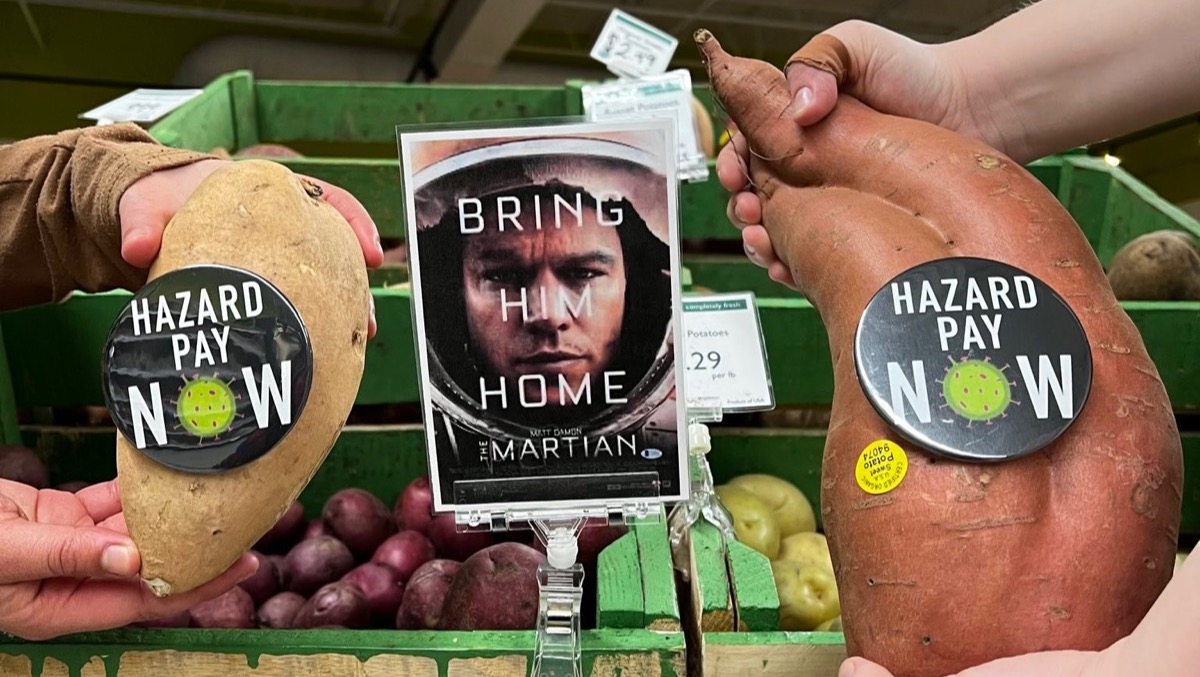 (Image description: Two Dill Pickle workers hold up root vegetables with "HAZARD PAY NOW" buttons on them. They are in front of a produce display featuring the film poster for "The Martian.")
Statement from the Dill Pickle Workers Union

It is unfortunate we have to make a post about our GoFundMe Strike & Hardship fund. 
Over the last few months, we've had to dip into the fund to cover our wages lost over direct actions, including our most recent walk off and now our lack of Paid Sick Leave due to management's refusal to reinstate it during this COVID-19 surge. 
Your donation to the DPFC Worker's Strike and Hardship Fund means we can compensate workers for lost wages. You can support us by providing the financial stability we need in order to feel safe IN THE EVENT that we have to go on strike over unjust working conditions, lack of hazard pay and paid sick leave. 
The funds raised in this GoFundMe will be used to help provide us with the resources needed to continue to pay for rent, utilities, and other hardships we may endure while standing up for our Union Contract and labor rights. 
In Sólidarity,
Dill Pickle Organizing Committee 
Industrial Workers of the World IU 460
(Image description: The Dill Pickle Workers Union picket line from July 2021, where folks are holding IWW picket signs that read "On Strike" and "Compost all unilateral changes.")