Given 1 - 6 months to live!! Stage 4 Cancer
MOST RECENT UPDATE - 6/22/2019
(From Delvis's Caregiver) **You will see progress in these photos as you read on:) **
Blessings everyone,  I will be soon posting a Video Update from Delvis, but I just wanted to update this page as well.
As most of you know, they denied ALL types of treatment in the U.S and said there was "NOTHING else the could do." After cutting Delvis open once again, and performing another Surgery; they did not want to touch him anymore. Post that surgery he lost around 24 lbs of fat because of the liquid diet they had him on. That doesn't stop there... because they had him on a liquid diet, they decided to place him on fluids. (Which would have been okay if it was the right type of fluids...Sodium Chloride, etc.) But NO... They filled him up with the worse type of fluid you can give a Cancer patient. It was straight SUGAR!! Sugar FEEDS CANCER. None of us knew it was straight Sugar until I noticed Delvis was getting worse and regained a total of now 26 lbs in a matter of a week! This time, it was not a good 26 lbs though... it was 26 lbs of that fluid and NOT fat.
So I decided to look up the IV Bag name on the internet... That was when we found out what it was (Sugar) and informed Delvis, which led him to REFUSE the bag of fluids. (Which anyone would have too, I mean... who wants to FEED their Cancer?!) Which then made the Doctors mad that we weren't "letting them do their job".. That was not it! We just wanted to have them stop pumping Delvis with SUGAR. AGAIN, HE GAINED 26 LBS OF FLUID (SUGAR FLUIDS). It was KILLING HIM FAST..  One Doctor finally told us that we were right about the bags of sugar... and said that nothing else would work for Delvis. No more treatments could be offered to him because he only had "approximately 1 day to 6 months to live." So they simply sent Delvis home on Hospice... They gave Delvis no hope and said he would die very soon. That didn't stop him though...
He is determined to live and thanks to all of you who have donated, we were able to take him to the ONLY Doctors willing to provide him with treatments! We made it here to CHIPSA HOSPITAL in Mexico!!
CHIPSA-MEXICO
Delvis is soon reaching his 4th week of treatment here and is doing better than anyone has expected. He arrived to CHIPSA Hospital and came through the doors on a Wheelchair, with no voice whatsoever. Delvis also came in with 26 lbs of fluid in his belly that he retained. Due to how weak he was, Delvis had to literally be picked up and carried out of his wheelchair many times. He also had to carry around a Dry erase board so that he could relay messages to everyone. Just days after CHISPA Hospital started treatments on him, he was able to talk again, and was able to start taking steps outside of his wheelchair!
WHAT THEY HAVE BEEN DOING SINCE HE ARRIVED TO THE HOSPITAL::
     For the first 2 weeks they worked on Delvis' pain (which was beyond severe). They wanted to make the pain manageable enough to take on some of the treatments they wanted to do. Which was definitely a smart choice on their behalf, that made perfect sense. During the first 2 weeks they started by giving him IV's of Chelation (nutrients and minerals that he was lacking), High-Dose Vitamin C, Vitamin K3 and Vitamin B-17. (A couple of these vitamins are illegal in the U.S... I wonder why!) Once he stepped in the door they also put him on a complete Organic and Vegan diet. He was also given 13 juices a day that were four ounces. In a day he received, 1 natural Orange juice, 4 plain carrot juices, 4 carrot and green apple mixed juices, and 4 all green veggie juices. They also checked his blood every day and monitored anything that he was lacking. (Such as Magnesium, etc.) What ever Delvis lacked in, they would add it to his daily intake of juices. He also started PEMF therapy for his pain during this time. Within these first 2 weeks of studying how Delvis was doing and studying his response to certain things, the Doctors were able to develop a set plan for him for the remainder weeks at the hospital.
*THEY STRONGLY BELIEVE THAT NOT EVERY CANCER PATIENT IS THE SAME AND SHOULD BE TREATED THE SAME* THEY PERSONALIZE TREATMENT FOR EVERYONE.*
   Towards the end of the 2nd week into the 3rd week, they started doing more treatments along with the daily IV's full of the Vitamins and juices that they were already giving him. They started Insulin Potentiation Therapy, (a low-dose Chemotherapy that does not cause the same harm to your immune system, like regular Chemo would). They also started IV Ozone Therapy, (a form of alternative medicine that increases the amount of oxygen in the body). They have also started Potentiated Amygdalin (this is insulin and Vitamin B17 combined). Chipsa Hospital was able to also help him lose the 21 Lbs out of that 26 that he gained from the fluid build up that was inside of him! (WHICH IS AMAZING) Unfortunately, this makes Delvis pretty weak and brings him back down to the original weight he lost after his surgery, 103 lbs. Now, the goal is to continue these treatments but also help him gain his weight back! (NOT SUGAR FLUID WEIGHT THIS TIME...WE NEED GOOD FAT)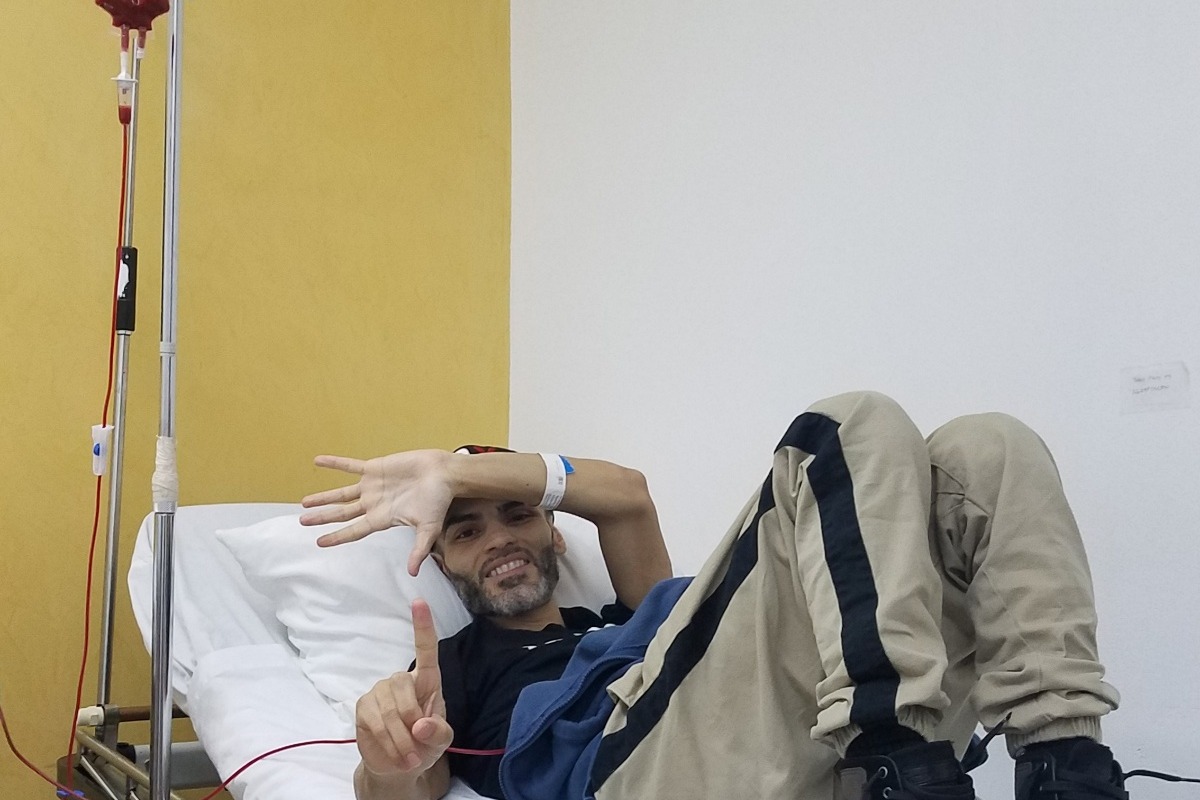 So this is where we are at right now, going into the 4th week of treatments. Delvis has an average of 6 tumors that were growing extremely rapid due to the Surgeries, sugar, etc... But we  received some pretty good news here at CHIPSA about 2 days ago... The Doctors informed us that the biggest tumor that he has, which is our main focus (12.2 cm) has stopped the growing rapidly and has been stabilized. It is getting WEAK!:) It has been getting hit with so many Vitamins, that it has not done any additional damage and has not tried growing. It is now just sitting there, getting it's butt kicked. This was great news, especially because upon getting to CHIPSA, this tumor was on a rampage... We are continuing this 4th week and 5th week with the treatments that have been weakening the tumors... but we can't stop there. The Doctors at CHIPSA are recommending that after the 5th week, we go back to the states and start IMMUNOTHERAPY ASAP. They said that it would be the perfect time because the Tumors are as stabilized as they are and are losing their strength.
So now, we are in search of a place that will take Delvis' case in the U.S.A. and give him that IMMUNOTHERAPY. We wanted to get him to do it in Mexico, but it is too pricey for us at the moment.(25k) We are hoping that his insurance will TRY to cover SOMETHING back in the states. We can't just hope though... This could be the final step on complete shrinkage or vanishing of the tumors. So we are trying to come together to help him get this therapy and be done with this!!!!! He is not giving up and has came so far, so please stand by him by helping him continue with this fight. WE LOVE AND APPRECIATE YOU ALL!!!!
Look at this difference in just a few days! It can all work!! #10X

Organizer