EMERGENCY! Eviction notice received
UPDATE NOVEMBER 6

DEADLINE MET! MOVING DATE NOVEMBER 30
HELP WITH MOVING COSTS?

If you didn't get a Facebook or email update, I did make the deadline! Have been really busy trying to start getting the actual packing/moving process underway that I'm just now updating here. There is a lot to take into consideration outside of just where Butters and I will sleep even temporarily. Need to make sure there will be a smooth transition for my business clients, find foster homes for houseplants, and where all my stuff will go.

Am so grateful to everyone who has helped me meet the October 27 deadline even though it turned out the landlord was just messing with me and never actually planned to kick me out on the first of the month. Not nice to put me through all that stress. When you get officially served, it doesn't say to me this is what we COULD do, it says this is what's happening. At least I will be able to move out with my account current so nonpayment of rent won't be on my record. That means a lot too.

So now begins round two, finding somewhere to go, and covering moving costs. Getting some business money too that will help with deposits and stuff like that, but it would be great if i could pay my storage space up to six months in advance to take that pressure off. Rent a truck so I don't have to round up vehicles and make a hundred trips. Cover those other little costs that come up like box tape and pizza and gas for those taking time out of their busy schedules to help with the physical labor.

========

DEADLINE OCTOBER 27!!!

EVICTION IMMINENT

HELP ME WITH AN EXTRA 30 DAYS TO FIGURE THIS OUT

A week after the landlord refused to take my money, telling me to just save it to find another place and be out, I was formally served yesterday (October 21) with an entirely different set of eviction papers. Now, if i don't come up with the full amount to get my rent current through October by the 27th, I have to be out November 1. If I come up with the money, I at least have an extra two weeks to figure out what to do, I'll need to be out by the 30th instead of the 15th.

Have had health problems of some type or another for a full year without reprieve, making me often unable to work. Migraines and panic attacks have been almost daily this week after trying to build my business back up too and being hit by setback after setback and now this. Trying to get as much done as possible between debilitating migraines and panic attacks, but I'm also diagnosed as bipolar with PTSD and severe depression. Add that to scoliosis, degenerative disk disease, fibromyalgia, plus serious knee injuries requiring surgery and several rounds of physical therapy over a period of nine or ten months, one might understand the difficulties in just getting from one day to the next.

The extra time to figure out where to go and how I'm going to pay for it, plus not having to jeopardize projects with new clients would really help a lot towards getting me back on my feet, wherever that may turn out to be. 

The campaign to help me get my business back on track after long periods of health problems can be found here . There is more information about who this person is who needs help, and some wish list items for my business. Much of the money contributed there so far has gone to keeping the utilities turned on.

This guy also needs to go with me and would be extraordinarily grateful for the time to do this with the least trauma possible. He's the only one who's been at my side day in and day out for five years now.
Butters says thank you!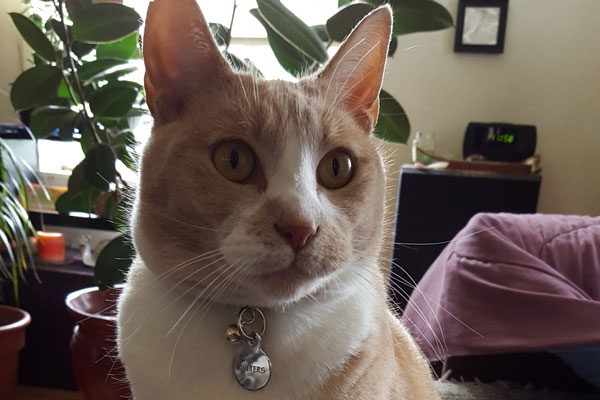 Organiser
Deanna Busdieker
Organiser
Cascade Locks, OR