Helping improve Ibby Piracha's hearing.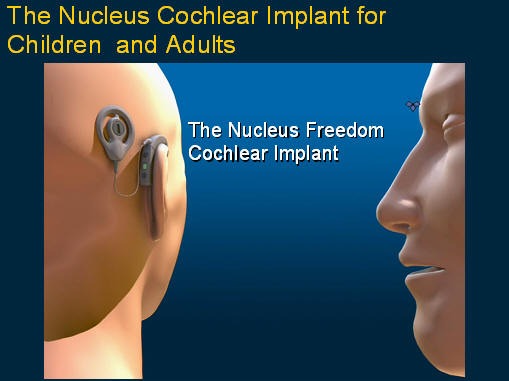 Hello everyone,

My name is Ibrahim "Ibby" Piracha. I have been deaf since 2 years old (high fever, profound to deaf). I have profound hearing loss, almost mute. The hearing aids were effective and the only way I can hear and talk is through a surgical cochlear. I am 21 years old and I got cochlear implant age 16 in 2009 of April. I went to John Hopkins Hospital in MD. The doctor told me the surgery will be successful. 1 month later, finally I got a cochlear  implant. Kinda funny is my left ear with cochlear implant sound really different because I can hear like an airplane engines, and police siren. Most time I wearing cochlear implant with me at school because I have a speech therapy for years. The only problem is that people keep talking too fast, I always say, "Whoa! Can you talk slow please?" Yes, it is hard for me to read lips and listen to people. That is the first thing that got all jumbled. I could not understand it anymore and then I could not understand my family, my cops, my friends, young children and then the people came along and I missed out what they were saying.



I have a new expernice of hearing cochlear implant. I feel so proud, so far I love it! Welcome to Cochlear Implant world. Deaf and Hearing Impaired from all world love cochlear implant.
Few months ago, I saw on the
cochlear
website about new
cochlear implant
called
Nucleus 6
. I thought, "Wow! I want try to wearing a
cochlear implant
because it is would help me to new hear." To be honest with you. I will love it! When I was little kid I want to be a
deaf cop
because I grew up watching
COPS
on the tv. I thought I would be a
deaf cop
with
cochlear implant. 
Previously, I was told that the entire upgrade would cost a lot so my family gave up and left the whole thing to the hands of God. I am reaching out for help, to upgrade my old cochlear to a new upgraded cochlear, the new
Nucleus 6
. Any amount helps! I have been overwhelmed with support so far and appreciate every bit.
However, upgrade
cochlear implant
and these new technologies are not cheap. It is going to cost me
$20,000
to get these new deceive and insurances . I am appealing to the people of the World to join together and help me out! Your donation can help bring amazing new sounds into my world and help make my life so much easier!
Even if it is just the equivalent amount of a cup of hot chocolate, it all adds up. I am thinking of raising funds to help me.
I qualify for an upgraded cochlear.
As a student with a limited stipend I could not afford providing a cochlear insurance.


I am only one deaf person in my famiy.   
If you want know what is cochlear implant. Here is the website about cochlear implant;
https://www.nidcd.nih.gov/health/hearing/pages/coch.aspx#a
They are approximately
$20,000
to upgrade.
Please help me raise some of the money towards new upgraded cochlear implant. I would be able to wear new cochlear for new hearing. I am proud both deaf and hearing person.
Thanks,
Ibrahim "Ibby" Piracha
Leesburg, VA
Organizer
Ibby Piracha
Organizer
Leesburg, VA